Posted on
Wed, Jun 9, 2010 : 6:02 a.m.
Mother of 22-year-old fire victim urges Ann Arbor officials to support couch ban
By Ryan J. Stanton
Kimberly Lemasters fought back tears this week as she stood before the Ann Arbor City Council to talk about her son's death.
As she gained composure, Lemasters called for a citywide ban on porch couches in Ann Arbor, an idea that has been debated for several years but never has gained enough political support to get past the City Council.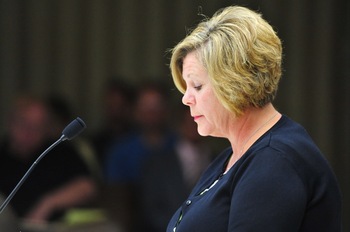 Ryan J. Stanton | AnnArbor.com
In April, 22-year-old Renden Lemasters suffered fatal injuries in an early morning fire that gutted a rental home on South State Street. The cause of the fire still hasn't been determined, but is considered suspicious and was one of four fires that night.
"I know there have been previous but unsuccessful attempts to pass this ordinance banning upholstered furniture from the front and rear porches of city houses," Lemasters said. "My understanding is that a major cause of the past failure to pass this ordinance has been due to the student opposition. Well, Renden was a student, and I know that if he was here today and it had been one of his roommates, he would have been here to be an advocate to this new ordinance."
Investigators believe the fire that killed Renden Lemasters started in a trash container on the front porch, spread to an upholstered sofa nearby, and eventually set fire to the whole house. It's a scenario the city's top fire officials have been warning about for years.
"We are going to have a fatality," now retired Assistant Fire Chief Chris Brenner said in an interview in November 2005, calling for a couch ban.
Former City Council Member Leigh Greden, D-3rd Ward, was the lead supporter of a couch ban ordinance six years ago. But the controversial proposal was tabled by the council in August 2004 due to lack of political support and significant pushback by the student community. The proposal never came back for a vote.
The case for the ban at the time included a 13-page report from the fire department that showed there were 74 reports of fires involving upholstered furniture on the streets or sidewalks and three couch fires on porches since April 2000.
But that didn't sway some on council.
"If I look back 20 years from now on important things I did on council, I don't think passing an ordinance to modify the behavior of 20-year-old college students will rank real high, " said then-Council Member Mike Reid, R-2nd Ward.
Two specific incidents led the city's top fire officials to publicly state in the fall of 2005 that it was only a matter of time before someone died.
In June 2004, U-M football players and friends kicked out an air conditioning unit, jumped out of windows and broke down doors to flee a fast-moving fire that started in a couch on a porch on 924 Oakland Ave. The house was leased by nine U-M football players. Two firefighters were injured in the blaze, according to reports.
In September 2005, a house at 730 Arbor St. was destroyed by a fire that was linked to a couch on a porch. One man was critically injured by the fire and from jumping from a second-story window. Six other men who lived there weren't hurt, but lost all of their belongings.
Five years later, the idea of a couch ban is gaining support following the fire that claimed Lemasters' life.
City Council Member Christopher Taylor, D-3rd Ward, has been working on a couch ban proposal for the last several weeks.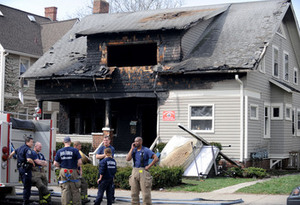 Taylor is crafting draft language for the new ordinance, which would prohibit responsible persons from placing furniture that is not intended or designed for outdoor use on exterior balconies, porches, decks or landings.
Violating the ordinance would be a civil infraction punishable by a fine, which must be paid within 45 days. The draft ordinance states if any violation remains uncorrected, the city may remove the furniture from the property, with the cost for removal charged to the owner.
"After the fatal fire, it obviously highlighted the importance of addressing this problem," Taylor said. "I got into contact with the city attorney's office and the fire chief to resurrect a language that was previously being considered, and that is essentially working its way through the process."
Taylor said he understands porch couches are a traditional aspect of student life that many University of Michigan students value.
"All of that is perfectly understandable," he said. "And when I was in college I enjoyed that, too, and did not consider the safety issues. But the safety issues are obviously present and, at this point, sadly irrefutable."
Council Member Margie Teall, D-4th Ward, said she's expecting the ordinance to come before council at the second meeting in July. She'll be supporting it.
"I supported the ban in the previous iteration," she said. "To me, it just makes sense for a number of reasons. For the safety reason, certainly. The fire department has supported this for a long time, and we couldn't muster the support from the general public previously."
No opposition has yet been voiced. But some of the same supporters who championed the cause in 2004 are back at it. That includes Bob Snyder, president of the South University Neighborhood Association.
"We supported it when it came up originally back in August 2004," Snyder said. "At that time, everybody said, 'Oh, it's just aesthetics only.' It was aesthetics perhaps, but we said, 'One of these days somebody's going to die.'"
Snyder recalls it was tough opposition from the Michigan Student Assembly that shot down the ban the last time. He said Greden's proposal was "laughed off the council floor" with only about four or five supporters.
Snyder has advice for the current City Council: "Act now. Don't sit on your hands. Don't sit and talk it to death, and don't table it to death. Act now."
Greden, who was voted out of office last year, still supports the ban.
"It's indisputable that indoor couches kept on an outside porch serve as a giant fuel tank for fires that start on the couch or elsewhere," he said. "There's no doubt we'd be better off without them."
Fire Chief Dominick Lanza, who joined the city's staff in March, also is pushing for the couch ban. He said there's a good trail of evidence to suggest the couch played a role in the State Street fire that killed Lemasters in April.
According to a report by Fire Marshal Kathleen Chamberlain, a 911 call came in from a passerby at 5:16 a.m. The caller reported a garbage bag burning on the front porch of 928 S. State St.
By 5:18 a.m., the nearby couch was burning. By 5:19 a.m. the deck of the porch was burning, audible interior smoke alarms were sounding, and the fire was spreading upward and into the roof. The report states all attempts were made to alert and evacuate the interior occupants, but by 5:21 a.m., the whole front of the house was burning and the fire was spreading quickly.
"At 5 o'clock in the morning, a gentleman leaves work and starts to drive home and sees a small fire flickering on the front porch, decides to get involved — thank goodness he did or it could have been worse," Lanza said. "He stops his vehicle, gets out, goes to the front door, sees a small fire next to a couch in a trash receptacle, knocks on the door — not knowing what else to do to get the attention of the occupants and try to get something to put the fire out."
Everyone was sleeping, but someone finally came to the door, Lanza said. They went to get a pot of water.
"When they get back, the fire has multiplied so quickly that a couch is totally involved and the walls on the porch have started to burn," Lanza said. "I actually haven't heard it but I'm told they kept him on the phone for the majority of the first few minutes of the fire on 911, and he keeps referring to how bad it's getting, and you can actually attach a time to how fast the fire multiplies."
Lanza said eliminating porch couches is about safety.
"The problem we're having is that young folks in the colleges like to use their porch as a gathering place," he said. "It's like an entertainment center, and sometimes people get careless — they barbecue and it's like putting the fuel there. It's like putting a can of gasoline there."
Ryan J. Stanton covers government for AnnArbor.com. Reach him at ryanstanton@annarbor.com or 734-623-2529.