Posted on
Tue, Nov 15, 2011 : 9:30 a.m.
$35K boost in public art administrator's contract recommended to Ann Arbor City Council
By Ryan J. Stanton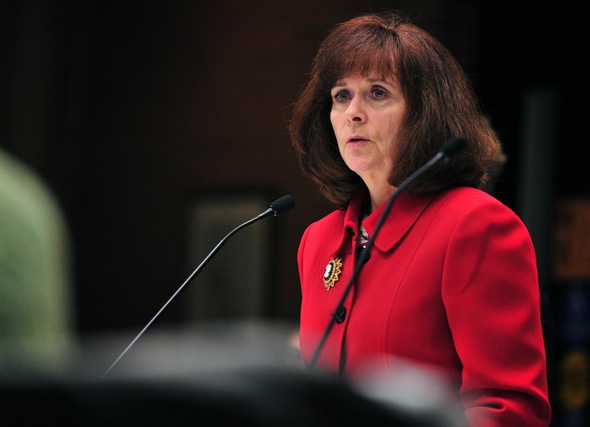 Ryan J. Stanton | AnnArbor.com
Ann Arbor officials are looking for ways to improve the city's public art program and one of the first recommendations is to boost the public art administrator's pay.
Sue McCormick, the city's public services administrator, recommended the $35,000 contract adjustment to council during a special work session Monday night.
She said there are concerns that volunteer members of the city's Public Art Commission are being asked to make unreasonable time commitments, essentially acting as staff and performing the role of project management on smaller public art projects.
"And that's a part of what is hamstringing the productivity of the commission," McCormick told council members.
"It's really inconsistent with the role of boards and commissions throughout the city and I think it has contributed to the long times to deliver public art."
McCormick recommended the city modify the contract with Aaron Seagraves, the city's part-time public art administrator, to make him more equivalent to a full-time employee.
She said the current contract is in the $25,000 to $30,000 range, and staff recommends an additional commitment of $35,000 annually.
"It provides us that ability to continue to assess the needs to support the Public Art Commission and the delivery of public art for the community," McCormick said.
Monday's meeting came in response to a recent request by Mayor John Hieftje that the city closely evaluate the public art program started four years ago in Ann Arbor.
The city pays for public art through its Percent For Art Program. Under an ordinance approved by the City Council in late 2007, 1 percent of the budget for all city capital projects — up to a limit of $250,000 per project — is set aside in a special public art fund.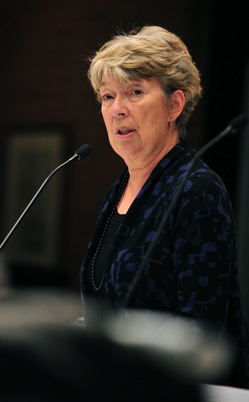 Ryan J. Stanton | AnnArbor.com
Some have questioned the effectiveness of the program. In the last four years, more than $2.2 million in city funds have been channeled toward public art, but the Public Art Commission has delivered on just two projects: a sculpture in front of city hall and a sculpture in West Park.
Marsha Chamberlin, chairwoman of the Public Art Commission, told council members Monday night it took a while to get the program going back in 2008.
"There was no public art program to build upon," she said. "I think we were doing a little on-the-job training, as well as really helping the city define what a public art program was all about."
Chamberlin called the Public Art Commission a "highly effective group of volunteers." She said the commission has had city staff support for only a year and four months.
"The rest of the work was done by the volunteers," she said. "So we defined the policies and procedures to make acquisitions and in commissioning artwork."
Chamberlin also gave an overview of the public art projects that are in the pipeline now. (See related story: Ann Arbor public art projects at Allmendinger Park, Justice Center moving forward)
Chamberlin said the commission has done a lot of "soul searching" lately and has identified a number of areas where it could improve. In addition to commissioned public art installations, she said, there's interest in developing a new process to acquire non-commissioned art.
"An artist may be willing to donate a piece to the city," she said. "Sometimes people own work that they would like to donate. We are in the process of developing guidelines for that."
The commission also would like to streamline the process for site-specific commissioned artwork and develop programs that result in recurring types of public art production, Chamberlin said, pointing to murals, patterned bike lanes and street furniture as examples.
"In Philadelphia and Boston, one of the things they do is pattern their bike lanes and pattern their crosswalks," she said. "So instead of just having the horizontal stripes of white paint, that white paint turns into patterns that are designed by artists and they're applied with a stencil.
"They're very original — the artist gets credit," she said. "And we can say, 'Oh, there are 15 crosswalks in downtown that have a kind of personality and create a sense of place.'"
Chamberlin noted Montreal also has painted its bike lanes different colors, which she said adds to the character of the city.
Chamberlin acknowledged there hasn't been enough public input on art projects or the annual public art plan. One goal is to improve communication with the public, she said.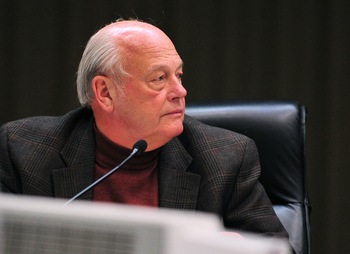 Ryan J. Stanton | AnnArbor.com
McCormick said another recommendation is to start holding annual work sessions on public art with the City Council and Park Advisory Commission.
"In the several years that we've had the ordinance in place, I can't recall a time that council actually took the work plan up and had a robust discussion about it," she said.
McCormick said staff is recommending the city maintain its broad base of source funds for public art, which mostly include a handful of millages and utility funds.
No funds for public art in Ann Arbor have come from the city's general fund, which pays for basic services like police and fire protection. But McCormick said the council could take action to expressly prohibit any potential future transfers from the general fund.
McCormick said city staff agrees with Council Member Sabra Briere, D-1st Ward, there should be a "sunset provision" to allow for the return of public art funds to the sources from which they came if three years pass and the money hasn't been spent or committed to a project.
She said it's staff's opinion, though, that the City Council should have the ability to provide for up to a two-year extension of funds if requested by the Public Art Commission.
Despite the $35,000 recommended increase in the contract with the public art administrator, which is intended to pay for project management services, McCormick said it's recommended that other administrative support for public art remain capped at 8 percent of budget.
Monday's meeting was purely for informational purposes. No action was taken by council, but some expressed initial support for some of the recommendations being made.
Council Member Tony Derezinski, D-2nd Ward and a member of the Public Art Commission, agreed there's a "tremendous burden" placed on commission members right now. He also said he envied Grand Rapids for its efforts to promote itself as a city that values public art.
Ryan J. Stanton covers government and politics for AnnArbor.com. Reach him at ryanstanton@annarbor.com or 734-623-2529. You also can follow him on Twitter or subscribe to AnnArbor.com's e-mail newsletters.