Posted on
Fri, Aug 5, 2011 : 1:47 p.m.
Ann Arbor mayor says he's concerned there isn't more public art in the city
By Ryan J. Stanton
Ann Arbor Mayor John Hieftje says he wants to take a comprehensive look at the city's public art program in the next month and find ways to make it stronger.
"One of the things we haven't seen yet is a profusion of new art in the city, and that's certainly one of my concerns," Hieftje said at Thursday night's Ann Arbor City Council meeting.
The city pays for public art through its Percent For Art Program. Under an ordinance approved by the City Council in 2007, 1 percent of the budget for all city capital projects — up to a limit of $250,000 per project — is set aside in a special public art fund.
Hieftje told council members he would like the council to set aside time to evaluate how the Percent For Art Program is and isn't working.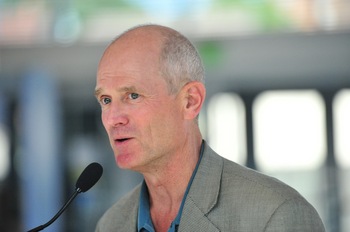 Ryan J. Stanton | AnnArbor.com
"I would also like to see us pause in September and take a comprehensive look at the program, to see why we don't have more art moving forward in the city, to take a look at the fund balances there, and make decisions in a comprehensive way," he said.
The city's continued spending on public art at a time when it's making deep cuts to public safety has angered some residents. But Hieftje argues the city's public art money is set aside in its own fund that legally can't be tapped to pay for general fund items like police and fire services.
"Until a court or the state Legislature says otherwise, it is the law we have to follow," Hieftje wrote in an e-mail to AnnArbor.com earlier this week.
Hieftje announced at Thursday's meeting he's nominating Council Member Tony Derezinski for a spot on the Ann Arbor Public Art Commission, which oversees the public art program.
Hieftje compared the Public Art Commission to the Housing Commission, which the city took steps to get back on track a little over a year ago. Hieftje said he expects Derezinski to report back on how the council can help the Public Art Commission make stronger steps forward.
"We took a look at the Housing Commission and one of the first things we did to do that was we appointed Council Member Derezinski," Hieftje recalled. "And he came back to us and reported his observations there, and then we were able to take a deeper look at what was happening there and we made some significant changes. And I think everyone would agree the Housing Commission is on a much more solid footing and moving ahead."
AnnArbor.com requested recent financial figures for the Percent For Art Program. The city made available a budget summary as of July 1 (download it here).
The city recently announced it is seeking an artist to create a piece of public art for the lobby of the Ann Arbor Justice Center, the new addition to city hall located at the corner of Fifth Avenue and Huron Street. The city has set a $150,000 budget for the project.
That's in addition to another piece of public art designed by German artist Herbert Dreiseitl, who won approval from the city to install a large water feature sculpture with integrated glass pearls in front of city hall and the new Justice Center. The Public Art Commission has established a project budget of $750,000 and installation is expected soon.
Sue McCormick, the city's public services administrator, explained the latest $150,000 public art proposal earlier this week, saying the money for the installation is reserved within the project budget for the Ann Arbor Municipal Center project.
For the majority of capital projects, McCormick said, the 1 percent for art is transferred into the city's public art fund, and therefore it's not required to be spent on the site of the contributing project. But it's still restricted to serve a purpose related to the source funds.
"Here, because the percent for art contribution is contained within the project budget, it will be spent for art on the Municipal Center site," McCormick said.
Hieftje said the city's legal and financial staff did a lot of research over many months before setting up the public art program. He stressed the program adheres to strict guidelines as to where art can be placed and how it relates to the source of the funds being used.
In the city's last budget process, the council voted 7-4 in favor of preserving public art funding, with dissenting Council Members Stephen Kunselman, Sabra Briere, Sandi Smith and Marcia Higgins in favor of a $158,813 cut to the program. At the time, Higgins wanted to reduce the program to a half percent, a proposal that drew concerns from other council members who argued public art is an important economic development tool and contributes to quality of life.
"I know there was a proposal put forward by Council Member Higgins during budget time to reduce the amount of money going to the Art Commission," Hieftje said. "Council may decide to do that. But I wanted then, just as I do now, to take a comprehensive look at the program, see what sort of changes it needs. I think the mission is still highly regarded by our residents, and I know by most of council, that this could be a really wonderful thing for our city."
The Public Art Commission announced earlier this week it will present three Golden Paintbrush Awards at the council's Aug. 15 meeting. The awards are in recognition of public artworks that add interest to the cityscape, beautify the community and create a sense of place.
The three awardees are Mary Thiefels of Treetown Murals, Peter and Doug Allen of Peter Allen and Associates along with Steve Zobeck, and John Magner of Blimpy Burger.
Thiefels is receiving recognition for the Peacework Mural installed in the alley between Main and Ashley off of Liberty Street, next to Alley Bar. The Allens and Zobeck are receiving the award for their stone formations on North Main Street, and Blimpy's for the Snowbears.
"Public art plays two roles in a community," Marsha Chamberlin, chairwoman of the Public Art Commission, said in a statement. "It helps to create an authentic sense of place and serves as a tool for creating community pride. The pieces are in very different environments and are markedly different in materials. There is something that likely appeals to everyone."
Ryan J. Stanton covers government and politics for AnnArbor.com. Reach him at ryanstanton@annarbor.com or 734-623-2529. You also can follow him on Twitter or subscribe to AnnArbor.com's e-mail newsletters.