Posted on
Wed, Nov 14, 2012 : 5:43 p.m.
Ann Arbor City Council to consider towing ordinance revision
By Cindy Heflin
The Ann Arbor City Council will consider changing the city's towing ordinance at its Nov. 19 meeting, the Ann Arbor Chronicle reported.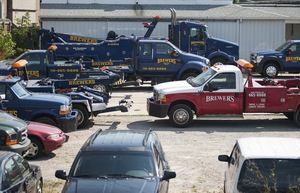 Daniel Brenner I AnnArbor.com
The city
has an ordinance
that deems vehicles abandoned if they're not moved within 48 hours, and the city tows if they're not moved. The city used that ordinance to tow and impound more than 100 vehicles in the last two years.
The proposed ordinance change would allow the city to demand an owner demonstrate a vehicle is operative if it appears not to have been driven for 48 hours after being tagged, the Chronicle reported.
Earlier this year, neighbors of a couple on Shady Lane complained about vehicles parked on the street. Neighbors said they saw the couple moving a single working battery from one vehicle to another, driving the vehicles in a circle, and then parking them again in order to avoid getting towed.