Posted on
Tue, Jan 12, 2010 : 2:36 p.m.
Ann Arbor city employees bracing for cuts but staying positive in light of challenges facing city
By Ryan J. Stanton
Ann Arbor City Administrator Roger Fraser gathered city employees under the roof of the Michigan Theater today to deliver news he described as "terribly depressing."
"This is an extraordinary event for all of us, and we are in extraordinary times," Fraser told the large crowd.
The city had projected general fund revenues of $86 million this year and now expects $82 million. Next year, the city had expected general fund revenues of $83 million, but now expects an amount closer to $76 million.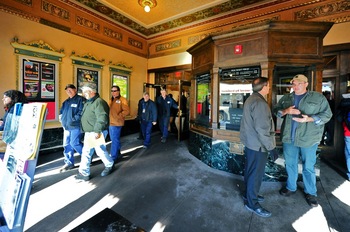 Ryan J. Stanton | AnnArbor.com
Fraser encouraged the city's workers to try their best to stay positive and trust that he and other city leaders, including the Ann Arbor City Council, will do their best to make the right choices as the city looks to trim its struggling budget by millions of dollars soon.
"We each have a job that we have to do today, tomorrow and the next day, and I ask you to do it with the best of your ability - to be confident in the good will and intent of those who have to make decisions, and deliver your service to the community in the best way possible," Fraser said. "It's up to us - we have the ability to decide how we're going to face this."
The crowd of hundreds that packed the Michigan Theater applauded after Fraser concluded a two-hour presentation. City offices were closed for three hours today to allow employees to attend the meeting, which was closed to the general public.
City employees leaving the meeting had generally positive reactions to what Fraser had to say during the meeting.
"I think it was a hard message to deliver, but I think everybody was attentive and it was a positive step that somebody came forward and said, 'Well, this is what it is and this is where we're going,'" said Lynn Renaud, a shift supervisor at the city's Wastewater Treatment Plant.
"That helps erase a lot of the confusion and some of the maybe apprehension that employees have," Renaud added. "It's probably a struggle that's going on around a lot of communities, how to provide services yet control costs and go forward."
Nicholas Nightwine, president of the city's largest labor union, AFSCME, said he was encouraged to hear the city is taking steps to cut the entire organization from the top down, instead of just asking the rank-and-file to make concessions.
"We've got a long road ahead and we've got to figure out what we have to do," he said. "I'm glad to hear the council's probably going to end up taking a 3 percent pay cut, so that helps me out a lot. And I'm glad to see they're not going to be filling the open management position in Planning and Development, and Jayne Miller's position they're going to fill on an interim basis."
Multiple City Council members attended the meeting, including Carsten Hohnke, D-5th Ward. Hohnke said the presentation was mostly information that has been relayed before at public meetings.
"I thought Roger did a nice job of communicating where we are and where we need to go to all of the city staff and provide an opportunity for a lot of interaction and feedback," he said. "It was a good start to a lot of dialogue. What was useful was the feedback from the employees."
John Aylward, the city's telecommunications specialist, said there were no surprises at today's meeting.
"It was pretty positive," he said. "I believe by doing the reorganization several years ago, it put us in a better position to deal with the current crisis, but we're just going to have to tough it out and see what happens. Down the road, we've just got to get together on this and take care of business. But I feel pretty good about our plan."
Aylward echoed thoughts shared by other city employees, saying he'd be willing to take a pay cut if it would help the majority. He said he doesn't fear losing his job right now, but not everyone is as certain about their future with the city.
"Myself, I might be retiring in July or June, so I'm pretty well embedded," Aylward said. "But a lot of the younger people, I work with a lot of them here and I do feel bad for them."
Greg Hollingsworth, the city's interim fire chief who is retiring next month, called Fraser's speech "grim."
"There's not a lot of positive in the next 24 months, but I think he's trying to put things in place to get us through this time," he said. "It's the same story we've been hearing for the past six or eight months. We have the budget issues and it's a reduction in costs or a reduction in staff - it's no surprise."
Before ending his speech, Fraser issued a challenge to employees to help the city find ways to cut costs.
"Nobody knows it better than you who do the tasks each day," he said. "And we really need your help in making sure that we've explored all the options in terms of alternatives for what we do and the expense associated with that. Talk to your supervisor. We encourage you to do that."
Fraser's presentation today touched on everything from the possibility of buyouts to switching to a four-day work week. There also were discussions of the pension fund and what the city is doing to collaborate with neighboring municipalities.
Fraser said cooperation between two or more units of government is not as easy as it sounds.
"We've been working with Washtenaw County because it's sort of the obvious proximity local government with whom we have a lot in common, and what you find is that you may not successfully just simply dictate that you're going to have two groups of people merge and have it come off well," he said.
"We have lots of practice in the public sector where we've tried that and it's gone south - it's not worked out - so what we've been doing with IT particularly with the county is having our IT staff and the county's IT staff work together and find ways through their common work efforts to merge operations. And they themselves, through working together, have found more ways to save money for both the county and the city."
Fraser said talks of more local collaboration on public safety services are occurring right now.
"We've been having conversations with our neighbors, particularly the the townships and Ypsi city, about the possibility of collaborating on fire services," he said.
Fraser noted the fire fire chiefs did an analysis in 2005 and 2006 of how the different departments could cooperate.
"And they actually got some momentum around that idea, but it was compounded by the difficulty that we have with our radio systems," he said. "Each one of the fire departments had its own radio system with its own frequency and the ability to communicate back and forth with a common team was exceedingly difficult.
"Now that we have work being done on a countywide radio system, the opportunities to effect that kind of collaboration we think are many and we will make progress," he said. "We have a meeting just this Friday in fact - some conversations that we're having about cooperation with the townships and Ypsi city in a specific area between our southern portions and Ypsi's southern portions and the townships in between. But it takes a lot of time, takes a lot of negotiations and takes a lot of effort. It's not something that you can just snap your fingers and have happen, because of the number of people that are involved."
Fraser also touched on talks about cooperation on police services, which have been ongoing for several years.
"On the police side, there was a lot of local interests that were hard to overcome in getting people to talk meaningfully about collaborative services in police and it hasn't been until really the tough knocks economically in the last year that folks have been willing to spend more time talking seriously about that collaboration," he said.
Responding to a question about why parks and forestry are taking such a hit, Fraser pointed out those two areas make up almost 10 percent of the general fund.
"As we think about priorities ... parks are considered to be a 'nice to have' by some and expendable items," he said. "So it's a community conversation that we're going to be having in the future about how much we balance all of that out. Citizens who live in the city of Ann Arbor value parks highly."
Ryan J. Stanton covers government for AnnArbor.com. Reach him at ryanstanton@annarbor.com or 734-623-2529.