Posted on
Tue, Jan 12, 2010 : 6:02 a.m.
Ann Arbor city offices closed this morning for employee meeting
By Ryan J. Stanton
City of Ann Arbor offices will be temporarily closed today from 9:30 a.m. until 12:30 p.m. during an employee-only meeting being held at the Michigan Theater.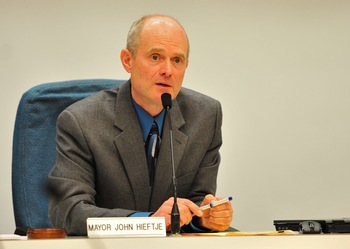 Ryan J. Stanton | AnnArbor.com
The topic of discussion is the current financial crisis, which city leaders propose addressing by slashing the city's budget by 30 percent over three years. That likely will mean more job cuts.
AnnArbor.com was told by city leaders a reporter won't be able to attend today's meeting, which is closed to the public but open to the mayor and council members.
"I'm going to be there, but not as a participant in the meeting," said Mayor John Hieftje. "But I certainly want to hear what they have to say. It's an effort to inform city staff of the challenges we face that are not unlike any other city in this state. In fact, I tend to think from my conversations with other mayors that we don't have the depth of problems that they do in other cities."
Officials announced in an e-mail to city employees that the meeting will last from 10 a.m. to noon, with time allotted for staff questions and answers. City employees must show a proper employee badge to gain entrance to the theater.
The e-mails also states that city employees are responsible for their own transportation to the meeting and parking arrangements. Â  For those unable to attend, the meeting will be available to watch online from any city-networked computer by following a link provided to employees.
Today's meeting comes just one day before the city firefighters union, Local 693, is scheduled to take a vote on a new contract that is rumored to offer significant concessions. City Administrator Roger Fraser agreed to postpone the layoff of 14 firefighters pending ratification of the contract.
The firefighters union, in return, is asking the city's top leaders to take pay cuts comparable to what's being asked of labor groups. Hieftje told AnnArbor.com Monday night "that's not a problem," except that it's up to the Local Officers' Compensation Commission to set the level of pay for elected city officials.
"We can't reduce our own pay," Hieftje said. "That needs to go through a board. But we could recommend to them that they reduce our pay. And they don't meet this year, but as soon as we can get them to do that, I'm certainly willing to give that up."
The Compensation Commission is a six-member board that currently includes Eunice Burns, Fred McDonald, Martha Darling, Roger Hewitt, William Lockwood and one vacancy.
For a complete list of city positions and salaries by fund, go here.
Ryan J. Stanton covers government for AnnArbor.com. Reach him at ryanstanton@annarbor.com or 734-623-2529.