Posted on
Tue, Dec 8, 2009 : 6:05 a.m.
Ann Arbor mayor proposes 3 percent pay cut for all city employees
By Ryan J. Stanton
Ann Arbor Mayor John Hieftje proposed an across-the-board 3 percent pay cut for all city employees at Monday night's City Council meeting and asked the city's labor unions to step up to the plate and agree to those terms.
Hieftje said the salary reductions would extend to everyone in city hall, including the mayor and council.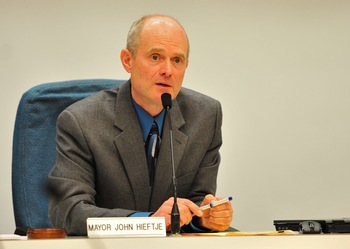 Ryan J. Stanton | AnnArbor.com
"I would like our staff to take it out to all of our unions and to all of our people here at the city," Hieftje said, adding it would yield a savings of $875,000 in the city's general fund next year and $1.5 million total in all city funds.
"The county was successful with some of their bargaining units in making this work, but it was easier I think for them because they had a 3 percent raise built into those contracts," Hieftje said. "Because we don't have that increase built into our contracts, for the most part, this would be a decrease. But I think the idea is certainly well worth exploring, and this would help us a great deal."
The City Council gave no indication to City Administrator Roger Fraser on Monday that he should hold back on laying off 14 firefighters as the city looks to confront a mid-year budget deficit of more than $3 million. Fraser plans to send out pink slips this week, pushing up the previously scheduled firefighter layoffs by six months to save an extra $400,000 in this year's budget.
Ann Arbor officials are working to trim the city's budget by 30 percent over three years in light of a new economic forecast released at Saturday's City Council retreat. Hieftje said Ann Arbor finds itself in the same boat as a lot of cities across Michigan.
"Grand Rapids is looking at 150 layoffs, including police and fire on Jan. 1," he said. "In Lansing, they have a $3 million budget deficit in the mid-year very similar to what Ann Arbor faces -Â they're looking at laying off 14 police officers. And the city of Troy, they have just put a millage on the ballot, and leaders there are saying that they have contemplated laying off a third of the work force if the millage doesn't pass."
Hieftje said Ann Arbor has been making cuts for the last eight years. To this point, it has managed to do so without noticeable changes to service levels, he said, noting it's going to be hard to make further cuts without it being painful.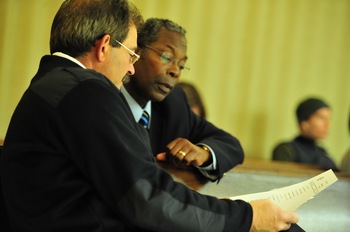 Ryan J. Stanton | AnnArbor.com
Fraser and Hieftje addressed the potential changes to fire services after the layoffs are enacted. They said the plan is to still have an initial response of four personnel on the scene of a fire in the same time they currently arrive.
"The plan will continue to be that we will abide by the national standards, which say that if we have a fire emergency involving somebody possibly trapped in a building, that none of our people will go into a building unless there are two people to go in and two people on the outside," Fraser said.
"It can't be avoided that we're going to have potentially longer times to get to a scene with all the people involved if there are fewer trucks and people available to make those assignments," Fraser added.
City officials have been in talks with Huron Valley Ambulance about changes to dispatch operations to better screen calls and reduce the redundancy of having both the fire department and HVA responding to the scene of a medical emergency. The fire department handled 5,981 dispatched calls last year, 250 of which were fire-related. The bulk of the rest were emergency medical calls.
"The fact is that we continue to be deployed primarily for emergency responses to medical emergencies and traffic accidents and that kind of thing," Fraser said. "And yet we're still geared to maintain our primary purpose, which is to put out fires and respond to those kinds of calls."
Hieftje addressed criticism that the city is going through with constructing a new police-courts building while talking about cutting back police and fire services.
"As many of you realize, the city lease at the county courthouse was ending and the city needed to relocate their courts as of 2011, and we are on schedule," he said. "I'm told that our building project for the police-courts building is on budget and on time because we need to be out of the county courthouse by the end of 2010."
Hieftje said the total impact on the city's budget from having the new addition to city hall will be about $275,000 a year, which he called a "very small sum in light of our total general fund and one that we've anticipated all along."
Council Member Stephen Rapundalo, D-2nd Ward, assured the large crowd of residents at Monday's meeting - which included several firefighters - that council members will be looking at every part of the budget for cuts.
"I think we're going to keep staff busy over the next few months as they develop their budget scenarios," he said. "And I'd just like to reassure the citizens of Ann Arbor that we're taking this extraordinarily seriously, and that we want to do what's best not only for our long-term fiscal sustainability but also to ensure that service levels are maintained as much as possible."
Hieftje said the city's predictions indicate it's only going to get worse going into next year with further cuts anticipated at the state level.
"Everything that I'm hearing from our consultant in Lansing is that next year is going to be the worst year in the state budget," he said. "Because for the past two years, they've had stimulus money to plug directly into the state budget. They will not have that in coming years and it is really going to hit the fan in our next budget year."
Ryan J. Stanton covers government for AnnArbor.com. Reach him at ryanstanton@annarbor.com or 734-623-2529.