Posted on
Sun, Nov 4, 2012 : 5:58 a.m.
Ann Arbor company puts more than $21K behind ads attacking library bond proposal
By Ryan J. Stanton
Ryan J. Stanton | AnnArbor.com
In the final days before Tuesday's election, there's been a late onslaught of ads attacking the
Ann Arbor District Library's
proposal for a new downtown library.
In bold capital letters, the ads carry messages like "SAVE OUR LIBRARY," "VOTE NO," "HUGE COST" and "RENOVATE FOR MUCH LESS."
But who's funding the ads?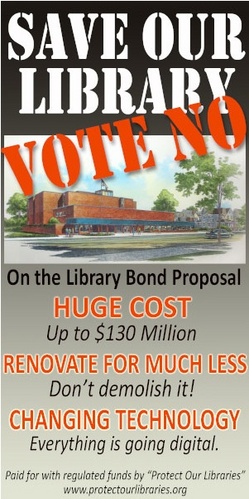 According to campaign finance reports filed with the county clerk's office, Ann Arbor-based advertising agency
McCullagh Creative
, 316 W. Ann St., has contributed more than $21,300 worth of in-kind services to the
Protect Our Libraries
committee that's against the $65 million bond proposal.
McCullagh Creative contributed $6,440 on Oct. 29 and then another $14,897 on Oct. 31, according to late contribution reports filed in recent days.
Ann Arbor resident Kathy Griswold, the committee's treasurer, confirmed that the company has paid for the large ads that have appeared both online and in print through local media publications, including full-page ads in AnnArbor.com and the Ann Arbor Observer. Griswold's group provided the content for the ads.
"I believe it'll be effective," she said. "I think the ads were very well done."
Ellie Serras, chair of the Our New Downtown Library committee that's supporting the bond proposal, said she found it interesting to learn a lone advertising agency is funding the ads against a new library.
"We were sort of wondering where all this advertising was coming from," she said. "That's pretty interesting that you'd have one company that could have that kind of clout and have that kind of agenda. What is it that doesn't resonate with them about having a new library downtown?"
Griswold, who has put more than $7,000 of her own money toward yard signs and postcards in hopes of defeating the proposal on Tuesday's ballot, said Jeff McCullagh, the owner of the advertising agency, approached her about doing the ads.
"I didn't realize when they approached me the full extent of the ads they would be doing," Griswold said, adding she's thankful and hopes they sway voters.
Calls to McCullagh went unreturned on Saturday.
The ads from Griswold's group argue the new library could cost as much as $130 million over the next 30 years when factoring in interest on the bond debt and that's too much to ask voters.
Serras thinks it's misleading that the ads tell voters the money could be better spent on police and fire protection or roads and schools when the AADL is its own separate entity.
"We've really tried hard to dispel some of these scare tactics," she said. "This has just taken me so by surprise, especially the messages in these ads that are such distortions of the facts."
The ads also criticize the AADL for not having architectural renderings and other plans in place before going to voters, but Serras said it doesn't make sense to waste large sums of money up front if voters don't approve the bond proposal. If the bond passes, library officials have said there would be a year-long planning process involving public input on the plans before construction begins.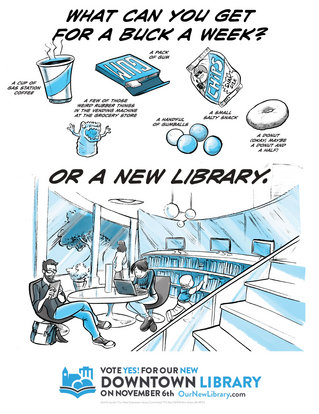 "Our campaign has been so positive in its approach to the community and we have really worked hard to set out the facts, and now we'll leave it up to the people in the community to decide," Serras said.
Ann Arbor resident Jeremy Peters, who is supporting the campaign for a new library, said it's sad that two lone citizens — Griswold and Doug Jewett — together have put more than $10,000 of their own money behind what he considers "far-flung misinformation." Jewett started his own committee called Save the Ann Arbor Library that's opposing the bond proposal.
The estimated millage to pay off the bond for the new library is 0.56 mills. The tax would last up to 30 years and cost the owner of a home with a $200,000 market value and a $100,000 taxable value about $56 a year.
"What is the truth is this: a new downtown library will serve Ann Arbor's needs long into the future, and rehabilitation of the existing building to meet needs costs only 10 percent less than building the building we need for the future," Peters wrote in a recent letter to AnnArbor.com.
Serras said she's confident voters will realize the value in replacing the downtown library, which dates back to 1958 and was last renovated in the early 1990s, with a new state-of-the-art facility that's bigger and provides more amenities and space for programs and new technology.
The money being put behind the anti-library bond campaign pales in comparison to the money supporters have raised. Nearly $71,000 in cash donations from individuals, businesses and a nonprofit group have been poured into the Our New Downtown Library campaign.
Friends of the Ann Arbor District Library put $25,000 into the campaign. Other major donors include Zingerman's Bakehouse Inc. ($5,000) and Detroit-based law firm Dykema Gossett ($5,000), which does legal work for the AADL, and many individual contributors.
Griswold said the Michigan Theater has been showing pro-library advertisements before feature films but she hasn't yet seen campaign finance reports for those.
Griswold said she and other members of her group have been accused of being Tea Party Republicans, but she said they're just people who are interested in more sensible solutions than demolishing the downtown library and building a new one at a high cost.
"Everyone who could easily get to the downtown library by bus or walking will probably vote yes," she said. "I'm targeting the township voters who are probably not even aware of this yet."
The library district includes all of the city of Ann Arbor and parts of Ann Arbor, Lodi, Webster, Pittsfield, Superior, Salem and Scio townships.
Serras said she doesn't buy the argument that people in Ann Arbor and surrounding townships can't afford a new library. She said it's only going to cost them about $1 a week in taxes and that's much more affordable than trying to pay for Internet, books and other resources on their own.
She called the library "the democratic equalizer for access to information" for all and said she wouldn't be working on the campaign if she didn't truly believe that.
Ryan J. Stanton covers government and politics for AnnArbor.com. Reach him at ryanstanton@annarbor.com or 734-623-2529. You also can follow him on Twitter or subscribe to AnnArbor.com's email newsletters.