Posted on
Tue, Dec 20, 2011 : 5:59 a.m.
Ann Arbor council members clash over Eli Cooper's appointment to AATA board
By Ryan J. Stanton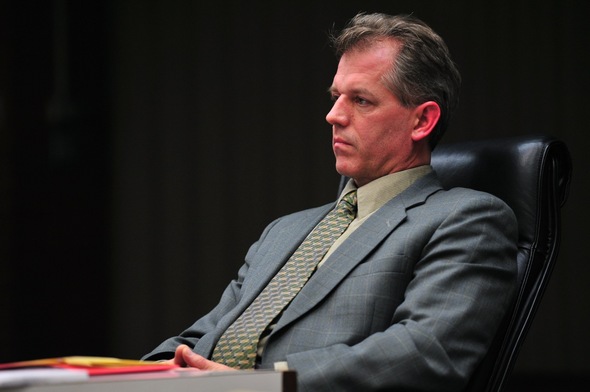 Ryan J. Stanton | AnnArbor.com
The
Ann Arbor City Council
voted 8-2 Monday night to
appoint Eli Cooper
to the
Ann Arbor Transportation Authority's
governing board.
Cooper, the city's transportation program manager, replaces Sue McCormick, the city's public services administrator, who recently left to take a job in Detroit.
Cooper joins the AATA board at a time when the agency is aggressively pushing forward with a countywide expansion plan, which calls for approval of a four-party agreement among AATA, Washtenaw County and the cities of Ann Arbor and Ypsilanti.
"I don't know of another person in our region at all who has the expertise in these matters that he does," Mayor John Hieftje said of Cooper, whom he nominated for the appointment.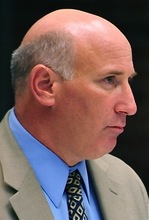 Council Members
Stephen Kunselman
, D-3rd Ward, and
Jane Lumm
, an Independent representing the 2nd Ward, voted against Cooper's appointment.
Marcia Higgins, D-4th Ward, was absent.
Lumm and Kunselman both raised concerns about the potential for conflicts of interest in having a city staff member serve on a body like the AATA board.
"We now have a city staff person who is in the position of voting on hiring and firing the director of the AATA," Kunselman said, adding he also has questions like: "Is he a political appointee, or is he a city staff person when I go to communicate with him?"
Kunselman also said he wondered how Cooper would be able to vote on the four-party agreement coming the city's way next month.
"These are all issues I think require serious review so that there are no concerns," he said. "And the best way to have no concerns is to have an arm's length nomination."
Council Members Sabra Briere and Mike Anglin supported Cooper's appointment, but they said they shared some of the same general concerns about appointing city staff members to boards and commissions.
All four — Kunselman, Lumm, Briere and Anglin — sponsored a resolution opposing mayoral nominations of city employees for appointments to boards and commissions. But they failed to get any support for the resolution, which was voted down 6-4.
Council Member Christopher Taylor, D-3rd Ward, called it a misguided resolution and said its immediate effect would have been to remove from consideration for appointment to the AATA board "a person with deep and unquestioned expertise and integrity."
"The loss of Mr. Cooper to the AATA board would have been substantial," he said. "Furthermore, in our era of government cooperation and collaboration, I'd say that the appointment of an Ann Arbor employee who is a subject matter expert to the board is not just good for the AATA, but it is good for Ann Arbor."
Added Taylor: "It enables Ann Arbor and the AATA — particularly if it should come to pass that it serves in a broader county perspective — to understand the other's respective challenges, and to have embedded knowledge of the other's plans and needs."
Lumm argued that for every staff member who is appointed to a city board or commission, that's one less citizen who's engaged.
"And what we should be trying to create is more citizen participation and engagement in local government — not less," she said, adding Cooper is "very capable" of serving on the AATA board, but she just thinks in general appointing city staff members can potentially promote and foster "a like-minded groupthink, which isn't healthy or good government."
Hieftje offered a different view.
"When you take a look at the vast range of appointments that are available, and you take a look at the very, very few of those seats that are filled by city employees, I think that's a very hollow argument," he said. "There are other seats available on all of our boards and commissions."
In addition to Cooper's appointment, the council voted to appoint City Administrator Steve Powers and CFO Tom Crawford to the Economic Development Corp. Board on Monday.
Other than those appointments, Hieftje said he couldn't think of any other situation where he has nominated a city employee to serve on a board or commission.
Craig Hupy, the city's interim public services administrator, stepped forward at that point to note he serves on the Huron River Watershed Council at the mayor's pleasure.
"That's right — there's another one," Hieftje said, adding it's been beneficial to have city employees familiar with the city's dams and water system on the HRWC.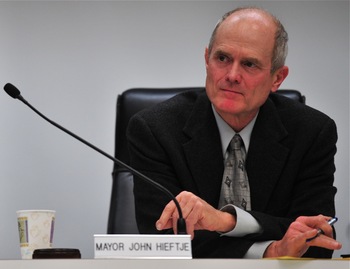 Ryan J. Stanton | AnnArbor.com
The city has dozens of boards and commissions with hundreds of members. The defeated resolution acknowledged mayoral nominations for appointments to bodies like the AATA, Housing Commission and Downtown Development Authority are authorized by statute.
Hieftje pointed out that either the mayor or the city administrator is required by law to serve on the DDA's governing board.
Hieftje also announced at Monday's meeting he's nominating John Kotarski, a retired public school teacher, to replace Margaret Parker on the Public Art Commission.
"She said she wanted to have an opportunity to get back to her own artwork, being an artist herself," Hieftje said of Parker's departure from the commission.
Tim Hull, a 2nd Ward resident who ran for council earlier this year, also spoke out on the issue of mayoral nominations Monday night, saying he opposed Cooper's appointment. He pointed out Cooper is not a resident of Ann Arbor.
"Beyond the issues of conflict of interest, I must say I fail to see the benefit of adding yet another city insider to the AATA board — particularly one who does not actually live in the city itself," he said. "We need people who have a stake in this community."
Ryan J. Stanton covers government and politics for AnnArbor.com. Reach him at ryanstanton@annarbor.com or 734-623-2529. You also can follow him on Twitter or subscribe to AnnArbor.com's email newsletters.