Posted on
Thu, Dec 10, 2009 : 9:59 a.m.
Ann Arbor crime statistics for Nov. 29 - Dec. 5, 2009
By AnnArbor.com Staff
Larceny from a vehicle topped the list of crimes last week, data from the Ann Arbor Police Department show.

For the week of Sunday, Nov. 29 through Saturday, Dec. 5, a total of 27 crimes were reported. There were 11 cases of larceny from a vehicles followed by 4 cases each of auto theft and burglary.

Below is a summary and details of the crimes reported.
To view an Ann Arbor map by types of crimes and the blocks where they occurred, click here.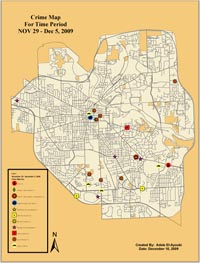 | | | |
| --- | --- | --- |
| Incident Type | Last Week | This Week |
| Arson | 1 | 1 |
| Attempted Arson | 1 | 0 |
| Assault | 1 | 3 |
| Auto Theft | 1 | 4 |
| Attempted Burglary | 0 | 1 |
| Burglary | 1 | 4 |
| Attempted Home Invasion | 0 | 2 |
| Home Invasion | 14 | 1 |
| Attempted Larceny from a vehicle | | 1 |
| Larceny from a vehicle | 4 | 11 |
| Robbery | 1 | 0 |
| Sexual Assault | 1 | 0 |
| | | |
| --- | --- | --- |
| Date | Block Address | Description |
| 11/29/2009 | 200 BRIARCREST | Attempted Larceny from vehicle |
| 11/29/2009 | 100 BRIARCREST | Auto theft |
| 11/29/2009 | 200 LYNDENGLEN | Larceny from vehicle |
| 11/29/2009 | 400 LAWRENCE | Larceny from vehicle |
| 11/29/2009 | 1500 PINE VALLEY BLVD | Larceny from vehicle |
| 11/30/2009 | 100 LYNDEN GLEN | Larceny from vehicle |
| 11/30/2009 | 1500 PINE VALLEY BLVD | Larceny from vehicle |
| 11/30/2009 | 2200 PLATT | Larceny from vehicle |
| 12/1/2009 | 3400 WASHTENAW | Arson |
| 12/1/2009 | 2300 E STADIUM BLVD | Attempted Burglary |
| 12/1/2009 | 3000 SIGNATURE BLVD | Attempted Home Invasion |
| 12/1/2009 | 600 BRIARWOOD | Burglary |
| 12/1/2009 | 1800 PACKARD | Burglary |
| 12/1/2009 | 2400 E STADIUM BLVD | Burglary |
| 12/1/2009 | 700 E EISENHOWER PKWY | Larceny from vehicle |
| 12/2/2009 | 2700 HIKONE | Attempted Home Invasion |
| 12/2/2009 | 700 E EISENHOWER PKWY | Auto theft |
| 12/2/2009 | 3700 GREEN BRIER BLVD | Larceny from vehicle |
| 12/3/2009 | 300 MAYNARD | Larceny from vehicle |
| 12/3/2009 | 800 E HURON | Larceny from vehicle |
| 12/4/2009 | 500 E LIBERTY | Assault |
| 12/4/2009 | 2300 E STADIUM BLVD | Assault |
| 12/4/2009 | N FOURTH & E ANN | Auto theft |
| 12/4/2009 | 2200 PLATT | Auto theft |
| 12/4/2009 | 500 ONONDAGA | Home Invasion |
| 12/4/2009 | 2600 S STATE | Larceny from vehicle |
| 12/5/2009 | 200 S FIFTH | Assault |
| 12/5/2009 | 500 LANDINGS BLVD | Burglary |