Posted on
Wed, Sep 5, 2012 : 2:59 p.m.
Ann Arbor DDA endorses proposal directing more city funding toward affordable housing
By Ryan J. Stanton
The Ann Arbor Downtown Development Authority on Wednesday threw its support behind a proposal to direct proceeds from the sale of city-owned properties toward affordable housing.
Whether that happens will be up to the Ann Arbor City Council, and it's expected to take up the issue on Sept. 17 when Council Member Sandi Smith, D-1st Ward, brings forward a resolution.
Smith said her resolution isn't yet drafted, but the basic premise is that it will take a yet-to-be-defined percentage of the potentially millions of dollars the city could get if it sells properties it owns and direct that money to the city's affordable housing trust fund.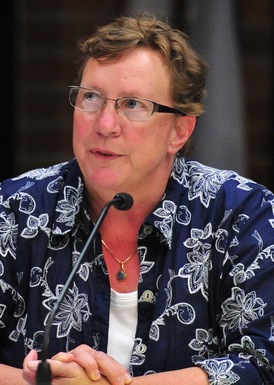 Ryan J. Stanton | AnnArbor.com
She said that most logically applies to the five city-owned properties the city is planning for redevelopment through the ongoing Connecting William Street initiative, but she doesn't see a reason to limit it to just those properties.
The resolution approved by the DDA on Wednesday encourages the City Council to direct proceeds from the sale of the city-owned surface parking lots downtown to the housing trust fund.
Smith, who also serves on the DDA's governing board, said she's watched the community struggle with the issue of affordable housing during her tenure on council.
She said the most recent failure of the Near North project, which promised to bring 39 affordable housing units to North Main Street, hammers home the need for more funding.
"We have not had a tremendous amount of success in building affordable housing. It is something that I have watched us struggle with," she said. "So the funds need to come from somewhere. We're not delivering what we need to either in the downtown or near downtown."
Jennifer Hall, the city's Housing Commission director, attended Wednesday's meeting and shared her thoughts on the potential influx of money coming to the affordable housing trust fund.
"It's absolutely needed," she said. "Anytime you do an affordable housing development project, you have to leverage outside resources. It'll never be 100 percent local. But even if you leverage federal or state funding, you always have a gap and that gap is expected to be filled locally."
Hall said the money would be a huge help in moving affordable housing projects forward. She said that could include new construction or rehabilitation of existing housing stock.
"The key areas I see that we need are either new construction if you can find a place to do new construction — it's very difficult — or acquisition and rehab to make permanent supportive housing," she said. "The support services for the housing is an area we also need funded."
The city owns 360 affordable housing units at 18 sites overseen by the Housing Commission. City officials said earlier this year the Housing Commission is now operating in the black after staff cutbacks, but the units it oversees are suffering continued deterioration due to a lack of money, with an estimated $14.5 million-plus in deferred capital needs.
Smith said Ann Arbor's aging public and private affordable housing stock is deteriorating at a rate faster than maintenance dollars can keep up with.
She said investments were made in some projects that were built or in the process of being built, but without getting a critical mass of new units.
The DDA's governing board voted 8-0 in favor of the resolution offering its endorsement of Smith's idea with four members absent: Bob Guenzel, Russ Collins, Newcombe Clark and Nader Nassif. Mayor John Hieftje was among the DDA board members who voted in favor of it.
The resolution reaffirms the DDA's commitment to affordable housing and argues there are positive community and financial benefits from providing supportive services to residents who face significant barriers to maintaining stable housing.
"Our investments in housing do not provide enough resources to meet the demand," the resolution states. "And our community needs to make a concerted effort to establish a significant fund to build new affordable units and to maintain existing ones."
In a letter to her council colleagues, Smith said the city's current policies have city officials continuing to try to build units in the downtown on land that is the most expensive in the county.
"We also have a policy in place that directs proceeds from the sale of publicly owned land to the general fund," she wrote. "We used to have a policy that would direct these funds to the housing trust fund. I have come to believe that instead of trying to build the affordable units downtown, we need the downtown to provide the funding for the affordable units."
Smith said her resolution merely would restore a previous policy directing proceeds from the sale of public land into the housing trust fund.
The Near North affordable housing project received a $500,000 commitment from the DDA more than two years ago. With the project cancelled, the DDA is saving that money now.
Hall made a pitch on Wednesday to have the DDA take $260,00 and pitch in to help the Housing Commission complete energy efficient improvements at Baker Commons, 106 Packard.
That includes $246,000 for a steel roof, $6,000 for programmable thermostats, $3,000 for occupant sensors for interior lighting and $5,000 for construction management services.
Hall said the existing asphalt roof has been patched numerous times throughout the last couple of years and water has been leaking and damaging the rafters below, as well as leaking into tenant units. She said the roof has rapidly deteriorated and must be replaced before winter.
DDA Chairwoman Leah Gunn said the DDA would take the issue back to one of its committees and consider whether to grant the Housing Commission's funding request.
Ryan J. Stanton covers government and politics for AnnArbor.com. Reach him at ryanstanton@annarbor.com or 734-623-2529. You also can follow him on Twitter or subscribe to AnnArbor.com's email newsletters.