Posted on
Thu, Sep 5, 2013 : 5:56 a.m.
Ann Arbor DDA gives $300K for upgrades to County Annex building
By Ryan J. Stanton
With mental health treatment services moving to the Annex building at 110 N. Fourth Ave. in downtown Ann Arbor, Washtenaw County officials have a $1 million upgrade planned.
To help the county with the renovation costs, the Ann Arbor Downtown Development Authority's governing board on Wednesday agreed to contribute $300,000 in grant funding.
"The challenge that they've been struggling with for a period of time is that the building was never configured for use as an office building," said DDA Director Susan Pollay. "So they've been working at developing a plan over the last many months to retrofit the interior."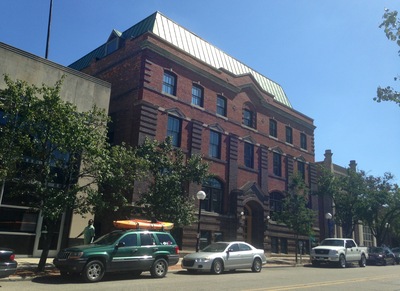 Ryan J. Stanton | AnnArbor.com
The county has plans to make significant modifications, including a new lobby and a client interaction space that will enable clients to wait indoors for appointments and maneuver within the facility for multiple support options, rather than waiting outside on the steps to the building.
County officials announced this year they were planning to move Community Support and Treatment Services to more urban locations in Ann Arbor and Ypsilanti to gain better access to their client populations. That included moving teams of case managers, nurses, prescription administrators, therapists, psychologists and medical students out of a county-owned building on Ellsworth Road in Pittsfield Township to the Annex building in downtown Ann Arbor.
The plan also included moving a number of CSTS employees to the county's Human Services building at 555 Towner St. in Ypsilanti.
Pollay noted CSTS provides a variety of services to clients with mental illness, developmental disabilities and substance abuse problems.
Mayor John Hieftje said having those services in the Annex fits with the goal of providing affordable housing near downtown for tenants who might use those kinds of services.
"I think this is important because that piece of Fourth Avenue is one of the major links between Main Street and Kerrytown — it has a lot of pedestrian traffic," said DDA board member John Mouat, whose architecture firm's office is located on Fourth Avenue.
Greg Dill, the county's infrastructure manager, couldn't be reached for comment.
The DDA reported on Wednesday that the downtown parking system took in more than $19 million in parking revenues during the fiscal year that ended June 30.
That's up from about $17 million the year before. Nearly $1.1 million of the increase came from the new underground Library Lane parking garage.
Art Fair parking revenues were down in July, dropping from $302,110 to $285,420 from 2012 to 2013, according to a new report.
The DDA's tax-increment financing — or TIF — fund showed $3.77 million in revenue for the last fiscal year, which was $125,435 short of what was projected. The DDA spent $5.5 million from its TIF fund for the year, leaving a $1.7 million deficit for the year.
The year-end TIF balance sheet still shows nearly $11.2 million in assets, while the housing fund shows $697,423, the parking fund shows nearly $6 million, and a separate parking maintenance fund shows nearly $1.2 million.
Ryan J. Stanton covers government and politics for AnnArbor.com. Reach him at ryanstanton@annarbor.com or 734-623-2529. You also can follow him on Twitter or subscribe to AnnArbor.com's email newsletters.