Posted on
Mon, Aug 19, 2013 : 5:57 a.m.
Washtenaw County's mental health treatment centers moving to urban Ann Arbor, Ypsilanti
By Amy Biolchini
Courtesy of Washtenaw County
Washtenaw County's treatment center for mentally ill adults is planning to
move to more urban locations
in
Ann Arbor
and
Ypsilanti
to gain better access to their client populations.
The move is one officials hope will mean that more individuals are able to access services that can help improve their health by creating go-to offices in centralized locations.
Washtenaw County's Community Support and Treatment Services operates out of a county-owned building at 2140 E. Ellsworth Road in Pittsfield Township just south of Interstate 94. It's located in an auto-centric corridor—though there's a bus stop in front of the building.
The present model of service delivery isn't as effective as it could be, CSTS Director Trish Cortes said.
After an intensive planning process with county officials, CSTS is planning to move teams of case managers, nurses, prescription administrators, therapists, psychologists and medical students to the county's Annex facility at 110 N. Fourth Ave. in Ann Arbor. There is no timeline set as to when the move will happen.
At the Annex, CSTS will join Project Outreach (PORT), the Washtenaw Housing Alliance and the Office of Community and Economic Development.
Amy Biolchini | AnnArbor.com
A number of teams will also be moving to the county's
Human Services
building at 555 Towner St. in Ypsilanti to better serve the client population in the urban area. The Towner Street building houses a number of human services departments, including Public Health and several adult mental health treatment programs.
CSTS provides a number of mandated services—case management, clinical treatment, jail diversion, nursing home treatment and housing services for adults and children with developmental disabilities and serious, persistent mental illness—as well as a discretionary service: help for homeless individuals with mental illness or a co-occurring disorder.
CSTS received an annual budget of about $28.7 million in 2013, second only to the sheriff's office. Its budget was increased to $41.8 million for 2014.
It has the second-largest departmental staff in the county of about 270 employees, again, second only to the sheriff's office. The Board of Commissioners approved the hiring of 39 additional employees this spring to meet a growing demand for services.
The department has not received any money from the county's general fund since 2011, putting more of the obligation on the Washtenaw Community Health Organization.
In 2012, about 2,279 mentally ill adults were seen by CSTS.
About 80 percent of those adults that receive treatment from CSTS are from urban areas: 30 percent are from Ann Arbor and 50 percent are from Ypsilanti, Cortes said. The remaining 20 percent are from western Washtenaw County.
There's a population of homeless individuals that circulate regularly through downtown Ann Arbor for free meals and other services, said Dr. Tim Florence, medical director for CSTS. People seeking a housing solution or help with their substance abuse issues tend to gravitate to the Annex, Cortes said.
"When someone shows up at the Annex and says 'I need help,' it's the perfect time to engage someone," Cortes said.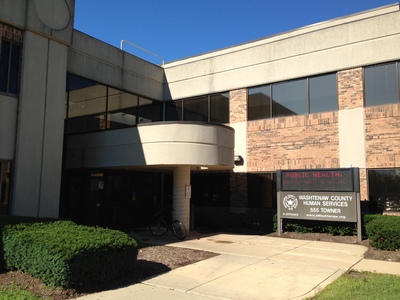 Amy Biolchini | AnnArbor.com
When they stop by the Annex to seek help, county staff can provide them with a set number of services to refer them to affordable housing organizations—but to get people mental health and substance abuse treatment they need, they would have to be referred to the Ellsworth Road facility about four miles away.
The distance can be a deterrent for individuals that decide to seek help, Florence said.
"We wanted the people we were serving to know they could just walk in," Florence said.
People are often faced with the decision of whether they want to miss a free lunch in order to see their doctor, Cortes said.
CSTS staff are working to make the Towner Street facility even more of a drop-in location in the way that people use the Annex in Ann Arbor. In the past year and a half, the drop-in rate of people seeking help at Towner Street has increased by 40 to 45 percent, Cortes said.
About 90 to 95 percent of CSTS clients use public transit to get to the Ellsworth Road facility, Cortes said. Some of the clients have personal vehicles, while others are driven by friends or family members.
To accommodate patients that drive to CSTS, Cortes said the county has worked out an arrangement with the Ann Arbor Downtown Development Authority for vouchers for patients to use in a parking garage nearby the Annex building.
Moving the services closer to where patients live in Ann Arbor and Ypsilanti should also reduce the amount of travel time for clients, Cortes said.
CSTS is also working to move primary care doctors to the Annex in Ann Arbor to be able to help address physical health issues
Individuals treated by CSTS often have multiple chronic conditions—like diabetes or COPD—in addition to possible substance abuse issues and mental health problems, Florence said.
In order for CSTS to move in to the Annex building, several departments will have to move out first in to new office space: the county's Public Defender Offices and the Office of Infrastructure Management. County commissioners gave their initial stamp of approval for those departments to use leased space in Dahlman Properties' City Center building at 220 E. Huron St. in Ann Arbor.
The move of adult mental health treatment services will leave the Ellsworth facility open for a new county department to move in: Youth and Family services, which provides behavioral and mental health treatment.
The switch is one Cortes and Florence said is much needed: Youth and Family services operates out of a building at the county's Hogback Road facility, where the county jail and probate court are located.
As most of the individuals that receive behavioral health treatment through the Youth and Family program have been through some sort of traumatic life event, Cortes said it's not helpful to reduce the stigma surrounding mental health treatment by locating the program next to the jail.

View Community Support and Treatment Services locations in a larger map
Amy Biolchini covers Washtenaw County, health and environmental issues for AnnArbor.com. Reach her at (734) 623-2552, amybiolchini@annarbor.com or on Twitter.