Posted on
Wed, Jul 7, 2010 : 2:56 p.m.
Ann Arbor deputy police chiefs union first bargaining unit to fully meet city's call for concessions
By Ryan J. Stanton
Ann Arbor officials say they're making progress on contract negotiations with the city's labor unions, lauding voluntary concessions ratified by the deputy police chiefs union.
The city's two deputy police chiefs, who are represented under Teamsters Local 214, have agreed to reopen their contract for 2010-11 — the last year of a four-year agreement — and make concessions that will save the city budget several thousand dollars.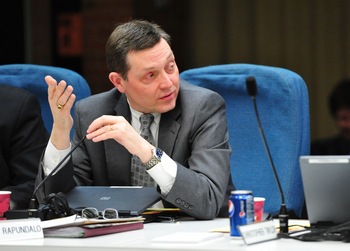 Ryan J. Stanton | AnnArbor.com
City Council Member Stephen Rapundalo, chairman of the council's labor committee, said two other bargaining units — Local 214 Teamsters Civilian Supervisors and the Teamsters Police Professional Assistants — also have negotiated contracts pending ratification that include concessions.
"I hope this is a signal to the other unions that have open contracts," Rapundalo said. "I hope that they will look seriously at the economic realities out there. I hope they will look seriously at what other bargaining units here within the city have stepped up to and I hope that they will factor that seriously into their ongoing negotiations with the city."
Rapundalo publicly thanked the deputy chiefs at Tuesday night's Ann Arbor City Council meeting as the council approve terms of the revised contract.
Highlights of the negotiated contract include:


An updated health care plan to include high and low plan options, with an increase in deductibles and premiums, an increase to preventative care from $750 to $1,000, and an increase in co-pays for mandatory mail order prescriptions to two co-pays for every three months of mail order prescriptions, effective Aug. 1.
An increase in pension contribution from 5 percent of pay to 6 percent of pay (pre-tax) effective Aug. 1.
Elimination of ICMA 457 match by the city effective July 1.
A $500 HRA contribution for each member effective July 1.
No across the board increase in wages.
The number of deputy chiefs in the Ann Arbor Police Department has shrunk from five to two in recent years, leaving just Greg Bazick and John Seto, who comprise the entire membership of the bargaining unit.
Bazick said the concessions were 100 percent voluntary on their part, as they understand the city's budget situation and the need to make personal sacrifices right now.
"We've made concessions outside of the negotiations process for a few years," he said. "We feel fortunate to be employed and to have the benefit packages that we do have. We recognize the state of the economy nationwide as well as locally, and we feel to make reasonable concessions just like the average citizen is fair and reasonable."
City officials said the deputy police chiefs and two other Teamsters bargaining units, whose contracts await ratification, will see increases in pension contributions consistent with the current contribution level for firefighters represented by IAFF 693 and non-union employees.
"Essentially all three of these unions have negotiated terms which provide savings to the city," Rapundalo said. "And, in particular, all three of these unions have negotiated to contribute more to the health care plan which covers their members and families, so this means increase in deductibles and premiums, it means increases in co-pays."
Rapundalo said the new health care plan for the deputy chiefs is the same as the one provided to the city's non-union employees. It has been a goal of the city's administration to bring union benefit packages, which are more generous, in line with those provided to non-union workers.
"The council has been fairly clear and consistent in its expectations regarding the need for savings from our employees, and certainly this collective bargaining agreement certainly achieves that," Rapundalo said. "And the primary contribution, of course, is through the increase in what the employees will have to provide to their health care plans."
Rapundalo said the deputy chiefs bargaining unit is the first union group to fully respond to the city's request for concessions, including in health care.
"Certainly I'd like to thank the members of this union and the two that will be ratifying for stepping up, for making the sacrifices, and allowing us to help meet our budgetary constraints," he said. "I think as everybody knows, Ann Arbor's not unique in this state. We find ourselves alongside many other communities needing to achieve savings."
Rapundalo ran through a list of stories from across Michigan he has read in the media in recent weeks.
"Warren was seeking a 15 percent savings in total compensation from their employee groups," he said. "Bay City delayed layoffs while it sought 10.8 percent in concessions. Madison Heights police recently agreed to concessions equal to about 6 percent of their pay and benefits. And Farmington Hills police command officers agreed to accept 5 percent pay cuts and reduced benefits. So the economic challenges persist for communities, and I think it's only fair and reasonable to ask our employees to be part of the solution in seeking the savings."
Ryan J. Stanton covers government and politics for AnnArbor.com. Reach him at ryanstanton@annarbor.com or 734-623-2529.