Posted on
Sun, Feb 28, 2010 : 6 a.m.
Controlling employee costs may be Ann Arbor's biggest challenge
By Ryan J. Stanton
City Administrator Roger Fraser acknowledges Ann Arbor city employees enjoy more lucrative benefit packages than many others in the public and private sector.
"Looking across the organization, what we have consistently found is that wages tend to be close to the middle of the marketplace," Fraser said. "Where we're out of sync with the rest of the marketplace is in the amounts that the employees contribute to those non-wage costs, and we've been trying to focus on that."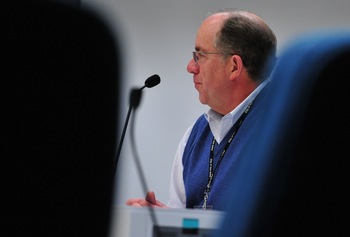 Ryan J. Stanton | AnnArbor.com
The city is paying more today to employ 766 people than it did earlier this decade when it had 959 workers. And it's those costs that are nagging city officials as they look to confront an additional $5.2 million general fund budget deficit - on top of millions already cut.
Despite efforts to slash personnel costs, pay and benefits in Ann Arbor city government - including retiree pensions - have risen to $114.9 million this year. In 2002, with a much larger staff, those costs totaled $86.7 million - or $104.4 million in today's dollars.
Employees are earning more, and their benefits are costing more. Annual expenses for benefits for city employees and retirees have nearly doubled from $32.7 million to $59.4 million since 2002.
The rising expenses are partly tied to the city being more aggressive about funding future liabilities for retiree health care and pensions. But officials also say the cost of health care has risen sharply, and employees aren't paying their fair share.
With wages and benefits for three-quarters of the city's workforce locked into union contracts, changing that could be difficult.
"Do we need improvements from employees? Absolutely," said Tom Crawford, the city's chief financial officer. "Are we working really hard at that? Absolutely. Are we having a hard time? Hell yeah."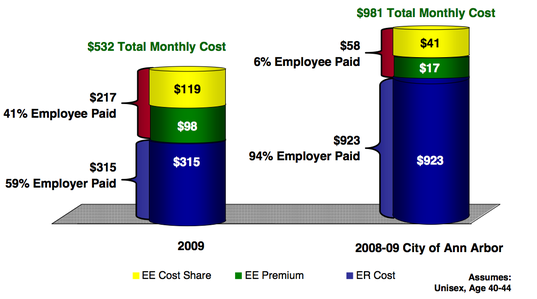 Courtesy of McGraw Wentworth
Greg Surmont, account director for McGraw Wentworth, the city's employee group benefits brokerage firm, said his firm surveyed more than 600 public and private organizations throughout the state. The survey found Ann Arbor employees enjoy top-dollar benefits at little cost to them.
According to the survey, the average Ann Arbor employee last year paid only 6 percent of the $981 monthly cost of his or her health benefits. Across the marketplace, the average monthly cost was $532, and employees typically picked up 41 percent of that amount.
A closer analysis of those figures suggests Ann Arbor paid $5.8 million more for health insurance last year than it would have if its benefit plans were in line with the rest of the marketplace.
"The city's costs in general are significantly higher than the prevailing costs out there," Surmont said. "In this case, it's a pretty big differential - nearly $400 more per month per employee - and the city is funding the majority of the expense. We've got employees who are paying little toward premium costs. In fact, just $17 a month."
Compared only with other municipalities in Michigan, Ann Arbor's employee benefit packages still are far more generous, the survey found.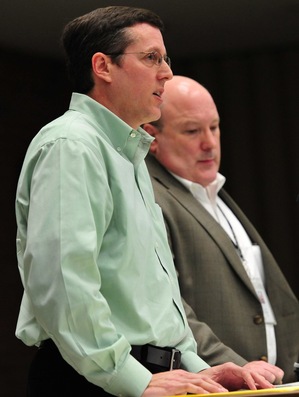 Ryan J. Stanton | AnnArbor.com
City officials say it's been a challenge getting the needed concessions from labor unions, specifically with the police and firefighters unions, whose members enjoy premium-free health insurance.
"We are still struggling with labor contracts that were heavily one-sided that were decided back in the '70s and '80s," said Mayor John Hieftje. "We've been working very hard to try to do more. Employees are contributing more to their health benefits, but not nearly what they need to be."
One of the challenges is Michigan Public Act 312, a 1969 law that provides for compulsory arbitration of labor disputes in municipal police and fire departments. Hieftje claims the law unfairly favors the unions and has led to situations in which a third-party arbitrator decides whether to dole out raises - even if the city can't afford them.
The average Ann Arbor city employee earns a base salary of $65,198 and receives $32,993 in benefits. By those calculations, the average active employee costs the city $98,191 per year, a figure slated to rise to $103,769 next year. And that's not including overtime, which is an expense of more than $2.76 million on its own.
According to U.S. Census Bureau statistics, the average per-capita income in Ann Arbor is $30,410 - less than half that of a city worker.
According to U.S. Bureau of Labor statistics, the average rate of pay for a government employee in the United States is $25.97 an hour, compared to $29.29 for a city of Ann Arbor employee. Total benefits for a typical government employee come at a cost of $13.54 per hour, while in Ann Arbor city government it's $18.82.
With personnel costs accounting for such a large portion of the city's budget, the jobs of city workers are on the chopping block. The latest proposals call for eliminating 17 positions in the police department and 20 in the fire department in July.
Hieftje has issued a call to the labor unions to take a 3 percent pay cut to help avoid layoffs. He said that would yield savings of $875,000 in the general fund and $1.5 million across all city funds.
So far, only the firefighters union has responded, agreeing to a 3 percent pay cut and a 1 percent increase in employee pension contributions. But even if every other labor group followed suit, it still would fall short of closing the budget gap.
An analysis by AnnArbor.com shows it would take a 6.7 percent across-the-board reduction in total compensation - pay and benefits combined - to achieve a savings equal to $5.2 million. That theoretically would balance the budget without layoffs or cuts to services, but would result in a $6,953 hit to each employee on average.
If the city went that route, the cuts could be achieved by implementing a 5.25 percent reduction in salaries and requiring each employee to contribute $290 a month more for health insurance.
But the City Council can't unilaterally impose that without consent from the unions.
"In the public sector, we don't have the same rules the private sector does to solve our personnel issues," Crawford said. "Public Act 312 is a huge issue for us and part of the reason why change is so hard and so delayed. The math may work. But is it practical? Not in any short time frame."
Robyn Wilkerson, the city's human resources and labor relations director, is currently attempting to negotiate with each of the city's eight collective bargaining units. She said it's difficult to ask employees to take deep cuts when the city's budget still hasn't hit bottom. City officials are predicting they'll need to cut an additional 8 percent from the budget in 2011-12.
As part of negotiations, Wilkerson said she's working to address what she considers a "tremendous disparity" between different labor groups when it comes to how much employees pay toward their health benefits.
"Our non-union employees and a couple of our Teamster groups pay 10 percent premiums now," she said. "Groups like the police, POA, COAM and AFSCME don't pay premiums at all and they have different levels of deductibles. One of our goals, quite honestly, is to get everyone on the same plan just in terms of equity from an administration standpoint."
AFSCME President Nicholas Nightwine, who heads up the city's largest labor union, acknowledged his bargaining unit historically has shared little of the cost of health benefits. For instance, AFSCME employees never paid deductibles for their health insurance until their last contract - and they still don't pay premiums.
"But when we negotiate a contract, both sides sign off on the agreement," Nightwine said. "So the city has not given us anything that they have not signed off on giving us. We don't make our own wages or benefits."
AFSCME has not yet responded to the city's request to open up its contract, which includes 3 percent raises next year.
"I'm not going to sit here and say we're going to absolutely say no to the city, but we feel we've already given back," Nightwine said. "Until last year, we went three years without taking a raise across-the-board."
According to year-end audits, expenses in the general fund - the city's chief operating budget - increased from $74.5 million to $83.9 million from 2003 to 2009. That's a 12.6 percent increase over six years.
All total, the city has a budget this year of about $351.7 million, which has grown by $132.8 million - or about 61 percent - in the last eight years, according to city records. Crawford claims comparing the city's overall budget today to past budgets is skewed because the city's accounting procedures have changed and capital projects weren't factored in before but now are.
Crawford also points out that the city's budget is about $25 million lighter this year than it would have been had not the city eliminated 239 jobs since 2001.
Council Member Carsten Hohnke, D-5th Ward, said city officials must closely examine every area of the city budget in the coming weeks, and that includes employee pay and benefits.
"Labor costs are a significant part of the organization," he said. "I don't think it's unusual. In an organization like ours, the people are going to be a big part of the expense, but compensation is definitely something that we have to look very hard at."
Ryan J. Stanton covers government for AnnArbor.com. Reach him at ryanstanton@annarbor.com or 734-623-2529.