Posted on
Wed, Nov 7, 2012 : 5:59 a.m.
Ann Arbor downtown library bond proposal defeated: What now?
By Ryan J. Stanton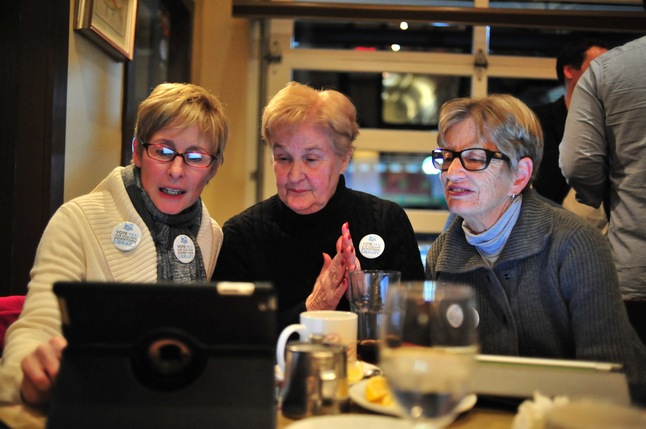 Ryan J. Stanton | AnnArbor.com
The postmortem of the
Ann Arbor District Library's
campaign for a new downtown library began early Tuesday night, as soon as
election results showed the proposal failing
in key precincts.
Supporters of the Our New Downtown Library committee who gathered at the Real Seafood Co. acknowledged their message obviously didn't resonate with voters.
By the end of the night, they had accepted defeat, but they weren't budging on their position that a new downtown library is needed.
"It means we didn't make our case to the voters, but it doesn't mean there is not a case to be made," said Margaret Leary, president of the AADL's governing board.
"There is a case to be made," Leary added. "The current library is too small, too inefficient, too impossible to make better, and if we didn't convey that to the voters, then that's unfortunate."
Ryan J. Stanton | AnnArbor.com
Now that voters have spoken, Leary said the library board will have a lot to discuss in the coming weeks and months. She said the current library at Fifth and William, which traces back to 1958 and was last renovated in the early 1990s, will require costly upgrades if it's not rebuilt.
"The library board will have to talk about it and figure out what to do," she said. "It will be a big issue for us. We will have some serious issues ahead of us."
The $65 million bond proposal was rejected by voters in every municipality in which it appeared on the ballot Tuesday — throughout the city of Ann Arbor, as well as the portions of Ann Arbor, Lodi, Pittsfield, Salem, Scio, Superior and Webster townships included in the district.
The final tally was 41,359-33,604, giving the "yes" side 44.8 percent.
Kathy Griswold, who headed up the Protect Our Libraries group that opposed the proposal, celebrated her team's win Tuesday night at Weber's Inn.
"I think it's part of a trend of the community just being more fiscally responsible," she said of the outcome. "We've seen that in other areas. I think the fact that there wasn't a specific plan played into it. I hope that it also had to do with equity throughout the district. That was my biggest concern."
Griswold said the library district is much more vast than the library board seems to want to acknowledge and she doesn't see how a new downtown library will help low-income people who live out in the townships. She thinks township voters especially were right to reject the proposal.
"I think there was this preoccupation with building this downtown library building because so many other communities are doing it — Seattle, Austin, Des Moines, Iowa — and I really don't think that's what Ann Arbor needs," she said. "We need more library services further out."
Griswold said she would "absolutely" oppose any effort if the library board decided to take a second shot at winning voter approval for a new downtown library.
Leary said one option the board might consider is doing more planning and then going back to voters with a more detailed proposal. She said she's not convinced it would have helped on Tuesday to have had architectural drawings of what a new library could look like, though.
"I'm just very disappointed," Downtown Development Authority Chairwoman Leah Gunn said of the proposal's defeat. "There have been three library millages — 1972, 1995 and this one. I've worked on all of them and I'm just very, very sorry that people did not see how necessary this is."
Ryan J. Stanton | AnnArbor.com
Gunn said she can't think of any missteps in the campaign.
"We did everything we could and had a fabulous group of people working on this campaign," she said. "We were open and transparent with all of our contributions and expenditures, so that's all I can say. It was interesting that most of the opposition's money came in a late contribution attributed to an advertising agency."
Peter Baker, who worked on the library campaign, said the Our New Downtown Library committee didn't expect the last-minute ad blitz against the proposal.
"Our entire campaign was based around trying to promote libraries as an institution," he said. "We wanted to look toward the future of libraries. We didn't really expect to have to counter a lot of misinformation. We didn't really expect to have to argue for investment in libraries."
According to campaign finance reports, an Ann Arbor-based advertising agency called McCullagh Creative contributed $21,337 worth of in-kind advertising services to the Protector Our Libraries committee that was actively campaigning against the bond proposal.
That wasn't known until the final days before the election when late contribution reports were filed and rumors quickly spread that one or more local property owners might be funneling money to the ad agency to run the ads. Those rumors have been neither confirmed nor denied. Jeff McCullagh, the ad agency's owner, did not return multiple phone calls seeking comment.
"I think the general idea in a democracy is that we know who pays for what and I'm not sure the current rules about campaign finance reporting allow us to do that," Leary said.
Dennis Dahlmann's name came up Tuesday night as supporters of the library bond proposal searched for answers. They noted signs against the proposal on his properties.
Ben Dahlmann, vice president of Dahlmann Properties, declined to comment when contacted by AnnArbor.com, and Dennis Dahlmann could not be reached.
Cappo Management, which owns a number of rental properties in Ann Arbor, also put up signs opposing the library bond on many of its properties near downtown.
Baker said it seems evident that special interests came into play against the library proposal and that's unfortunate.
"We obviously expected a lot of resistance to taxes being hiked, which is a totally valid argument," he said. "But I think we sort of overlooked the reactionary left, I guess. It's sort of a weird alliance of the property owners in town and the people who wanted something to protest."
Asked whether big property owners helped fund the ads against the library, Griswold said she wouldn't be surprised if some stepped forward to cut checks. She said she put more than $7,000 in expenses for the campaign on her own credit card and she's now soliciting donations to pay herself back, and she said McCullagh Creative might be doing the same.
"The money's been spent and now we're trying to recoup it," she said.
Multiple voters told AnnArbor.com as they were leaving the polls Tuesday they came out against the library bond proposal simply because they didn't want to have to deal with another big construction headache for two years downtown. One resident who declined to give his name said he lives across from the Library Lane underground parking garage, which was under construction for more than two years, and he's still bitter about being woken up every morning by loud noises.
"I voted against it because I don't want to be without a downtown library for two years and I don't really feel that the library's in that bad a shape," said Mark Grasso, another resident who lives within walking distance from the library and makes the trip a few times a week. "I don't think they need to tear the whole thing down and build it again. It's just so much money."
Ann Arbor resident Rex Roof voted inside the library on Tuesday. He thinks the ads against the bond proposal were misleading and he said they just made him want to support it even more.
"I strongly support building a new library because this one is pretty old and I think our library is doing amazing things and I support it," he said.
Ellie Serras, who headed up the Our New Downtown Library committee, said she's still proud of the campaign her team ran.
"If we didn't make our message quite clear enough, we've got time to do that," she said. "Fortunately we've got a great library system and that will still be there tomorrow."
Serras said shortly after 10 p.m. Tuesday night she wasn't yet thinking about waging a second campaign. But she was thinking about the campaign against the library.
"I think they were absolutely effective in swaying people," she said. "I think their message was all about the money that it would take and I think there were implications that the library was involved with the city and the DDA in some way, which was not true. So I think that they hit some points that were sensitive in the community and the community responded."
Donald Harrison, another resident who worked on the campaign for the library, said while the opposition had good soundbites like "save the library," it was difficult to so succinctly convey the need for a new downtown library and explain the current building's shortcomings.
"Infrastructure is not the sexiest of things," he said. "And it's a challenge to make that infrastructure argument for people to understand it when the building's not about to fall down."
John Splitt, a DDA board member and supporter of the campaign, agreed with Harrison as they chatted Tuesday night at Real Seafood.
"Much of it is what's happening behind the walls," Splitt said of the library's shortcomings. "I think it was a hard sell — it was a hard thing to communicate."
Leary said she suspects most people who argue the current library is fine don't actually spend much time inside it. She said just ask the moms who bring their kids into the children's room and don't have a place to sit or the teens who come in and don't have a computer to use.
"The existing, inadequate buildings will take up more and more of our operating revenue, and that's why we really need to think hard about what to do next," she said.
Ryan J. Stanton covers government and politics for AnnArbor.com. Reach him at ryanstanton@annarbor.com or 734-623-2529. You also can follow him on Twitter or subscribe to AnnArbor.com's email newsletters.