Posted on
Tue, Aug 6, 2013 : 5:59 a.m.
Ann Arbor downtown zoning review: rethinking incentives offered to developers
By Ryan J. Stanton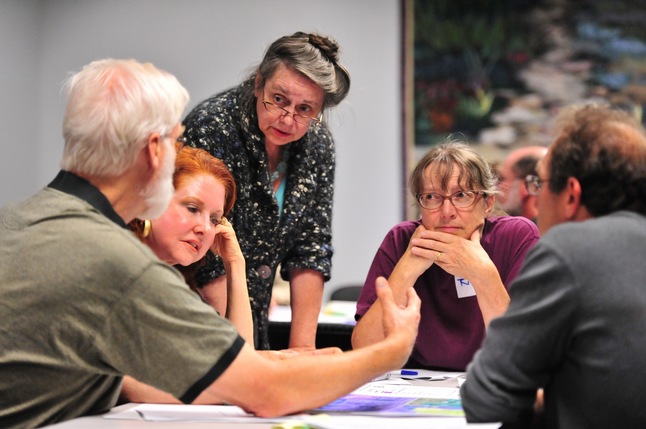 Ryan J. Stanton | AnnArbor.com
Ann Arbor's downtown zoning
offers developers some incentives — also known as "premiums" — for providing certain amenities in their projects.
In the D1 and D2 zones, they can build bigger if they include residential use, affordable housing, green building technologies, historic preservation, pedestrian amenities or public parking.
But city officials now question whether residential premiums offered to developers are effectively encouraging a diverse downtown population.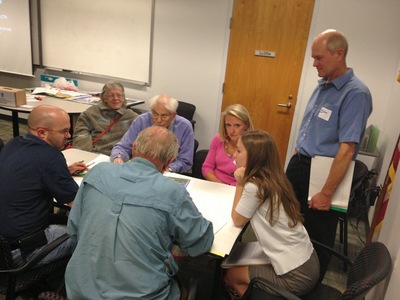 Ryan J. Stanton | AnnArbor.com
They put the question to about two dozen community members Monday night as part of an ongoing review of the downtown zoning.
The consensus: The premiums aren't working very well.
"Premiums are bogus excuses to let developers do whatever they want," said Ann Arbor resident Peter Eckstein, summing up the opinions of his work group at Monday's workshop.
If there are going to be premiums, Eckstein and others said, developers should have to abide by the city's design guidelines, which lack teeth right now.
Some said premiums should be done away with completely, while others suggested tweaking them to incentivize different types of development — perhaps more office space.
Hired consultants from ENP & Associates facilitated the meeting, which featured a summary of public input received through recent focus group sessions and public surveys.
Erin Perdu, who led the meeting, said her team has gotten a mix of feedback from the community, indicating what's working and not working with downtown zoning.
"In general, we have heard a lot about the setbacks, the height limits and the bulkiness of some of the buildings that are being built — and that the requirements that are in the ordinance are resulting in buildings that are negatively impacting the surrounding area," she said.
"We have heard that the premiums are not working the way they are intended — that they're not really resulting in the kinds of housing the city intended, and some other amenities are not being produced from the premiums and they might need to be re-examined."
On the positive side, Perdu said, the downtown zoning has been simplified since the Ann Arbor Discovering Downtown — or A2D2 — changes were adopted by the City Council in late 2009, and that's encouraging more development and mixed-use buildings.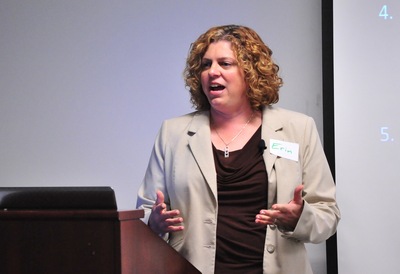 Ryan J. Stanton | AnnArbor.com
She said some even have suggested the D1 area should be expanded so more downtown properties can be densely developed.
But the consensus opinion from Monday's crowd, which included many opponents of approved high-rise projects like 413 E. Huron and The Varsity, was that more areas of the downtown should be downzoned, and some areas zoned D1 should be zoned D2 instead.
Participants broke off into different work groups and pored over maps showing areas zoned D1 along Huron Street, William Street and Ann Street. Many said those areas should be downzoned to provide a better transition into nearby neighborhoods.
Eckstein's group came to the conclusion that height limits for both D1 and D2 should be lowered so developments aren't so big and bulky, and the city should use part of its Greenbelt millage dollars to create more parkland and open space around the downtown.
D1 is the core downtown zoning that allows buildings up to 180 feet tall — or in special cases like the 400 block of East Huron, up to 150 feet tall.
Some have argued D2 step-down zoning with a 60-foot cap would be a better fit for certain areas that abut residential neighborhoods and historic districts.
Wendy Rampson, the city's planning manager, said lots of good feedback is coming out of the community engagement that's been done so far.
"What we're really trying to do is take this zoning and make it fit a little bit better," she said. "We started with our best guess in 2009, and now we're going to tweak the edges."
Ellen Ramsburgh, a longtime member of the Ann Arbor Historic District Commission, said recent high-rise projects like The Varsity and 413 E. Huron show where the zoning falls short.
"I am hoping we revise the zoning so that it reflects the goals that were stated in the Downtown Plan and the character overlay districts, and so that it respects context," she said. "Putting a blanket zoning over an area that's very varied is problematic."
City officials talk about density in terms of "floor area ratio" or FAR, which is the total square feet of floor area in a building divided by the total square feet of the overall property.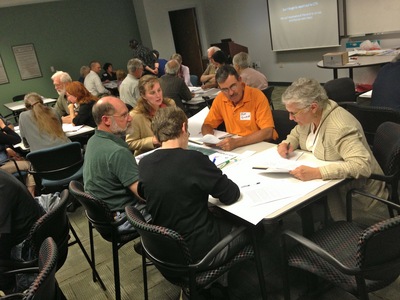 Ryan J. Stanton | AnnArbor.com
In the D1 district, a maximum FAR of 400 percent is allowed by right, with opportunities to add more stories and go up to 700-900 percent with the use of premiums.
In the D2 district, 200 percent is the maximum by right, with opportunities to go up to 400 percent with the use of premiums.
"The premiums that we've identified for incentivizing certain types of development may need to be rethought," Rampson said. "We could remove the residential premiums if the market is already providing residential, and then try to shift incentives to other things we're trying to get in the downtown — like LEED development, green development, public open space, better design."
Ann Arbor resident Betsy Price said her group decided Monday night that premiums should incentivize more diverse and affordable housing, as well as pedestrian amenities.
"We think premiums should be given for those who preserve or protect historic resources and existing residential areas — not just those that are historic districts, but houses," she added. "We thought premiums should be given for open green space, space that is accessible to the public on the ground level — not maybe a third-floor or sixth-floor terrace that's only for those residents."
The City Council earlier this year directed the city's Planning Commission to evaluate the A2D2 zoning and report back in October with any recommended changes.
The consultant team is expected to work through early September to develop options to address priority issues. Another public meeting will be held in mid-September.
The consultant will be working to draft a final action plan at that time, and the Planning Commission is expected to meet to finalize recommendations in late September.
"As far as our evaluation and suggestions for moving forward, our plan is to report back to City Council in early October," Perdu said.
Mayor John Hieftje and three City Council members — Sabra Briere, Sumi Kailasapathy and Sally Hart Petersen — were in attendance Monday night.
"I'm here because I want to hear what people are saying and I'm looking forward to getting the total input that comes back from the consultant," Hieftje said.
"The folks who are here are people who have participated in these types of discussions over the years," Hieftje noted of the audience. "I've seen most of them way back during the Calthorpe discussions and I'm glad they're still engaged and coming out and doing this."
Briere, who serves on the Planning Commission, said she heard many different ideas coming out of the groups as she went from table to table Monday night.
"It's very interesting because each small subset has different ideas of what they want," she said. "I'm still at the listening and learning stage."
Briere said the Planning Commission will hold a public hearing on the issue as the process moves forward and she expects more interesting public discourse then.
The public also is invited to another "community coffee" with consultants at Zingerman's Community Table, 422 Detroit St., from 8-10 a.m. Thursday.
Ryan J. Stanton covers government and politics for AnnArbor.com. Reach him at ryanstanton@annarbor.com or 734-623-2529. You also can follow him on Twitter or subscribe to AnnArbor.com's email newsletters.