Posted on
Wed, Jul 24, 2013 : 5:59 a.m.
Mayor says Ann Arbor is legally protected against more student high-rises during zoning review
By Ryan J. Stanton
Ryan J. Stanton | AnnArbor.com
Ann Arbor
officials have been
saying for months
they'd like to avoid seeing any more apartment high-rises built downtown that cater to University of Michigan students.
Instead of dorm-style buildings with sometimes five or six beds in each apartment, they want more housing for young professionals and others who prefer one- and two-bedroom units and studios.
City officials are just getting started on a review of the downtown zoning and haven't made any changes yet, but the mere fact that they've publicly stated it's their intention to move in that direction gives the city some legal ground to stand on in the interim, said Mayor John Hieftje.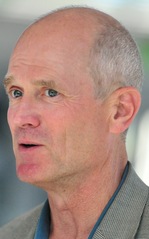 "It protects us from somebody coming in with a new student building," he said. "We have the ability to say, 'Wait a minute, we informed everybody we were looking at this zoning, you're going to have to abide by the new zoning, whatever that is.' So that's really important."
As the city's Planning Commission works to review the city's downtown zoning and report back to the City Council by Oct. 1, Hieftje thinks the city is in a good position because of that.
City Attorney Stephen Postema agreed the city has made its intentions clear about the rezoning effort.
"So anybody coming in to do a project is on notice the zoning may be changed — it's public knowledge out there," he said. "It would prevent somebody from coming in and saying they were unaware there would be a potential change and making arguments on those grounds."
The newer D1 and D2 zoning for the downtown — which imposed new height limits ranging from 60 to 180 feet — resulted from the multi-year Ann Arbor Discovering Downtown process. A public evaluation of the A2D2 zoning changes that were adopted in 2009 begins this week.
The goal of the A2D2 Evaluation Project is to have a constructive discussion about what works as far as downtown zoning, what doesn't work, and possible changes.
A series of interviews, focus groups, public events and online surveys are planned through September to engage residents, businesses, employees and downtown property owners.
Hieftje said the upcoming zoning changes could, just as a possible example, limit the number of three- and four- bedroom units to maybe 10 percent of a building.
"So that's really going to mean future development in the downtown area will be more focused on young adults, empty nesters, young families who might want to live there," he said.
Some of the student apartment buildings that have gone up around the downtown in recent years offer a large number of four-, five- and six-bedroom apartments.
The 14-story high-rise planned for the northeast corner of Division and Huron streets — known as the 413 E. Huron project — prompted the review of the downtown zoning.
Hieftje said he's not too worried about that building since almost 60 percent of the units will be comprised of one- and two-bedroom units, and there's nothing bigger than a four-bedroom.
He's also hopeful there will be a number of apartments for young professionals and empty nesters with two other projects coming online — the 618 South Main apartment project and Ann Arbor City Apartments, the high-rise going in across from the Blind Pig at First and Washington.
Some wanted the City Council to approve a six-month moratorium on development and halt the 413 E. Huron project while the Planning Commission reviewed the downtown zoning. Hieftje said that would would have sent a signal nationwide that Ann Arbor was "closed for business."
As part of the upcoming zoning review, members of the public will be asked through Aug. 16 what issues should be addressed in the evaluation. After that time, options for changes to the A2D2 zoning will be evaluated and revised for final presentation to the City Council in October.
The A2D2 zoning amendments were adopted in coordination with amendments to the city's Downtown Plan. At the time of adoption, the Planning Commission and City Council agreed that the ordinance should be evaluated after one year.
"Given the slow economy, this evaluation was deferred, but recent downtown development interest has prompted concern that the ordinance may be encouraging development that is inconsistent with the Downtown Plan objectives," the city stated in a news release.
Two public focus group meetings will be held the last week of July. The first one takes place 8-9:30 a.m. July 29 at Kerrytown Concert House, 415 N. Fourth Ave. The second one takes place 7-8:30 p.m. July 30 at city hall, 301 E. Huron St., in the basement conference room.
Other opportunities to get involved in the A2D2 Evaluation Project:
A public workshop 7-8:30 p.m. Aug. 5 in the basement conference room of the Washtenaw County Building, 200 N. Main St. to review and prioritize issues identified in the focus groups.
"Community Coffees" with consultants to hear community views, held at Zingerman's Community Table, 422 Detroit St., from 8-10 a.m. July 25, Aug. 1 and Aug. 8.
Future online surveys at A2 Open City Hall.
Updates will be posted at the A2D2 website. A link to sign up for email updates can be found by clicking on the red envelope icon on the site.
The Planning Commission's Ordinance Revisions Committee is overseeing the process. ENP & Associates, a planning consulting firm based in Ann Arbor, was hired to facilitate the process with assistance from the city's planning and development services staff.
Ryan J. Stanton covers government and politics for AnnArbor.com. Reach him at ryanstanton@annarbor.com or 734-623-2529. You also can follow him on Twitter or subscribe to AnnArbor.com's email newsletters.