Posted on
Wed, May 9, 2012 : 5:57 a.m.
Ann Arbor embarks on first five-year sidewalk repair program using new millage
By Ryan J. Stanton
Following last November's voter approval of a new sidewalk millage, Ann Arbor officials are about to embark on a new five-year repair program.
The Ann Arbor City Council this week awarded a $564,460 contract to the Doan Construction Co. for the 2012 ramp and sidewalk repair project.
The first year's work will consist of the repair of deficient sidewalks in 20 percent of the city, with the goal of performing maintenance on the city's entire sidewalk system over five years.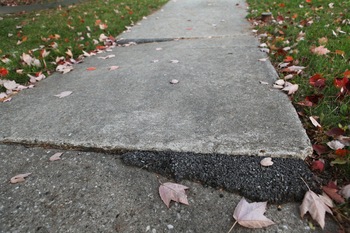 Jeff Sainlar | AnnArbor.com
The project also includes the continued replacement of sidewalk curb ramps to meet the requirements of the Americans with Disabilities Act.
The new sidewalk millage, a 0.125-mill levy, was approved by Ann Arbor voters with 60.1 percent support in November.
According to city officials, the 0.125-mill sidewalk millage translates to $13.37 a year in new taxes for the average homeowner.
Ann Arbor's city code previously required property owners to maintain sidewalks adjacent to their properties on their own. With the $560,000-plus a year the sidewalk millage will raise, city officials are shifting that responsibility away from individual property owners to the city.
The $13 a year the average resident will pay for the millage is about one-tenth the cost of a single slab.
City officials released a map this week showing the areas around the city that are scheduled to be included in the 2012 project.
Depending on the status of the budget upon completion of work, the city might add additional areas to the contract to take advantage of favorable pricing, said Homayoon Pirooz, head of the city's project management unit.
Pirooz said the city received four bids, which were opened on March 30. Doan's bid came in $256,719 lower than the city engineer's estimate of $821,179.
The council established a $256,000 contingency within the project budget, which allows City Administrator Steve Powers to approve additional change orders up to that amount.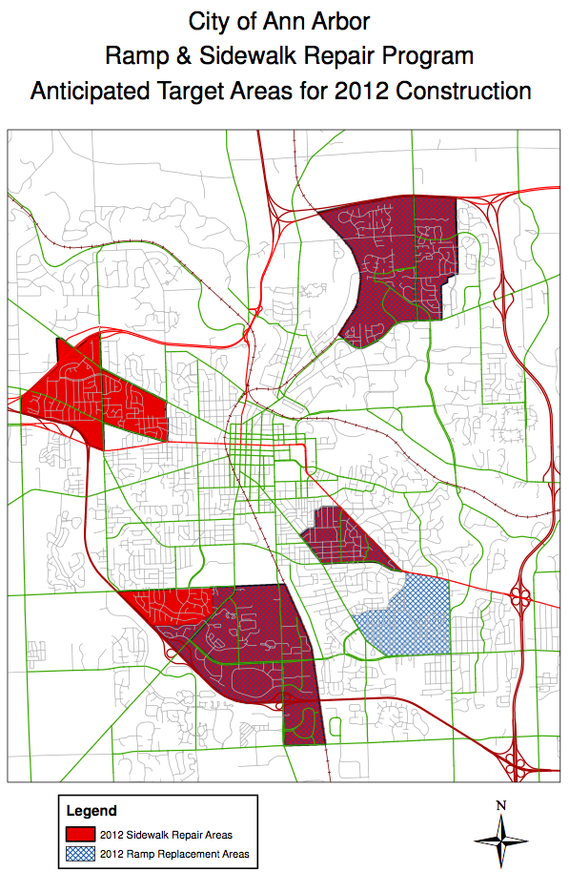 Courtesy of city of Ann Arbor
Ryan J. Stanton covers government and politics for AnnArbor.com. Reach him at ryanstanton@annarbor.com or 734-623-2529. You also can follow him on Twitter or subscribe to AnnArbor.com's email newsletters.