Posted on
Mon, Mar 12, 2012 : 7:41 a.m.
Ann Arbor fire chief proposing restructuring plan that eliminates 2 fire stations
By Ryan J. Stanton
Nearly a decade after going from a six-station fire department to a five-station fire department, Ann Arbor might be downsizing again.
Fire Chief Chuck Hubbard is expected to present a plan to strategically restructure the Ann Arbor Fire Department at tonight's City Council work session.
A 15-page presentation on the restructuring plan is posted on the city's website. It shows Hubbard is proposing the city operate out of three fire stations instead of five: One on the north side of the city (Station 5), one on the south side (Station 2) and one downtown (Station 1).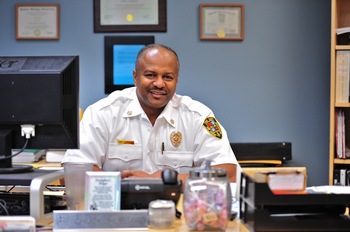 Ryan J. Stanton | AnnArbor.com
That requires reopening Station 2 at Stadium and Packard, which was closed several years ago during a round of budget cuts, and closing Station 3 at 2130 Jackson Ave., Station 4 at 2415 Huron Parkway, and Station 6 at 1881 Briarwood Circle.
The council meets at 7 p.m. inside the council chambers on the second floor of city hall, 301 E. Huron St. The meeting is open to the public.
The reason cited for the restructuring is that, in addition to fires, the fire department is structured to handle emergency medical responses.
"Community consensus supports fire suppression to be the focus, which requires a restructuring but would result in a safer and more efficient fire response system," the proposal states, noting firefighter staffing decreased 30 percent since 2003.
The fire department currently works cooperatively with Huron Valley Ambulance to respond to medical emergencies. A recent study found there were nearly 4,500 times during a one-year period where both the fire department and HVA responded to the same medical call.
AnnArbor.com is meeting with Hubbard today to get additional details on the restructuring plan and will be reporting out of tonight's work session.
The proposal takes into consideration the city's general fund budget constraints, uncertainties regarding state revenue sharing, and recommendations that recently came from a study of the fire department conducted by the International City/County Management Association.
ICMA's report showed Ann Arbor failing to meet the National Fire Protection Association's minimum standards for responses to fires and other emergencies.
The city tries to follow the Occupational Health and Safety Administration's "two in, two out" rule that requires four firefighters on scene before anyone can enter a burning building. The city's response model has just three firefighters staffed at each station.
Hubbard's restructuring proposal is aimed at making sure the fire department is better suited toward meeting national standards, including the NFPA rule that says four firefighters should arrive at a fire within four minutes 90 percent of the time, and 15 firefighters should arrive within eight minutes 90 percent of the time.
AnnArbor.com analyzed the fire department's response times to major fires last year and found the department struggling to meet national standards — a finding that both the fire chief and Safety Services Administrator Barnett Jones questioned at the time. But the recent study from ICMA affirmed the conclusions.
The proposed restructuring plan calls for positioning two engines, one tower, one mini pumper and one battalion chief at Station 1 downtown. Another two engines and one mini pumper would be positioned at Station 2, and one ladder truck would be positioned at Station 5 off Plymouth Road near the University of Michigan's North Campus.
Hubbard claims the staffing proposal enables four firefighters to be dispatched to most scenes within the recommended industry response times.
According to his proposal, the restructuring plan provides the best opportunity to meet firefighting standards within the current staffing constraints, enhances the safety of both citizens and firefighters, provides better coverage of heavily populated areas with high-run volumes, and satisfies the ICMA fire study recommendations.
Mayor John Hieftje announced a breakthrough labor agreement with the city's firefighters union last week and said he hopes further cuts to the department can be avoided now.
Another issue facing the fire department is mechanical problems with its aging aerial trucks. Plans to replace an out-of-service tower truck are expected to be discussed tonight.
Ryan J. Stanton covers government and politics for AnnArbor.com. Reach him at ryanstanton@annarbor.com or 734-623-2529. You also can follow him on Twitter or subscribe to AnnArbor.com's email newsletters.