Posted on
Tue, Mar 6, 2012 : 4:16 p.m.
Ann Arbor officials planning to replace fire department's out-of-service tower truck
By Ryan J. Stanton
Melanie Maxwell I AnnArbor.com
One of the
Ann Arbor Fire Department's
ladder trucks is back in service after being out for repairs, but city officials say another truck still out of service needs replacement.
"As I understand it, the ladder is back in service today," Mayor John Hieftje said on Tuesday. "It was just out for a few days for repairs. The tower needs replacement, though, and we've got money in the budget for that. The chief is presenting as part of the budget next Monday and I've asked for a plan in there about how we're going to replace the tower."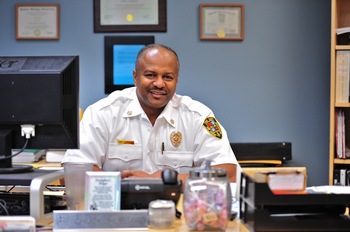 Ryan J. Stanton | AnnArbor.com
Mechanical failures had taken both of the city's aging ladder trucks out of service, including a 75-foot straight ladder and 95-foot aerial platform.
According to members of the fire department, the ladder was out of service for a little more than a week, and the taller tower truck has been out of service for months.
The trucks carry additional ground ladders that range from 10 feet to 35 feet and are considered essential for firefighting operations, including accessing upper floors and roofs and rescuing occupants trapped in taller buildings like downtown high-rises.
With the two trucks out of service, the only ladder carried by the fire department was 24 feet long, enough to reach a third-floor window. Firefighters told AnnArbor.com that's not an ideal situation in a city with many buildings that are four or more stories in height.
Hieftje downplayed the disadvantage in which that left the city, saying he doesn't think the fire department uses the tower very often anyway and the city can rely on several from the city's partners in the local area.
Firefighters say mutual aid agreements with surrounding fire departments are nice, but it takes extra time to get fire personnel and equipment to come from other communities and that can leave Ann Arbor residents without tall pieces of equipment for 15 minutes or more. They point out fires can double in size in less than a minute.
Fire Chief Chuck Hubbard issued a written statement in response to those concerns on Tuesday, saying it's true that the department did have two aerial trucks out of service for mechanical problems at the same time. He said a contingency plan was communicated to shift commanders.
The 75-foot truck is back in service at the fire station near the University of Michigan's North Campus, but the 95-foot truck from the downtown station remains inactive.
Melanie Maxwell I AnnArbor.com
"If a ladder truck is needed, the incident commander has the option of requesting a box alarm assignment, which will bring ladder trucks from both Pittsfield Township and Ypsilanti City," Hubbard said. "This is a written policy in our standard operating procedures."
Hubbard argued the risk to the firefighters and citizens would be greater if the department allowed firefighters to go to a call on an unsafe truck.
He noted the firefighters are in the midst of union negotiations and emotions are running high in the department, so he understands it's easy to point fingers.
"But I feel comfortable in our decision to take these two trucks out of service so that we can get the proper repairs and get them back into service in a timely and safe fashion," he said. "We sometimes join forces with other neighboring cities so that we can work together, efficiently and effectively, to provide the best service to our citizens as that is our No. 1 priority."
Matt Schroeder, president of the Ann Arbor firefighters union, could not be reached for comment for this story.
Trucks being out of service isn't anything new for the fire department, but it's usually because of staffing levels, not mechanical problems.
AnnArbor.com found last year that on most days at least one of the two active trucks at Ann Arbor's downtown fire station was listed as out of service due to low staffing levels.
Dan Krueger, the department's master mechanic, said the 75-foot ladder truck came back in service just in time to respond to a fire that caused heavy damage Monday night at Ann Arbor's Broadway Auto Care. As for the taller truck, he said, it still needs some work.
"It's 15 years old, and usually for a large vehicle like that, that's pretty much the end of its active life," he said. "We have a crack in the frame that's an immediate out-of-service issue and that's why it's out of service right now."
Asked whether any steps are being taken in the interim to repair the tower truck and get it back in service, Hubbard said the plan is to just buy a new one.
Ryan J. Stanton covers government and politics for AnnArbor.com. Reach him at ryanstanton@annarbor.com or 734-623-2529. You also can follow him on Twitter or subscribe to AnnArbor.com's email newsletters.