Posted on
Tue, Mar 13, 2012 : 8:30 a.m.
Ann Arbor fire chief: Staffing levels make a big difference in ability to fight fires
By Ryan J. Stanton
Fire Chief Chuck Hubbard wasted no time Monday night when asked by an Ann Arbor City Council member what his "magic number" is in terms of staffing.
"Right now it would be 88," Hubbard told 2nd Ward representative Jane Lumm, who asked the chief how many full-time firefighter positions he'd like to have in his budget.
The fire department is budgeted for 82 full-time positions, and the plan is to reduce that to 77 starting July 1, though city officials say those cuts could be avoided.
In the meantime, Hubbard is laying out a restructuring plan that reduces the fire department from five to three stations in order to better deploy existing resources. Staff constraints and the fact that the department is failing to meet national standards are driving the decision.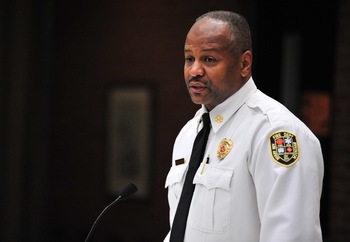 Ryan J. Stanton | AnnArbor.com
"It's a little unusual because people think of closing stations as a diminished service, when actually this plan would give us
better service to more areas of the city
," Mayor
John Hieftje
said Monday night, expressing support for Hubbard's proposal.
Hubbard acknowledged the new structure still won't allow the city to meet national standards for responding to fires, but he called it a step in the right direction.
According to historical data provided by the chief, the city still will fail to meet the standard of having four firefighters at a fire within four minutes about 28 percent of the time under the three-station model, and the city will fail to get a full alarm assignment in place on time nearly half the time.
"I'm wondering why you think that's good enough," Lumm asked the chief, who responded candidly from the podium Monday night.
"Well, staffing levels dictate that, so it's not that I think it's good enough — it's working within my means," Hubbard told Lumm.
Lumm called that "a significant statement" on the chief's part.
"Perhaps an even more appropriate question we should be asking as a community and a council," she said, "is what would it take in terms of staffing and structure to meet or exceed the standards, not how we optimize or do the best given this staffing level that we face now."
Hubbard said all departments strive to meet the standards recommended by the National Fire Protection Association, but he doesn't know of any department that meets them.
He said ideally he'd prefer to keep all five stations open and increase the daily staffing levels at each substation from three to four firefighters, and maybe then the department could meet national standards. But he said he'd have to hire at least 30 more firefighters to make that possible, and that'd cost at least an extra $3 million a year.
Hieftje sounded uncertain there's room in the budget for that kind of extra expense and said he'd be hesitant to ask voters to approve a tax hike. A quick calculation shows a 0.7-mill tax costing the average homeowner about $75 a year could raise more than $3 million.
The long-time mayor asked Hubbard if the city would actually experience better service if it hired 30 more firefighters and increased staffing levels at each of the five stations.
"Yes, absolutely," Hubbard responded.
In fact, Hubbard showed council members a video that demonstrated how adding just one extra firefighter to a crew makes a profound difference in fighting fires.
The video was produced by the National Institute of Standards and Technology and showed the results of an experiment where different-sized crews responded to simulated structure fires. The performances of two-, three-, four-, and five-person crews were measured.
Overall, the four-person crews were 5.1 minutes faster from start to finish than the three-person crews, which NIST called a critical difference when lives are at stake.
In the test situation, four-person crews completed laddering and ventilation necessary for occupant rescue and firefighter safety (should they need to bail out a second-story window) 30 percent faster than two-person crews and 25 percent faster than three-person crews.
Meanwhile, three-person crews started a primary search and rescue 25 percent faster than the two-person crews. In this case, a 10 percent difference was equivalent to just over one minute, a critical number when considering toxicity and fire growth.
In comparing four- and five-person crews collectively to two- and three-person crews, the average time difference to stretch a hose line to the fire to conduct suppression was 76 seconds. A four-person crew was 87 seconds faster at stretching a hose than a two-person crew, and a five-person crew was more than two minutes faster than a two-person crew.
The five-person crews assembled an effective response force three minutes faster than the four-person crews, while the two- and three-person crews struggled to meet standards.
Regardless of fire size, toxicity experienced by the occupant at the time of rescue varied significantly depending on the arrival time of different-sized crews. The test clearly showed that two-person crews could not complete essential fire ground tasks in time to rescue occupants without subjecting them to an increasingly toxic atmosphere.
Hubbard said those findings help justify his proposal, which calls for doing away with the five-station model where there are just three firefighters at most stations. Under the three-station model, there would be six firefighters and one battalion chief at Station 1 downtown, six firefighters at Station 2 at Stadium and Packard, and four firefighters at Station 5 off Plymouth Road near the University of Michigan's North Campus.
That means crews with four or more firefighters can leave from the same station and arrive together at a fire — rather than the current five-station model where there are only three firefighters at each station and they must come from different parts of the city.
"If they come from two different locations and one arrives and they're waiting for the other one, that takes away from that four-man operation," Hubbard said.
The video from NIST made the argument that staff size does make a big difference when it comes to fighting fires, logic that's been contested by some city officials in recent years.
"The number of firefighters does make a difference … absolutely," Hubbard said. "But in all departments in all cities, with budget constraints and things, we only have what we have. So the key now is to take what you have and try to make an efficient system out of that."
Council Member Sabra Briere, D-1st Ward, recalled the city discussed the issue of fire response a couple of years ago and she remembers being told everything was OK.
"We were told that two people coming from Station 1 and two people coming from Station 3 could converge on the fire and everything would be covered," she said. "Looking at the maps, it doesn't seem to me that was as clean as I would have liked it."
Briere asked if the information had changed or if the data Hubbard presented Monday night is just a different way of looking at the department's staffing.
"The information hasn't changed," said Hubbard, who has worked for the department for more than two decades and was appointed chief last year.
Council Member Christopher Taylor, D-3rd Ward, asked the fire chief if he believed cuts to the department's staffing levels have contributed to the rise in fire fatalities in the city over the last several years. Hubbard hesitated for several seconds before responding: "With the ones that I'm familiar with, no."
Council Member Marcia Higgins, D-4th Ward, raised concerns that areas of the city that see lots of parking and congestion on football Saturdays might be impacted by the loss of stations.
Hubbard said the city could consider special deployment models for such occasions and, for example, strategically staff a truck in a certain area of the city.
Tom Crawford, the city's chief financial officer, reported Monday night that the city might be able to maintain current staffing levels and budget for 82 fire department employees in the fiscal year that starts July 1. And if all goes well, the city could bump that up to 88 in July 2013.
Hubbard noted that he has expanded the department's fire prevention division from three to seven people, which took four firefighters out of suppression. If he could get staffing levels where he'd like them, he said he'd promote another person to a public education position.
Ryan J. Stanton covers government and politics for AnnArbor.com. Reach him at ryanstanton@annarbor.com or 734-623-2529. You also can follow him on Twitter or subscribe to AnnArbor.com's email newsletters.