Posted on
Tue, Sep 18, 2012 : 7 a.m.
Ann Arbor Fire Department purchasing 2-person light rescue truck to handle medical calls
By Ryan J. Stanton
The Ann Arbor Fire Department will add a light rescue truck to its fleet after the City Council voted 11-0 Monday night to approve the $264,597 purchase.
The new truck, which will respond to medical calls, will be staffed with two firefighters and will replace a heavy rescue engine staffed with three firefighters.
The city hopes by sending a smaller truck to medical calls — instead of a large engine with three firefighters — it can reduce costs.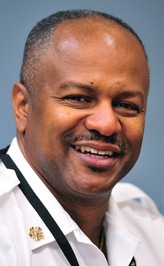 The heavy rescue engine, built in 2001, was scheduled for replacement in 2014-15. It will go into reserve, while a 1991 reserve engine will be removed from the fleet and sold at auction.
Thomas Gibbons, a financial analyst for the city's fleet and facilities division, wrote in a memo the smaller vehicle should be more maneuverable in narrow city streets and reduce wear and tear on the heavier fire apparatus, bringing down maintenance and repair costs.
"This unit will be lighter and have a shorter wheelbase than the heavy rescue engines that are currently used to respond to medicals calls and will also eliminate the use of Tower 1, or its replacement, on these same calls," Gibbons wrote.
Although the truck will have limited use in a structure fire response, Gibbons said, it should be able to be the first responder in about 70 percent of the department's calls.
It's going to take an estimated five months for delivery. Once it's in use, city officials believe it will help save on overtime costs as well.
The purchase of a light rescue truck was recommended earlier this year in a report by the International City/County Management Association, a consultant hired to study the fire department.
City officials sifted through seven proposals from companies interested in selling a truck to the city and decided to go with Louisiana-based Ferrara Fire Apparatus Inc., the lowest bidder.
Funds are coming from the fleet services fund balance.
Go here to see an example of Ferrara's light rescue trucks
The purchase comes as city officials continue to consider ways to make the fire department more efficient with a reduced staff. Another option being considered is the consolidation of fire stations, switching from a five-station model to a three-station model.
The light rescue truck is the second major purchase for the department in recent weeks. The City Council voted last month to purchase a new 100-foot aerial platform truck from Ohio-based Sutphen Corp. for more than $1 million. The council also accepted a grant to hire three more firefighters.
Fire Chief Chuck Hubbard told AnnArbor.com last month he expected the department to purchase two light rescue trucks, which he said would become "a vital part of our operation."
"They can be staffed with two personnel and will respond to the majority of the city's emergency calls," he wrote in an email. "They were recommended by the ICMA report, and will work in both our current system as well as the restructure plan. They will be equipped to handle any type call other than actual fire extinguishment, which is less than 30 percent of our responses."
Hubbard wasn't available Monday night to comment on whether he still plans to pursue the purchase of a second light rescue truck.
ICMA's study, which recommended the trucks, looked at the fire department's response times on medical calls compared to Huron Valley Ambulance. There were nearly 4,500 times during the one-year study period where both the fire department and HVA responded to the same medical call.
The fire department beat HVA to arrive first on the scene about 53.8 percent of the time. HVA's average response time was 7.3 minutes, compared to the fire department's 7.1 minutes.
Further analysis by ICMA revealed that when the fire department arrived on scene earlier than the HVA, on average it arrived 2.5 minutes earlier. And when HVA arrived on scene earlier than the fire department, on average it arrived 2.6 minutes earlier.
Ryan J. Stanton covers government and politics for AnnArbor.com. Reach him at ryanstanton@annarbor.com or 734-623-2529. You also can follow him on Twitter or subscribe to AnnArbor.com's email newsletters.