Posted on
Wed, Jul 18, 2012 : 10:55 a.m.
Ann Arbor forecast calls for rain, just in time for the Art Fair
By Cindy Heflin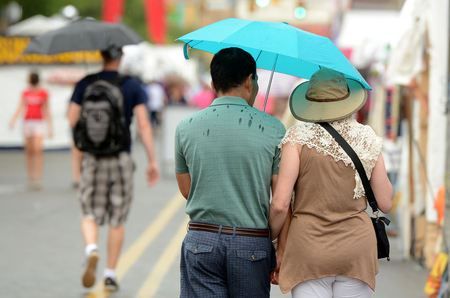 Melanie Maxwell | AnnArbor.com
The timing may not be great, but the Ann Arbor area is in for some much needed rain today—just in time for the
Ann Arbor Art Fair
.
Rain should be moving into the area shortly, Meteorologist Steven Freitag at the National Weather Service in White Lake Township said just before 11 a.m. About a quarter inch or more is expected by the end of the day, and there's potential for more Thursday, he said.
A cold front pushing toward the area will also keep temperatures a good 10 degrees cooler than it was Tuesday, when the thermometer reached 100 degrees, breaking the record for the date set in 1988. The forecast calls for a high of about 90 degrees and a 60 percent chance of showers and thunderstorms, mainly after noon.
Rain or no rain, the cooler weather is a welcome relief, said Kathy Krick, director of the State Street Art Fair, which sprawls along Liberty, State, Maynard and William streets, and is one of four fairs making up the Ann Arbor Art Fair.
Cloudy skies greeted artists and fair-goers as booths opened this morning at 10 a.m.
"It's actually nice to have the cloud cover and the cooler temperatures," Krick said. Artists aren't afraid of a little rain, she said.
"Honestly we can use some rain. It doesn't stop people. The show goes on. Nobody really packs up."
There's a slight chance of severe storms this afternoon, and Krick said such weather could cause merchants to zip up their tents for a while and wait it out, but as soon as it clears, they'll be back in business. Fair organizers have access to emergency weather broadcasts and will give artists and fair-goers adequate warning to seek shelter should that become necessary, she said.
Washtenaw County is about 5.9 inches below normal precipitation for the year, said University of Michigan Weather observer Dennis Kahlbaum. U.S. Drought Monitor has declared the area to be under a moderate drought.
The forecast for the rest of the week calls for mostly cloudy skies and a 40 percent chance of rain with a high of 84. Friday and Saturday will be mostly sunny with highs in the 80s.