Posted on
Tue, Dec 21, 2010 : 6:04 a.m.
Ann Arbor gives OK to explore corridor improvement authority option for Washtenaw Avenue
By Ryan J. Stanton
Ryan J. Stanton | AnnArbor.com
The Ann Arbor City Council voted unanimously Monday night on a resolution of intent to create a joint corridor improvement authority for Washtenaw Avenue.
That makes Ann Arbor the third of four communities to give initial approval to establish a special tax-capturing district to redevelop the commercial corridor.
Both the city of Ypsilanti and Pittsfield Township have signed on. Approval from Ypsilanti Township is expected to come tonight.
Monday's resolution, sponsored by Council Members Tony Derezinski and Christopher Taylor, is only a first step in the process.
It simply declares the city's intent to work with the three other municipalities to explore the creation and operation of a corridor improvement authority.
As required, the resolution designates boundaries of the proposed district, which could shrink but cannot grow larger at this point, according to the city attorney.
The city portion of the proposed development area includes primarily commercial land uses along Washtenaw Avenue from US-23 to Stadium Boulevard.
The four municipalities joined forces several months ago to form the Washtenaw Avenue Joint Technical Committee, which has created a document called the Washtenaw Avenue Corridor Redevelopment Strategy. The strategy includes recommendations for land use and transportation improvements along the corridor.

City officials said Monday night the Ann Arbor City Planning Commission already has begun the process of integrating recommendations from the strategy into the city's master plan.
Before creating a corridor improvement authority, the City Council must hold a public hearing to give affected parties a chance to weigh in. That's expected to happen in March.
During a working session of the City Council in September, city officials received an update on the Reimagining Washtenaw Avenue corridor study project. Officials said at that time the corridor improvement authority, if formed, would oversee improvements along a five-mile stretch of Washtenaw Avenue from Stadium Boulevard in Ann Arbor to the water tower in Ypsilanti.
Under the Corridor Improvement Authority Act of 2005, local municipalities are allowed to set up authorities that use tax-increment financing to make capital improvements within an established commercial district. The act allows communities that already have downtown development authorities to extend similar benefits to aging commercial corridors.
Washtenaw Avenue is considered the primary transportation corridor linking Ann Arbor and Ypsilanti, traversing Pittsfield and Ypsilanti townships. All four municipalities have been in talks for the past two years about ways to facilitate redevelopment of the corridor.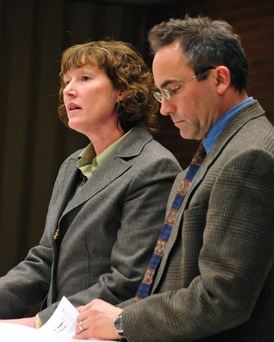 Ryan J. Stanton | AnnArbor.com
Terri Blackmore, executive director of the Washtenaw Area Transportation Study, has taken a lead role on the project. She told council members Monday night there needs be a change to state law before the joint corridor improvement authority actually can be formed.
Blackmore said the state law right now only allows up to nine members to serve on a corridor improvement authority. However, the law also mandates that the body must include five business representatives, one resident and the head official of each community.
With four communities cooperating, that's 10 people, Blackmore said.
"We need to have them just amend the law to allow one more seat for every additional community," she said. "We're the first one to have four communities. I think they just didn't think that this many communities would work together."
Despite Monday's unanimous approval, some Ann Arbor council members expressed hesitations about the idea and the potential implications on the city's budget, especially if it means diverting tax dollars away from the general fund.
"I'm not certain everybody has thought through what the budgetary implications are for this. Certainly I don't know all of the implications," said Council Member Sabra Briere, D-1st Ward. "This is a big deal, and maybe bigger than we have thought through."
Blackmore said the other communities also have reservations, not just financial. "This is not easy for any of them to work together. They've never done it before," she said, though expressing confidence that a tax-increment financing plan can be agreed on.
Derezinski agreed the authority is a big deal.
"And it's a good big deal. It's an example of urban collaboration and cooperation," he said, calling it "one of the best examples of collaboration that has come our way in a long time."
Council Member Sandi Smith, D-1st Ward, said she wholeheartedly supports the idea.
"The corridor right now is not attractive, it's not pleasant to drive along," she said. "Certainly, I can't imagine walking along it, and I would never dream of taking a bicycle on it. It is something that's hard to travel by bus because it takes so long. It's not very efficient that way."
Mayor John Hieftje said the corridor simply "doesn't work" right now.
"There remains a great deal of work to be done on Washtenaw and we do need to find some solutions out there or it's going to be even worse," he said. "When you look at it going back 20 years, it hasn't improved. There's more business out there, more congestion, still nobody walking, nobody biking. It's not a pleasant place to be."
Ryan J. Stanton covers government and politics for AnnArbor.com. Reach him at ryanstanton@annarbor.com or 734-623-2529.