Posted on
Tue, Aug 16, 2011 : 5:59 a.m.
Ann Arbor tells University of Michigan: It's time to pay for traffic services on football Saturdays
By Ryan J. Stanton
Update: University of Michigan responds to Ann Arbor's request for reimbursement of game day costs; with poll
The Ann Arbor City Council voted unanimously Monday night to send a strong message to the University of Michigan: Pay for city services on football Saturdays.
Now U-M has until Aug. 26 to strike a deal with the city to reimburse it for costs associated with providing traffic management services during Michigan football games and other special events at the Big House — in addition to the public safety services the city provides.
While the university and the city have a long-standing arrangement for police and fire services on game days, U-M has not reimbursed the city for its traffic management services — otherwise known as "signs and signals."
And that's been a sore point for the city.
Hoping to resolve the issue, five council members co-sponsored a resolution Monday that states the city no longer will provide signs and signals services unless the university agrees to a contract by Aug. 26 that provides for the full reimbursement of the city's costs.
The resolution was sponsored by Margie Teall, Stephen Rapundalo, Sandi Smith, Sabra Briere, and Christopher Taylor.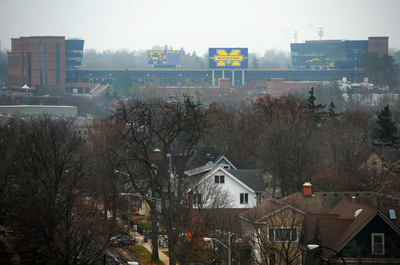 "The provision of signs and signals services does impose a material cost on the city to the tune of approximately $100,000 per year," said Taylor, D-3rd Ward. "To date, the provision of signs and signals related services … has not been reimbursed by the university and we're in the process of having a conversation with them about whether it would be appropriate."
City officials say the current practice of providing free signs and signals services for U-M football games and special events negatively impacts the city's already strapped budget, reducing the city's ability to perform traffic engineering, repair major streets, provide signage and maintain signal operations throughout the city.
Council Member Tony Derezinski, D-2nd Ward, said he was concerned with the timing of the resolution since football season is starting within weeks: The first home game is Sept. 3.
Taylor responded by saying the city and U-M have been in talks for some time and have made significant progress recently toward resolution of the issue, and acting City Administrator Tom Crawford just needed further policy direction from council.
"There is perhaps a lack of clarity as to where the city stands on this issue, whether the city will continue to provide those services to the university community in the absence of reimbursement," Taylor said, adding the resolution now provides that clarity.
Both Taylor and Crawford stressed that the city wants to have a continued positive relationship with the university that recognizes the value of collaboration and cooperation.
"We've already worked through agreements with the university for police and fire services on game days. This is specifically for signs and signals," Crawford told council members, noting that's not a service that can be readily provided by another party.
"This would be the city's work force working with city assets for the lights and signal boxes, etc., so that would be a city-only ability to execute this part of it."
Smith, D-1st Ward, asked if the city would be seeking reimbursement for costs it incurred in previous years. Crawford said he's in the middle of "fruitful discussions" with the university about possibly recouping costs for last year and then future costs going forward.
"The reason we're talking about this is because it's an issue that needs to be resolved," Crawford said. "This is an issue for the city and we've raised it with the U and they're working in good faith with the city at this point to meet our needs and their needs."
Mayor John Hieftje also chimed in on the issue, saying the fact that there are so many football games in a season now is a "real burden" on the city's staff.
"So it seems appropriate we would have a contract for this," he said. "It becomes more complicated and more intense each year, and now we have a nighttime game to deal with as well, which is a difficult time to get signs and signals people to work."
Ryan J. Stanton covers government and politics for AnnArbor.com. Reach him at ryanstanton@annarbor.com or 734-623-2529. You also can follow him on Twitter or subscribe to AnnArbor.com's e-mail newsletters.