Posted on
Tue, Nov 22, 2011 : 4:22 p.m.
Ann Arbor opposing GOP-backed legislation that would void city's non-discrimination policy
By Ryan J. Stanton
For the second time in recent weeks, Ann Arbor officials are sending a message to the state Legislature that they oppose legislation they consider discriminatory and unconstitutional.
The City Council voted 10-0 Monday night in favor of a resolution protecting Ann Arbor's non-discrimination ordinance and opposing House Bill 5039.
HB 5039 would void the city's ordinance, which prohibits discrimination based on sexual orientation, gender identity and student status.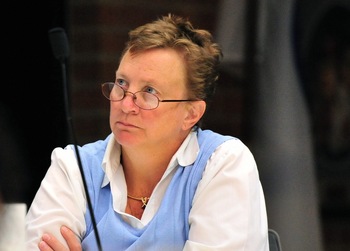 Ryan J. Stanton | AnnArbor.com
"The effect of House Bill 5039 will be to legalize discrimination against students and lesbian, gay, bisexual, and transgender residents in Ann Arbor," reads the resolution sponsored by Council Members
Sandi Smith
, D-1st Ward, and
Christopher Taylor
, D-3rd Ward.
Council members are urging the Michigan Legislature and Gov. Rick Snyder to defeat the legislation. They say the diversity of the community makes Ann Arbor a great place to live, and respect for diversity is vital for economic development and talent retention.
HB 5039, sponsored by state Rep. Tom McMillin, R-Rochester Hills, seeks to make null and void any policies or ordinances adopted by local governments or state agencies that include as a protected class any classification not included in the Elliott-Larsen Civil Rights Act.
The Elliot-Larsen Civil Rights Act does not currently prohibit discrimination based on sexual orientation, gender identity or student status.
Ann Arbor's current Human Relations Ordinance prohibits discrimination in housing, employment and public accommodations based on sexual orientation, gender identity and student status, in addition to the categories included in the Elliot-Larsen Civil Rights Act.
City officials argue the Michigan Constitution guarantees cities the power to adopt resolutions and ordinances relating to its municipal concerns.
"The state has no legitimate interest in restricting the ability of local units of government to adopt anti-discrimination ordinances that reflect the values and unique circumstances of our communities," reads the resolution passed by council Monday night.
"It saddens me that this is the second time in a couple of months that I need to bring something forward that sends a message to Lansing that they continue to want to treat the Constitution as if it's something that they can bend at will," Smith said.
"We've had a long history of a very strong non-discrimination ordinance in Ann Arbor," she said. "This particular legislation is threatening to roll that back."
Smith also sponsored a resolution in September when the council went on record opposing a GOP-led effort to outlaw domestic partner benefits for public employees in Michigan.
Both pieces of legislation are pending the Legislature.
Council Member Margie Teall, who was present for part of Monday's meeting, was not in attendance when the vote was taken on the resolution.
Ryan J. Stanton covers government and politics for AnnArbor.com. Reach him at ryanstanton@annarbor.com or 734-623-2529. You also can follow him on Twitter or subscribe to AnnArbor.com's e-mail newsletters.