Posted on
Tue, Aug 20, 2013 : 10 a.m.
Ann Arbor school official: Ranking on new scorecards not accurate indicator of performance
By Amy Biolchini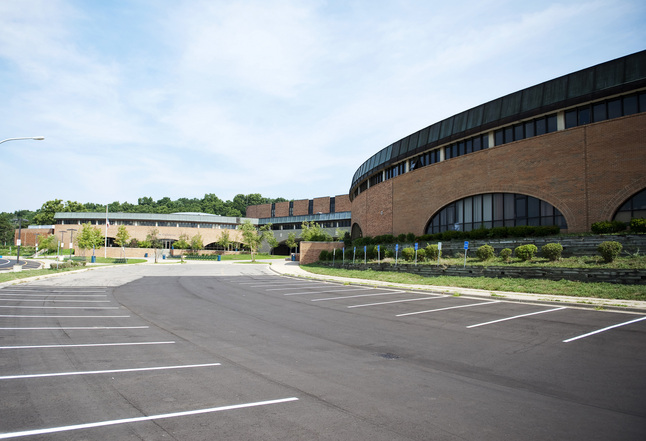 Daniel Brenner I AnnArbor.com
The
Michigan Department of Education
launched
a new
color-coded scale
for measuring school performance Tuesday that has ranked
Huron High School
the lowest among Ann Arbor's high schools.
The Michigan School Accountability Scorecards measure a school's overall proficiency in math, reading, science, social studies and writing and give schools a customized set of targets to reach. The reports will be available online at www.mischooldata.org.
The ability of a school to meet those targets is designated by a color scale that ranges from green for 85 percent of goals met to lime green, yellow, orange and red for fewer than 50 percent met.
Few public school districts in Michigan have ranked higher than yellow on the new scale—meaning most are meeting 69 percent or fewer of their proficiency goals.
Local school officials said they believe the color labels assigned to their district and schools aren't finalized—and in some cases, are wrong.
In a statement issued by Ann Arbor Public Schools Tuesday, the district said it's still evaluating the benefit of the new system and that it's too soon to tell if the color coding is helpful.
"AAPS strongly believes that the designations at Huron, Pioneer, Skyline and frankly the entire district do not accurately demonstrate the academic performance of our students," spokeswoman Liz Margolis said in an emailed statement.
AAPS
In 10 years, every school in the state is expected to earn a green designation by reaching an overall proficiency rate of 85 percent.
Ann Arbor Public Schools' middle and elementary schools have all received a yellow designation, as has Community High School.
Skyline and Pioneer high schools both received orange designations, while Huron High School is in the red.
Huron was labeled red because of the low participation rates of students in certain subgroups whose tests were invalidated by the state, Margolis said in a statement. She said the district is working with the state to determine why. For Skyline and Pioneer, certain subgroups did not meet proficiency targets on MEAP and Michigan Merit Exam assessments.
Skyline, Pioneer and Huron high schools are also still listed as "Focus" schools under a report card system the state launched last year.
Focus schools have an achievement gap issue between the top 30 percent and bottom 30 percent of students. It's the middle classification in the Priority, Focus and Reward school scale. Community High is one such Reward school and is in the 99th percentile in the state for performance.
"AAPS has been working diligently at closing the achievement gap, especially in the subgroup categories and has many programs in place to not only ensure students are reaching their full academic potential but raising their proficiency levels," according to a statement from the district.
For the 2012-13 school year, Huron High School was in the 65th percentile in the state, which puts it lower than Skyline (86th) and Pioneer (94th).
Comparatively, Huron is doing better than it was in 2011-12 The individual high school scores from that year are as follows:
Community High School: 99th percentile
Huron High School: 57th percentile
Pioneer High School: 88th percentile
Skyline High School: 87th percentile
Huron's feeder schools all have been given the Focus designation and include some of the lower-performing schools in AAPS, specifically Scarlett Middle School, Mary D. Mitchell School and Pittsfield School.
Washtenaw County schools
South Pointe Scholars Charter Academy, East Arbor Charter Academy and Arbor Preparatory High School—all charter schools—were the only institutions in Washtenaw County to be given a green designation. There were no schools that received the lime green color on the scale.
AAPS has received an orange designation overall, while Ypsilanti Community Schools—which hasn't seen its first official day of classes after the consolidation—has received a red.
Scott Menzel, superintendent for YCS and for the Washtenaw Intermediate School District, said he would urge a "cautionary review" of the new color-coded scorecard.
Data for YCS schools is a reflection of the two prior districts, Menzel said.
"(The color-coded system) is misleading with respect to the structure of YCS," Menzel said. "It's based on the data from the two former districts, and in the year that was the most disruptive academically."
Some of the color labels for YCS schools are not correct, Menzel said, noting that the district is working with the state to fix the problem. It's an issue that AAPS officials are dealing with as well.
"As of last Friday the state was still changing the color designation on many of our schools, so we believe this is a fluid process not yet fully determined," Margolis said in the statement.
However, inaccuracies in the state system aren't a crutch for YCS to lean on, Menzel said, noting YCS realizes there's work to be done, both in terms of the financial health of the district and with student achievement.
Willow Run High School had been placed in the bottom percentile in the state and was listed a Priority school before it merged into YCS. A Priority school is in the bottom 5 percent of the state's top-to-bottom list. The Priority designation replaces a previous designation of Persistently Low Achieving.
Priority schools must show demonstrated achievement or risk being put into the state's reform system. Willow Run was the only school in Washtenaw County to receive that designation in the new data.
Ypsilanti High School was close, however: It was in the 6th percentile for the 2012-13 school year.
"In the long run, we want to be able to focus on academic growth. This will be one way of looking at it," Menzel said, noting there's more data that tells the story.
In Dexter, Saline and Chelsea, the public school districts all received a yellow designation, with the exception of Saline's and Chelsea's high schools, which got orange designations.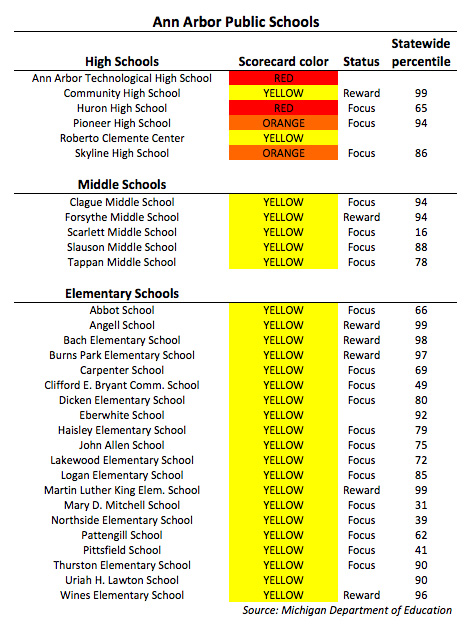 Amy Biolchini is the K-12 education reporter for AnnArbor.com. Reach her at (734) 623-2552, amybiolchini@annarbor.com or on Twitter.