Posted on
Wed, Nov 23, 2011 : 9:10 a.m.
Ann Arbor judge says resignation has nothing to do with lawsuit that alleged sexual harassment
By Ryan J. Stanton
Julie Creal says her decision to resign as chief judge of Ann Arbor's 15th District Court has nothing to do with a lawsuit that accused her of "sexually charged behavior."
That lawsuit, filed by former probation agent Wayne Wade, claimed the judge retaliated by working to get him fired after he complained to a supervisor about Creal's alleged advances.
"It hurts me greatly to be leaving the bench," Creal told AnnArbor.com this week, denying the allegations and maintaining health issues are the only reason she's stepping down.
"I have spent my entire adult life, in one form or another, in public service, and I would have loved to be able to do that (into old age)," she said. "That's not in the cards that I have."
Creal, 47, wouldn't comment on her medical issues, saying it's a personal matter that she prefers to keep private.
She also declined further comment on the lawsuit filed against the 15th District Court in June 2009. The case was dismissed earlier this year on July 7 before going to trial, after the court agreed to pay Wade $82,500, inclusive of legal costs, to put an end to the litigation.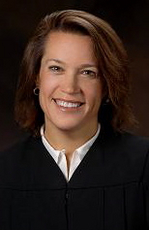 "It was just fiscally responsible to come up with a settlement that would avoid the cost of going to trial," said 15th District Court Administrator
Keith Zeisloft
, who was a subject of Wade's allegations. "We deny each and every one of those allegations."
Circuit Judge Timothy Connors denied the defendant's motion to dismiss the case before it was set to go to trial earlier this year.
"The court finds that a genuine issue of material fact exists regarding the issue of whether or not the plaintiff is entitled to damages that would place him back in the same position had there been no discrimination," Connors wrote in the order.
The 15th District Court was represented by attorneys Robert Boonin and Regan Dahle of the Butzel Long law firm in Ann Arbor. They argued in court filings that even Wade himself admitted under deposition "he has no idea who made the decision" to fire him.
They accused Wade and his lawyer of writing a "wildly speculative narrative" that tried to convince the court Creal had a hand in Wade's termination when there's no evidence to support that conclusion.
Creal "may have had an opinion" that Wade's job performance warranted discharge, they said, but there's no evidence Creal "sent her staff looking for problems."
Court records suggest it was Ann Mattson, chief judge of the 15th District Court at the time, who ultimately made the decision to fire Wade. But Wade's attorney argued that was with significant input from Creal, Zeisloft and Probation Supervisor Ann Savickas.
According to a filing by the defendant's attorneys, Wade tried to "exaggerate Judge Creal's involvement with his employment" by claiming Creal, Mattson and Zeisloft were exchanging e-mails about him when Creal was involved "simply as a recipient of several e-mails."
The court's attorneys argued there was no retaliation for Wade's reporting of Creal's alleged sexual advances and that he was fired only because of poor job performance.
Wade worked for the court from July 2001 to January 2007 and received several good and excellent performance evaluations during that time, his lawsuit states.
But among the issues cited by the defendant were Wade's attendance and ability to properly input data into a state database. Court filings also suggest Wade was disciplined for "missing a bench warrant" and he "did not always perform his job in a commendable fashion."
The lawsuit made allegations about "Judge Creal's sexually charged behavior," claiming Wade was uncomfortable with "unwanted physical touching, sexual and flirtatious talk." He argued he made three complaints that were completely ignored before he was eventually fired.
In response to an allegation that Creal once wrapped her arms around Wade and commented that she wasn't "getting enough sex," the attorneys for the court argued Wade's story was exaggerated to support his own "conspiracy theory."
The attorneys for the court raised Wade's post-termination arrest and conviction for drunken driving as an issue, arguing it barred him from being entitled to front pay damages. Judge Connors decided earlier this year that would be an issue for a jury to resolve.
Ryan J. Stanton covers government and politics for AnnArbor.com. Reach him at ryanstanton@annarbor.com or 734-623-2529. You also can follow him on Twitter or subscribe to AnnArbor.com's e-mail newsletters.