Posted on
Wed, May 11, 2011 : 12:11 p.m.
Ann Arbor's new Justice Center: One of the ugliest buildings in America?
By Cindy Heflin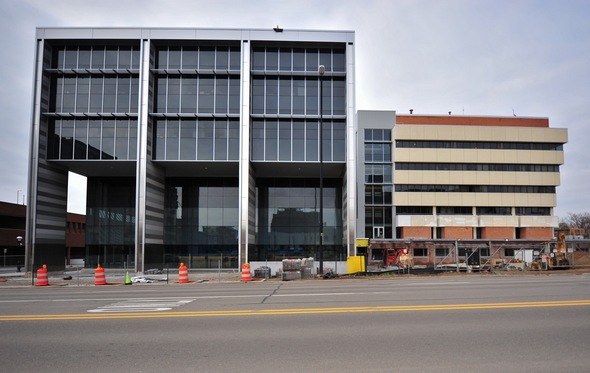 Ryan J. Stanton | AnnArbor.com
Beauty, as they say, is in the eye of the beholder. The same could be said for ugliness. Someone apparently thinks the new Ann Arbor Justice Center is among the ugliest buildings in America.
A photo of the building has shown up on the website Fark.com, a news aggregation and social networking site with attitude, in a discussion thread about the country's ugliest buildings. Fark readers who have accounts on the site can vote for their favorites in a list of buildings.
Among other municipal buildings mentioned in the thread are the Tempe, Ariz., and Dallas city halls. Someone also nominated the entire campus of Oral Roberts University in Tulsa, Okla.
The recently completed Justice Center at the corner of East Huron Street and Fifth Avenue is the new home for police and courts in Ann Arbor. It forms the Ann Arbor Municipal Center along with the original city hall, the Guy C. Larcom Municipal Building. Wonder what Fark readers would think of the design of that building?
Want to nominate a building for ugliest in Washtenaw County? Leave a comment below.