Posted on
Thu, Apr 14, 2011 : 1:18 p.m.
Guy Larcom's name peeled from exterior of city hall, but building will remain named in his honor
By Ryan J. Stanton
When a petition drive was launched in the 1990s to rename city hall in honor of Ann Arbor's first city administrator, Guy C. Larcom Jr. was credited for a lot of things, not the least of which was running city government for 17 years through a period of tremendous growth.
But with the passage of time comes change, and the large metal letters spelling out Guy Larcom's name have been peeled from city hall's facade.
His son, Geoff Larcom, expressed disappointment this week that the city simply discarded the letters as recycling debris as part of the police-courts building construction project, a nearly $50 million addition to city hall that will house the police department, courts and IT department.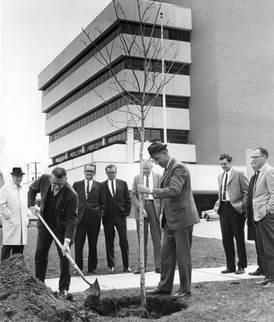 Ann Arbor District Library
There are no plans for replacing the exterior lettering in quite the same fashion, though city officials say the building will remain named in Guy Larcom's honor, with lettering on the doors.
"It just would have been nice to get a heads up on that because those letters constitute more than basic construction debris," Geoff Larcom said, adding he would have liked to have saved at least the "G" and the "L."
"I'm not hugely upset about it," he said. "I just think the city should continue to embrace its history. He was by far the longest-tenured city manager and he was a meaningful player in the city's history and arguably one of the more well-known people around Ann Arbor, one of the people who moved the city along during a period of rapid growth."
City officials said the lettering was removed recently because it would have been obscured by the new police-courts building addition to city hall.
According to city plans, the north and south glass doors to the new atrium on the west end of city hall will end up reading "Guy C. Larcom Jr. Municipal Building" with "City Hall" above the doors. The doors to the police-courts building will read "15th District Court/Ann Arbor Police Department" with "Justice Center" above the doors. A larger sign near the street will identify the entire complex as the "Ann Arbor Municipal Center."
"The building name didn't change," said Bill Wheeler, who is overseeing the construction project for the city of Ann Arbor. "It's actually going to be visible twice. I think it's going to look really nice when it's done. I think everyone will be proud of it."
Wheeler acknowledged the name won't be as prominent as it once was. He added it didn't cross the city's mind that the Larcom family might want to keep the old letters.
"They were probably recycled because they were metal," he said. "They were big letters not suitable for something you'd put in your living room, and there's quite a lot of them."
Geoff Larcom, a former reporter and columnist for The Ann Arbor News who now is executive director of media relations at Eastern Michigan University, said he's glad his father was able to see the letters adorn the front of city hall before his death in 1997 at age 85. The building was renamed in Guy Larcom's honor in 1995 following a resolution unanimously approved by the Ann Arbor City Council.
Guy Larcom served as Ann Arbor's city administrator from 1956 to 1973, and was the first administrator under a new city charter adopted in 1956 that changed the city's form of governance from a strong mayor system to a weak mayor system.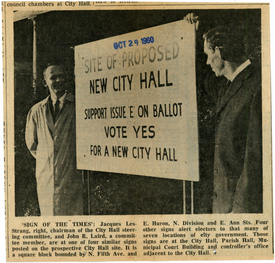 Ann Arbor News
The City Council resolution passed on Oct. 16, 1995, highlighted Guy Larcom's achievements, crediting him for overseeing the city as its population doubled from 48,251 to 100,035, and while it saw an increase in area from 7.3 square miles to 23.3 square miles.
"This almost explosive city growth demanded an equally tremendous response in municipal planning and development of infrastructure and services," the resolution reads, "including major annexations, new water treatment and sewage treatment plants, roadway development, new fire stations, and parks and recreational facilities, among others."
During a public hearing at that meeting, several people spoke about Guy Larcom's contributions to the city. He was credited for the designation of Ann Arbor as an All-American City, the construction of Huron Parkway to connect the north and south sides of town, and some of the early planning work that led to the 1982 creation of the Downtown Development Authority.
He also is given credit for forging positive relationships with the University of Michigan and Ann Arbor Public Schools as those institutions saw rapid growth.
Of course, Guy Larcom also was in charge of the city when it forged ahead with construction of the current city hall in the early 1960s.
In 1960, city voters approved a $2.3 million bond for the construction. The new city hall opened three years later. Besides providing more room for city offices, the new facility was air-conditioned and featured a police shooting range in the basement, as well as a civil defense center in the event of a nuclear attack. According to old news reports, it didn't have a jail because at that time the county jail was only a few blocks away.
"He loved the building. It was a special thing," Geoff Larcom said, adding he's happy it'll remain named after his father. "He was humbled by the honor. It was a great honor."
Following his retirement, Guy Larcom chose to remain in Ann Arbor and stayed active as executive director of Ann Arbor Tomorrow and vice president of the Ann Arbor Shelter Association, and as a member of the Mayor's Blue Ribbon Committee on City Hall Space Needs and the Ann Arbor 2000 Task Force on Intergovernmental Relations.
He started out in the late 1930s as an editorial writer for the Hartford Courant and taught public affairs reporting at the University of Michigan while working as city administrator.
Wheeler said remaining construction work around city hall should be finished by mid-June. A water-based art installation is expected to be installed outside by the end of July.
The city will offer the public a peek inside the new police-courts building at a public open house scheduled from 10 a.m. to noon this Saturday.
Ryan J. Stanton covers government and politics for AnnArbor.com. Reach him at ryanstanton@annarbor.com or 734-623-2529. You also can follow him on Twitter or subscribe to AnnArbor.com's e-mail newsletters.