Posted on
Wed, Jan 23, 2013 : 5:58 a.m.
Ann Arbor launches $15K study of Newport Road sidewalk gap near Wines Elementary School
By Ryan J. Stanton
The city of Ann Arbor is moving forward with studying options for constructing a new sidewalk along Newport Road from Wines Elementary School north to Riverwood Drive.
The Ann Arbor City Council voted 10-0 Tuesday night to establish a $15,000 budget to develop a preliminary design and cost estimates for the sidewalk gap project.
The city's staff received a petition signed by 79 residents requesting the city provide a sidewalk along Newport Road and to consider taxing the neighboring areas to help pay for the costs.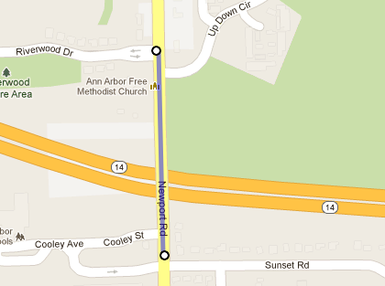 Google Maps
"The neighborhood is very supportive of this," said Council Member
Sabra Briere
, D-1st Ward, who characterized the proposed path as a "little bit of gap filler."
Briere said the residents' initial concerns grew out of the realization that busing might become a thing of the past for their children, but it's also a matter of general safety.
She said it was decided that providing a sidewalk for the short stretch extending over M-14 should be the focus for now because it ensures the majority of students can walk to Wines Elementary and Forsythe Middle School, and from the Sunset neighborhood to Skyline High School.
"But many residents in this neighborhood have not given up the hope that they could actually have a sidewalk that extended all the way to the city line, so this is a preliminary step," she said. "Some people hope it solves all the problems, and others hope it will open up possibilities for the future."
Council Member Sally Hart Petersen, D-2nd Ward, asked if there would be any cost savings for Ann Arbor Public Schools if the district no longer has to provide busing for students in the area after the sidewalk gap is filled. City staff said they didn't have that information from AAPS.
In a split 6-5 vote, the City Council decided in August against directing city staff to develop a comprehensive program to address sidewalk gaps in Ann Arbor over five years. Since that vote, the city has launched two separate $15,000 studies to look into filling individual sidewalk gaps — first along Scio Church Road and now the area along Newport.
Ann Arbor resident Kathy Griswold spoke at Tuesday night's council meeting and urged city officials to come up with a more comprehensive plan for addressing sidewalk gaps throughout the city and make sure there's adequate funding to get started on filling priority gaps.
Mayor John Hieftje said he believes many of the sidewalk gaps are going to require an individual solution, though.
Commenting on the importance of the Newport Road sidewalk gap, Hieftje said school children don't just go to school in the morning and then walk home in the afternoon.
"There are soccer games, there are rehearsals, there are practices, there is all sorts of stuff going on at the school hub when there wouldn't be a bus anyway," he said. "So it's an important gap to fill in, as we have several around town that we're going to need to tackle."
The actual costs for construction of the new section of sidewalk is expected to be paid for by residents in neighborhoods adjacent to Newport Road. The city's new sidewalk repair millage approved by voters in 2011 is for repairs to existing sidewalks, not the construction of new sidewalks.
Council Member Margie Teall, D-4th Ward, was absent.
Ryan J. Stanton covers government and politics for AnnArbor.com. Reach him at ryanstanton@annarbor.com or 734-623-2529. You also can follow him on Twitter or subscribe to AnnArbor.com's email newsletters.