Posted on
Mon, Mar 25, 2013 : 5:57 a.m.
Ann Arbor Marathon returns: City leaders hope for less traffic disruption with new route
By Ryan J. Stanton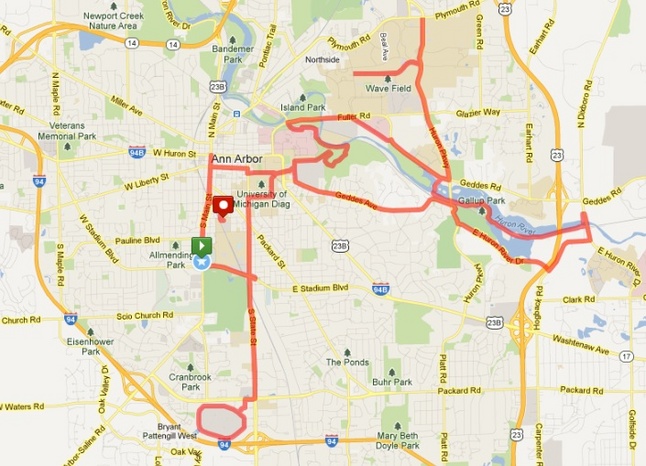 Champions for Charity
The
Ann Arbor Marathon
returns June 9, and city officials remain cautiously optimistic the second annual event will go smoother than
last year's inaugural run.
Last year's 26.2-mile trek shut down streets throughout the city on Father's Day, catching many residents and business owners off guard, disrupting traffic and causing Mayor John Hieftje to remark that changes would need to be made for the event to happen again this year.
Mike Highfield, founder of race sponsor Champions for Charity, said many of the major concerns from last year have been addressed with this year's new route.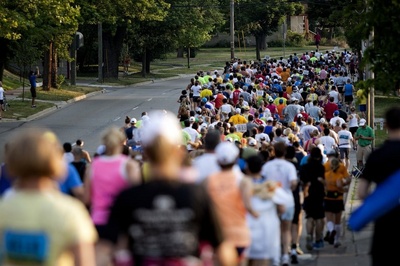 Jeffrey Smith | AnnArbor.com
The date also has been switched to avoid falling on Father's Day again.
Showing some confidence in the new plan, the Ann Arbor City Council this month approved closing several city streets from 5:30 a.m. to 1 p.m. on the day of the marathon, which is a Sunday.
"We were very proactive in making changes," Highfield said. "The most significant of those is we've removed completely Washtenaw Avenue from the course."
Highfield said the new route has been designed to minimize the impact on traffic and pedestrians, as well as bus services.
"I would say the bulk of the complaints we got from people who couldn't get to where they wanted to go that morning were from people who were living off of Washtenaw," he said.
"So we totally removed that, which not only significantly improves access through the community, it improves access to the hospital, and six churches are not impacted any longer."
Organizers also plan to do a better job notifying neighborhood associations, churches, apartment complexes and businesses, working closely with the city's communications office, University of Michigan, Ann Arbor Transportation Authority and Ann Arbor Public Schools.
Improved training, including trial runs, also is planned so race marshals are well-versed with alternative routes and have alternate-route maps for the public.
The marathon, which costs $100 to enter, raises money for the Ann Arbor Public Schools Education Foundation. It is being supported by the Ann Arbor/Ypsilanti Regional Chamber, Ann Arbor Main Street BIZ, Ann Arbor Area Convention and Visitors Bureau, and many others.
For those who don't want to run the full 26.2 miles, there are options to run a half marathon, or a 5K, which is 3.1 miles. There also is a 1.2-mile kids run.
Registration fees are lower for the other runs: $80 for the half marathon, $32 for the 5K and $18 for the kids run.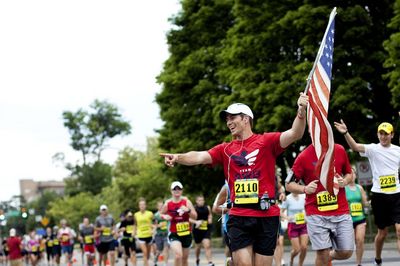 Jeffrey Smith | AnnArbor.com
The marathon starts at 6:30 a.m. and the half marathon and 5K both start at 7:30 a.m. The event is expected to end around 1 p.m.
City officials said all streets will be reopened as soon as safely possible after participants have cleared the affected areas.
Champions for Charity is being required to provide liability insurance and reimburse the city for all expenses related to the event.
Council Member Sally Hart Petersen, D-2nd Ward, said she applauds Champions for Charity for getting the inaugural marathon off the ground last year.
"I did run the half marathon last year and I had a great experience," she said. "I did hear some concerns about insufficient notice about street closings, it was Father's Day … but as a participant in the half marathon last year, I was very impressed with how well it went."
Petersen said it's understandable there will be mistakes made the first time around, and she thinks Champions for Charity is making a good-faith effort to improve the race this year. She said she's planning to register to run the full marathon on June 9.
All courses start on Main Street at the northwest corner of the Big House, winding through downtown and other parts of the city with a finish on the 50-yard line of Elbel Field.
The course is purposely designed to showcase many of the community's most beautiful and memorable areas, including scenic views along the Huron River.
Council Member Chuck Warpehoski, D-5th Ward, said he was excited about the marathon last year, but he heard a lot of complaints from residents about how it was handled. He noted he has run the Detroit Marathon several times and he's a fan of marathons.
"No matter what you do, you're going to have a significant part of the community that just doesn't know about the event," Highfield said, partly blaming last year's lack of notice about the marathon on the lack of a daily newspaper in Ann Arbor.
He's confident the word will spread farther this year, though. He guessed about 10 percent of the community knew about the race last year and about 80 percent will know about it this year.
Highfield noted this year's route takes advantage of the East Stadium Boulevard bridges being reopened. The route follows the northern sidewalk over the bridges and down to Main Street.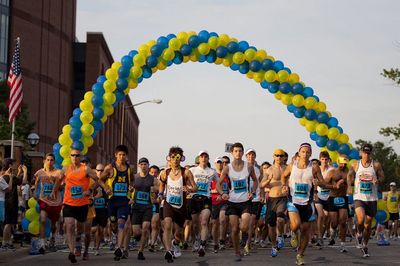 Jeffrey Smith | AnnArbor.com
With the bridges closed last year, the course went down State Street to Briarwood Mall, and then up South Main Street to Ann Arbor-Saline Road, and through the Stadium/Main intersection.
"This year we're not doing that," Highfield said. "The marathon is going out to Briarwood circle, but it's going out and back on State Street."
Runners are not big on "out and backs," he said, but that's what's being done — and that avoids routing the race past five large apartment complexes and a church, and it means runners also won't be crossing through the intersection of Stadium and Main again.
"So what we've got this year that we didn't have last year is we have Washtenaw completely open and we have Main and Stadium," Highfield said, suggesting traffic will be greatly improved from that.
Highfield said some of his running buddies last year suggested rerouting the course down Liberty and Miller west of downtown, but race organizers decided against that.
"What we didn't want to do is venture off into new parts of town and expose significant new areas of the community to this race that weren't impacted," he said.
Highfield acknowledged residents along Geddes Avenue will be affected. He said they're being encouraged to park on the south side of the street to make it easier to get out.
"Most of our marshals on Geddes are people who live on Geddes, so they know the neighborhood and we will be able to let people through," he added.
Council Member Marcia Higgins, D-4th Ward, said she had concerns about the impact on Hidden Valley Club Apartments on State Street. Highfield said those residents will be affected only by the marathon, not the half marathon this year, and the gaps between runners should be big enough at that point in the race that it won't be a problem for residents to pull out onto State Street.
"And on South State we are only using the southbound lanes, so northbound State Street is open all morning," he said.
Council Member Sabra Briere, D-1st Ward, said it would be smart to contact all of the churches that might be affected and encourage them to notify their congregation members.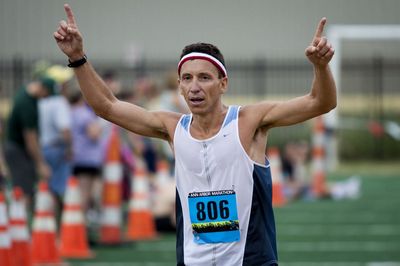 Jeffrey Smith | AnnArbor.com
"Because many people missed the fact that there was a marathon until they found that they couldn't travel," she said of last year's event.
Highfield said he did reach out to churches last year, and one church even moved its Sunday services to Saturday as a result. He said similar communication is happening this year. He said about seven churches in all have been removed from the course this year.
Council Member Jane Lumm, an Independent who represents the 2nd Ward, said she appreciates the changes being made, especially along Washtenaw Avenue.
"We're not going to please everybody — I recognize that," she said. "But your efforts to find a route that doesn't impact all these churches is sincerely appreciated."
Lumm said the city received letters of complaint from business owners who were not aware the marathon would shut down the streets around their businesses last year.
"That was a significant impact for some," she said.
Pointing out residents could hear loud music early in the morning last year, Council Member Mike Anglin, D-5th Ward, said he wants the city's noise ordinances obeyed this year.
"To me it didn't make any sense to have a band blasting with big speakers that are traveling five blocks into the neighborhoods," Anglin said.
Highfield said he knows the music woke up some people near the start line last year and that's an issue being addressed. He said music won't be played on the course before 7 a.m.
"The marathon starts at 6:30 and we will make sure that we will keep the sound system at the start line low, and we will not be playing music at that time," he said, adding race organizers also will be careful about music being played elsewhere along the course.
"If you analyze this course, there aren't many residential areas of significance that are on this course," Highfield said.
Ryan J. Stanton covers government and politics for AnnArbor.com. Reach him at ryanstanton@annarbor.com or 734-623-2529. You also can follow him on Twitter or subscribe to AnnArbor.com's email newsletters.