Posted on
Mon, Feb 4, 2013 : 9:05 p.m.
Mayor floats idea of bronze Adirondack chair at Farmers Market in honor of Coleman Jewett
By Ryan J. Stanton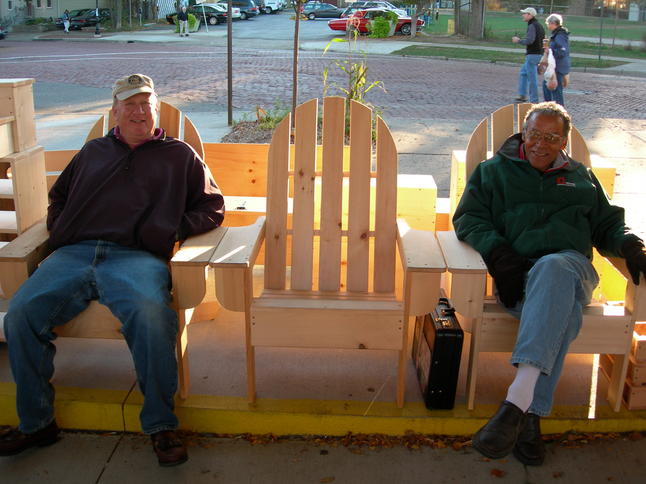 Courtesy of Jessica Black
Coleman Jewett
was a fixture at the
Ann Arbor Farmers Market
for 45 years, known for his hand-crafted pine furniture and
most notably his Adirondack chairs.
So what better way to pay tribute to the recently deceased craftsman than a bronze Adirondack chair dedicated in his honor at the Farmers Market?
Mayor John Hieftje floated the idea at Monday night's Ann Arbor City Council meeting, noting the idea came from several individuals in the community.
"Several individuals mentioned something to me and I wanted to pass it on," Hieftje said, adding he looks forward to kicking the idea around with the city's Public Art Commission.
"It would just have a little plaque that said, 'This is Coleman's chair,'" Hieftje said of what some have in mind. "I think that it would be something that would be appreciated by every market-goer because he was indeed a fixture and often called the 'Mayor of the Market.'"
Jewett was a teacher and later assistant principal at then Tappan Junior High School from the 1960s to early 1990s. He died recently at the age of 78.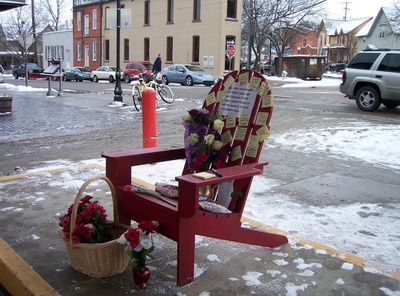 Lisa Carolin | For AnnArbor.com
"Quite a great individual in our community has passed," said Hieftje, getting a warm response from council members on the idea of a bronze Adirondack chair.
John Kotarski, a member of the city's Public Art Commission, was in attendance and said he likes the idea a lot.
"I think it's a great idea," he said. "It would be something that the art commission would have to take a look at in terms of finding funding. There might be some ways in which we could possibly get vendors at the market to participate outside of the Percent for Art."
The city normally funds public art projects through its Percent For Art Program, which sets aside 1 percent of capital project expenditures for artworks around town.
The City Council took action in December to partially suspended the program until April 1 while a task force looks into options for taking public art in Ann Arbor in a new direction.
"The Percent for Art money right now is kind of in limbo," Kotarski said, adding there will have to be discussions about how to fund the project the mayor is talking about. "But personally I think it's a great idea. It's something that I'd like to see happen. It's just how?"
Kotarski said it's possible it could be largely or entirely funded through private donations, and he suggested getting vendors at the market to contribute.
"I think there's a way of doing that," he said. "And I for one would like to expand the way we fund art in Ann Arbor, and this could be an example of it. It sounds like there are a lot of people who would want to see that happen, and maybe it could be the vendors there themselves."
Ryan J. Stanton covers government and politics for AnnArbor.com. Reach him at ryanstanton@annarbor.com or 734-623-2529. You also can follow him on Twitter or subscribe to AnnArbor.com's email newsletters.