Posted on
Tue, Aug 3, 2010 : 9:51 p.m.
Ann Arbor mayor, incumbent City Council members declare victory over slate of challengers
By Ryan J. Stanton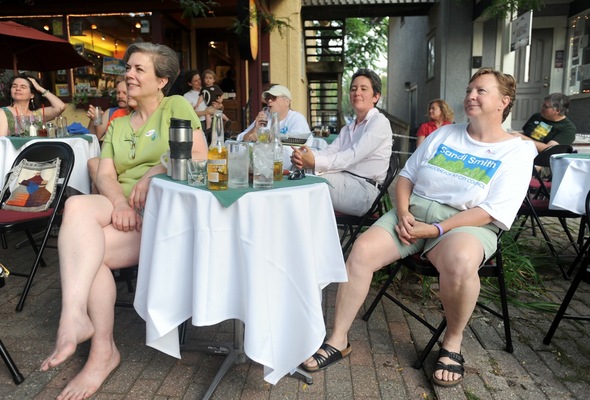 Angela J. Cesere | AnnArbor.com
Ann Arbor Mayor John Hieftje and three of his colleagues on the City Council declared victory Tuesday night over a slate of candidates who were hoping to oust them.
The challengers waged an aggressive campaign during the last few months, but it was clear when the polls opened Tuesday morning that voters favored Hieftje over his opponent, Patricia Lesko, and also spoke highly of the three incumbent council members. Ultimately, voters affirmed their support for all four incumbents.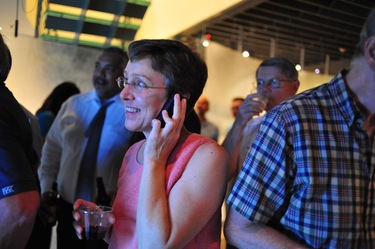 Ryan J. Stanton | AnnArbor.com
"Voters recognized the work that we've been doing," Hieftje said. "They looked around and said, 'Hey, Ann Arbor's doing pretty well in the worst economy since the Great Depression and the city is still making strides in a good direction.' Yeah, we have some potholes, we have a bridge that we have to fix, but they saw that we're working hard on those things and they had confidence in us."
With all 48 city precincts reporting, Hieftje tallied 10,058 votes (84 percent), compared to Lesko's 1,869 votes (16 percent).
In the 1st Ward race, incumbent Sandi Smith had 1,004 votes (55 percent) to Sumi Kailasapathy's 833 votes (45 percent) with all 10 precincts reporting.
In the 5th Ward, with all 11 precincts reporting, incumbent Carsten Hohnke had 2,415 votes (72 percent) and challenger Lou Glorie had 934 (28 percent).
In the 4th Ward, Margie Teall had 1,448 votes (69 percent), compared to challenger Jack Eaton, who had 642 (31 percent) with all nine precincts counted.
Lesko, who attracted the most attention throughout the campaign for her attacks on Hieftje, congratulated the mayor in an e-mail shared with AnnArbor.com late Tuesday night.
"The people of Ann Arbor voted and the message was that they like the direction the city is headed in," Lesko wrote. "Good luck in the upcoming year."
Hohnke, Teall and Hieftje celebrated victory with friends and family at a private party held at Vie Fitness & Spa in downtown Ann Arbor.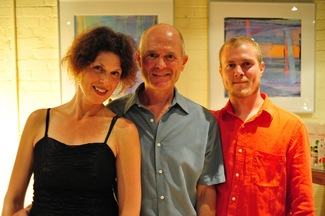 Ryan J. Stanton | AnnArbor.com
"I never expected that I would get the support that I got from even people who came out of the blue and volunteered to help," Teall said of her victory. "I think it was a matter of people trusting what we have done and wanting us to continue in that direction into the future. People are pretty happy with the direction that Ann Arbor is going in right now."
Hohnke said he was gratified to have a positive job approval from his bosses, the voters of Ann Arbor. He said Tuesday's vote speaks volumes.
"I think what people said today decisively was that we're getting the balance right in terms of adjusting to the structural changes in the state and in our budget, but also not pulling our heads into our turtle shells," he said. "We're getting the balance right in making the long-term investments that are important for coming out of the economic downturn that we are in and setting Ann Arbor up well for the future."
Hieftje offered similar comments.
"We made a decision several years ago that we can't just hide our heads in the sand and hunker down," he said. "We need to position the city for when this recovery comes and to lead perhaps this state out of the recession.
"This has been a very tough decade for government finance," he added. "We've had a City Council that is dedicated to moving the city forward, but things don't get any easier in the next year or the year after. We have to continue to balance preservation with new development, and balance revenues obviously with expenditures."
The defeated slate that included Lesko, Glorie, Eaton and Kailasapathy gathered with supporters at Cafe Zola downtown. Glorie, who gave a speech in which she characterized the four of them and their supporters as "a group of people who dared to flout authority," spoke bluntly about why she lost to Hohnke.
"I think I really ran a pretty crappy campaign because I was my own campaign manager. It's really a dumb thing to do," she said. "I'm considering a write-in campaign for November and I'll do that if I procure a campaign manager and at least four solid volunteers."
Eaton partly blamed the media for his slate's loss.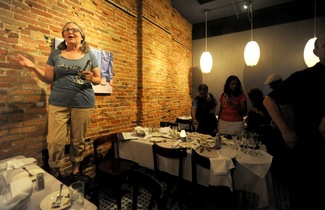 Angela J. Cesere | AnnArbor.com
"We gave it our best and we got just really shitty press coverage and I think that had an effect on the overall campaign," he said. "And they ran a good cohesive slate against us and beat us, so they deserve to be congratulated."
Kailasapathy, who ran the most successful campaign of any of the challengers, said she found a small victory in her defeat. She said she was happy to bring concerns about city spending and cuts to core services to the forefront of public discussion.
"For me, it was always about issues," she said of her campaign. "And yes, I did lose the election, but the issues haven't gone away. The primary is over, but the issues are not resolved. I hope now the current council can move forward on these issues."
Teall said she takes to heart the concerns raised by the challengers.
"There were views brought up that I will look at seriously and I think that other incumbents will look at seriously," she said. "The fact that they did run a strong campaign and bring up issues that they were concerned about will help us to move forward with the city in a positive way."
Smith, who joined her fellow incumbents later in the evening, said her opponent ran a strong campaign and she's honored and privileged to serve another term.
Smith and Teall will advance to the November general election unopposed. Hieftje still faces independent challenger Steve Bean, head of the city's Environmental Commission.
Hohnke faces independent challenger Newcombe Clark and Republican John Floyd in November — and, perhaps, Glorie as a write-in.
Ryan J. Stanton covers government and politics for AnnArbor.com. Reach him at ryanstanton@annarbor.com or 734-623-2529.