Posted on
Wed, Jul 27, 2011 : 6:06 p.m.
Ann Arbor mayor releases five-page letter explaining reasons for Fuller Road Station project
By Ryan J. Stanton
Ann Arbor Mayor John Hieftje today released a five-page missive on the Fuller Road Station project city officials are considering on a portion of Fuller Park, calling it a "one-time opportunity for our community to advance into the modern age of rail."
The letter touches on how the project could be funded and what impact it could have on general fund activities like police and fire protection.
The big-picture concept for Fuller Road Station, Hieftje writes, is a multimodal transit hub that includes accommodations for automobiles, trains and buses, as well as walking and biking facilities. It's proposed for the south side of Fuller Road in front of the University of Michigan medical campus, where a paved parking lot sits close by the east-west rail line.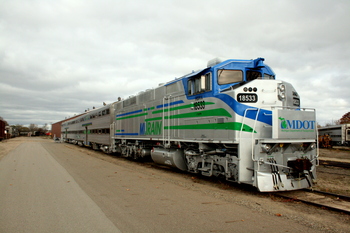 Photo courtesy of Mayor John Hieftje
"It will serve the park and facilitate job growth at one of the fastest growing employment centers in our region, the University of Michigan Health Center, where 24,000 people go every day," Hieftje writes, adding it also will serve downtown and U-M's north and central campuses.
Hieftje goes on to say the entire project — both the first and second phases — can be built without any significant upfront cost to the city.
Though U-M and the city would share usage of the parking structure and bus station, Hieftje writes, the university would pay almost all upfront costs to construct the first phase. Under the plan that is still being worked out, he adds, the city would own the station and the city's portion of the costs would be made up over time from funds generated by parking spaces.
"The financing plan will not impact the city's ability to pay salaries in police and fire or fund parks, etc.," Hieftje writes.
A big advantage of the financing plan, Hieftje writes, is that U-M's upfront contributions can meet the required local match for federal funding for the entire rail station. The first stage of federal funding for construction of Phase 2 — the actual rail station — recently was secured, he adds, referencing a $2.8 million federal grant announced in May.
Hieftje notes that on July 8 he received a letter reaffirming Amtrak's support of the Fuller Road Station project. He references a portion of the letter, which states the station would replace the exiting Amtrak station in Ann Arbor and "would represent a significant improvement for the high-speed corridor" and complement other track and station improvements.
"The new train station on Fuller is part of the Federal Rail Administration's overall upgrade of stations, tracks and trains for better service and faster Amtrak trains (110 mph) along the Detroit to Chicago High Speed Corridor," Hieftje writes. "The new station in Dearborn is about to begin construction and Battle Creek's station is being significantly upgraded along with the stations in Pontiac and Grand Rapids (all receiving federal funds). Amtrak will be buying new cars and engines (made in the U.S.) for its Midwestern routes."
If not for Fuller Road Station, Hieftje writes, U-M would be pushing forward with a plan for two new parking structures on Wall Street along with a new bus terminal.
Some Ann Arbor residents and even some City Council members continue to have doubts about the project and the city's ability to afford it.
The $43 million first phase, as approved by the Planning Commission in September, includes a five-level parking structure with five built-in bus bays and 103 bicycle parking spaces. City officials say they're tweaking those plans to possibly include commuter rail platforms in the first phase now — but that's if the project is even done in phases.
The university has committed to paying for 78 percent of the Phase I costs and would have access to 78 percent of the parking spaces in the structure. The long-term vision for Fuller Road is estimated to cost $121 million, inclusive of planning and engineering costs, and city officials are hopeful federal funding will be forthcoming to cover those bills.
Joel Batterman, a member of the University of Michigan Bicycle Coalition, continues to question the thinking behind building a 1,000-car parking garage that will primarily serve U-M. He believes current U-M parking facilities are underutilized.
Batterman served on the transportation analysis team last year for the U-M Integrated Assessment of Campus Sustainability, which concluded that smarter parking management and enhanced support for transportation alternatives — as opposed to new parking capacity —would allow the university to meet its transportation needs in a more cost-effective and environmentally beneficial manner (download the report here).
Ryan J. Stanton covers government and politics for AnnArbor.com. Reach him at ryanstanton@annarbor.com or 734-623-2529. You also can follow him on Twitter or subscribe to AnnArbor.com's e-mail newsletters.