Posted on
Fri, Aug 9, 2013 : 5:59 a.m.
Ann Arbor moving ahead with first public bike sharing program of its kind in Michigan
By Ryan J. Stanton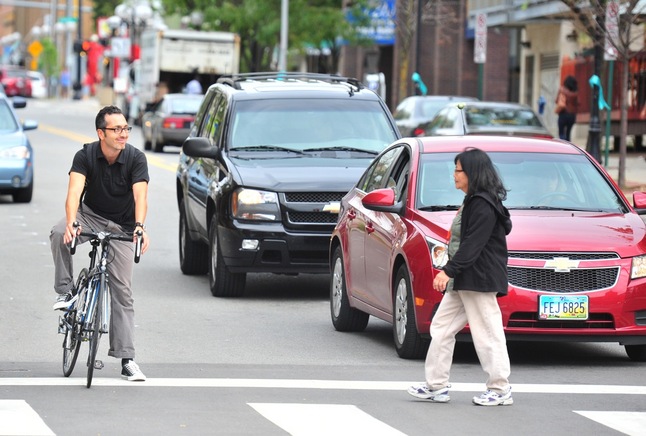 Ryan J. Stanton | AnnArbor.com
The
Ann Arbor City Council
voted 9-2 Thursday night to move forward with launching a
community bike sharing program
by next April.
The city is entering an agreement with the local nonprofit Clean Energy Coalition for implementation and operation of the program, which is expected to include 14 stations with 125 bicycles.
Stations will be located in and around downtown and the University of Michigan campus. Anyone age 18 and up will be able to join as either a daily, weekly or annual member with easy access to rentable bicycles by swiping either a membership card or credit card at the kiosk.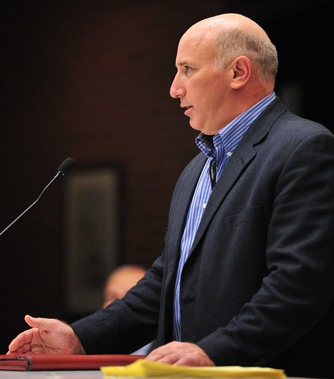 Ryan J. Stanton | AnnArbor.com
Bicycles can be returned to any station in the network.
Information provided to council members shows day passes costing $5, weekly passes costing $20 and annual memberships costing $60.
The CEC secured a $600,000 federal grant for capital costs and the city is providing $150,000 in matching funds from its Alternative Transportation Fund over the next two years.
The University of Michigan also has pledged $600,000 to help cover operations for the first three years, with memberships and other sponsorships expected to cover the rest.
The CEC is leading the drive to establish a bike share program in Ann Arbor. City officials said they believe it will be the first publicly available bike share program of its kind in Michigan.
Eli Cooper, the city's transportation program manager, said bike sharing offers an opportunity to dramatically increase bicycling in Ann Arbor. Modern bike-sharing is quickly growing in popularity in the U.S., he said, with more than 20 systems having launched in recent years.
"This will do nothing but ramp up the acceleration of acceptability of bicycling," Cooper said. "With the bike share cycles being used around town, there will be more likelihood that folks will recognize that the road is not for automobiles alone."
The CEC has collaborated with several partners in developing the program, including the Ann Arbor Transportation Authority, the university and the city.
The CEC, in partnership with AATA, secured a Federal Highway Administration Congestion Mitigation Air Quality grant worth $600,000 for program capital costs. B-cycle has been selected as the vendor and will be providing the bicycles and other equipment.
B-cycle systems are operational in 18 communities across the U.S., including Boulder, Colo., and Madison, Wis.
Members of Ann Arbor's bike share program will be able to access bikes in any B-cycle system for no additional membership cost.
The preliminary station locations in Ann Arbor include: Kerrytown; Main Street area; adjacent to the Ann Arbor District Library/Blake Transit Center; along the Liberty corridor at Liberty Plaza; State Street area; South University area; and other key locations on the U-M campuses.
The stations are expected to be operational seven days a week from 5 a.m. to midnight, from April through November.
The bike share program is intended to provide quick, short trips. Members will be able to use bikes for up to 30 minutes for free. Usage fees will be incurred for longer rides.
Council Member Sabra Briere, D-1st Ward, said she's encouraged the program is becoming a reality since she pushed for it three years ago.
"This is about small-scale commuting, and that encourages me," she said. "This is about moving from the corner of State and Liberty to the corner of Huron and Main to go to a meeting. To me, that's the benefit is that people — instead of getting in their car and driving from point to point — would actually be able to park their car and pick up a bike."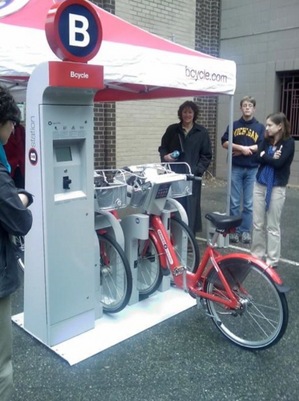 City of Ann Arbor
Council Members
Marcia Higgins
, D-4th Ward, and
Sally Hart Petersen
, D-2nd Ward, were the only two to vote against the bike share program.
They expressed concerns about adding more bicyclists to downtown streets and the need to better educate bicyclists and motorists about sharing the road.
"I just don't feel like our city has the safety infrastructure right now to support this. Until it does, my vote is going to be 'not yet,' " Petersen said.
Council Member Stephen Kunselman, who regularly commutes around downtown by bicycle, said a bike share program is a great way for people to make short trips around downtown.
"If we've all been downtown, we've seen so many abandoned bikes cluttering the bike racks — both on the U of M campus and within the city sidewalks," he said. "And by having a bike share program where somebody doesn't have to buy a bike and use it very little, this will provide an opportunity to allow people to use bikes, but also clean up our streets."
Council Member Jane Lumm, an Independent who represents the 2nd Ward, raised concerns about costs and cautioned it could be a "failed experiment," but she ultimately voted for it.
The tentative budget plan provided to council shows $145,312 in annual staffing costs for the program, including $82,555 for a program manager, $35,545 for field operations support, $16,511 for marketing and $10,712 for oversight and administration.
"There's going to be a lot of administrative planning and preparation work that's going to go on through the fall and into the winter," Cooper said. "The bicycles are going to be assembled, but that's going to happen in a factory in Wisconsin. The stuff will be shipped here in the spring."
Memberships are expected to be available for purchase in late 2013 or early 2014. Residents are encouraged to email bikeshare@cec-mi.org with any suggestions or questions.
Visit www.cec-mi.org/bikeshare for more information.
Ryan J. Stanton covers government and politics for AnnArbor.com. Reach him at ryanstanton@annarbor.com or 734-623-2529. You also can follow him on Twitter or subscribe to AnnArbor.com's email newsletters.