Posted on
Wed, Sep 29, 2010 : 1:48 p.m.
Ann Arbor officials announce free sofa drop-off as new porch couch ban takes effect
By Ryan J. Stanton
The city of Ann Arbor announced today it is providing a free sofa collection event for Ann Arbor residents and property managers in response to the recent passage of a city ordinance that prohibits the outdoor use of upholstered furniture.
From Oct. 22 through Oct. 24, a drop-off area will be located at the intersection of East University and Oakland streets. The hours of operation are noon to 5 p.m.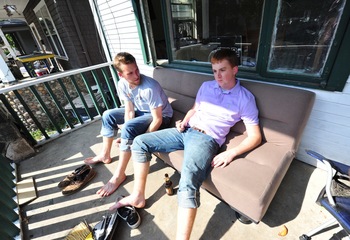 Ryan J. Stanton | AnnArbor.com
Those leaving any other types of materials, depositing furniture from non-Ann Arbor properties, or using the site during off-hours are subject to illegal dumping fines, city officials said.
The collection site will be actively monitored on a 24-hour basis.
Ann Arbor's porch couch ban goes into effect this Saturday, but city officials said today there will be an "amnesty period" to allow residents to properly dispose of their upholstered furniture.
The Ann Arbor City Council unanimously approved the couch ban last week in response to a fire earlier this year on South State Street that killed 22-year-old Renden LeMasters. Authorities believe the fire was exacerbated by a porch couch.
City fire officials have been lobbying the City Council for several years to approve the ban, calling porch couches a well-documented fire hazard.
According to statistics cited by city officials, there have been 373 fires since 2003 in multi-family residential dwellings in Ann Arbor. Of those, 21 percent "significantly involved" exterior upholstered furniture, either as the origin of the fire or in causing it to spread.
Ann Arbor joins several other college towns with porch couch bans already in place, including East Lansing, Kalamazoo, Mount Pleasant, Ypsilanti, and Marquette in Michigan, as well as Columbus, Ohio, and Madison, Wisconsin.
City officials put out a reminder today that sofas and other items that do not fit into the city's refuse carts are subject to fines if abandoned at the curb. Other suggestions for disposing of furniture for a fee, including taking materials to the Drop-Off Station at 2950 E. Ellsworth Road, are posted on the city's website under "bulky items" at www.a2gov.org/recycle.
Ryan J. Stanton covers government and politics for AnnArbor.com. Reach him at ryanstanton@annarbor.com or 734-623-2529.