Posted on
Mon, Aug 29, 2011 : 8:12 p.m.
Ann Arbor officials sign labor contract before state-imposed health care benefits cap
By Ryan J. Stanton
After a 7-0 vote Monday night by the Ann Arbor City Council, a new labor contract is in place that will carry the city's largest union and its 230 members through Dec. 31, 2013.
City officials acknowledged they called tonight's special meeting in order to beat the clock and ratify the agreement before a new state law imposing limits on public employee health care benefits takes effect. Now the city's AFSCME employees will get better health care benefits than they otherwise might have gotten under the new state law.
The city and AFSCME Local 369 have been operating without a contract since the last labor agreement expired June 30.
The new contract, first approved by the union last week, still includes major concessions, including a reduction in pension and health care benefits.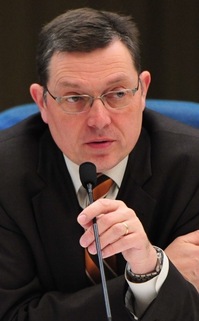 Council Member
Stephen Rapundalo
, D-2nd Ward and chair of the council's labor committee, acknowledged in an interview last week that even though the union is making concessions on health care, it still is getting a better deal than it would under the new state mandate.
"To go from what they were used to getting, to go to the state-imposed requirements, really would have been a drastic change," Rapundalo said.
Council members present for the 7-0 vote included Rapundalo, Sandi Smith, Sabra Briere, Tony Derezinski, Christopher Taylor, Stephen Kunselman and Marcia Higgins.
Mayor John Hieftje and three other council members — Margie Teall, Carsten Hohnke and Mike Anglin — were absent.
The union ratified the contract on Tuesday, one day before the state Legislature approved new legislation limiting the amount a public employer can pay toward workers' health coverage at $5,500 annually for individual employees, $11,000 for married couples and $15,000 for family plans.
The legislation gives schools and local municipalities the alternate option of paying 80 percent of employee health care costs, while employees pay 20 percent.
The Publicly Funded Health Insurance Contribution Act, expected to be signed by Gov. Rick Snyder this week, takes effect Jan. 1, 2012. While it doesn't apply to existing collective bargaining agreements until they expire or are extended, any collective bargaining agreement executed after Sept. 15, 2011, must be consistent with the hard cap or the 80/20 provision.
Public employers can opt out of the limitations altogether with a two-thirds vote of the governing body taken annually. But if a public employer fails to comply with the law, the statute imposes a penalty of a 10 percent reduction in state aid.
A legislative fiscal analysis estimated the law will provide an annual savings to the state of $42.5 million under the hard cap provision or $59.1 million under the 80/20 split.
Cost savings to individual municipalities or school districts will vary based on the type of health insurance plans and number of participants in the programs.
Tom Crawford, the city's chief financial officer, said the concessions being made by AFSCME are expected to save the city $660,000 annually, including $140,000 in the general fund.
As previously reported, the new contract includes the following highlights:
No across-the-board pay increases for the duration of the agreement.
Employees will pay an additional 1 percent into their pension plan to equal 6 percent of pay.
Effective Jan. 1, 2012, all AFSCME employees will be on the updated city health care plan, which has a significantly higher employee cost share than their current plan.
For fiscal year 2012-13, which begins next July, the projected savings from the agreement is equal to about 3 percent of total compensation for AFSCME employees.
All new AFSCME hires will become vested in the city pension plan after 10 years (up from 5 years) and have an access-only style plan for retiree health care benefits in accordance with a resolution recently passed by City Council.
Janet Carpenter, the city's human resources analyst, wrote in a memo that the negotiated contract is in alignment with contracts recently settled with other city labor groups and includes a change in health care coverage that mirrors the city's nonunion plans.
Until now, AFSCME employees have enjoyed much better health care benefits than other city employees — with the exception of the city's police and fire union members. According to an AnnArbor.com report from earlier this year, AFSCME employees have been paying deductibles of $225 per person, but with no co-insurance on medical bills and no out-of-pocket premiums.
Now they'll have a choice between two health insurance options — a "high plan" and a "low plan." The plans were forced on non-union employees last July, and some of the city's smaller unions followed suit and agreed through negotiations to switch over.
City officials said earlier this year most employees typically opt for the high plan in which they pay $44.31 per month from their paychecks for individual coverage or $119.63 for a family. That's a cost AFSCME employees haven't had to think about until now.
The deductible under the high plan is set at $300 for an individual or $600 for a family. But employees also must pay 20 percent co-insurance on medical bills with an out-of-pocket max set at $1,200 for an individual or $2,500 for a family.
City officials said earlier this year the low plan was set up similarly, but instead of monthly paycheck contributions, it includes deductibles of $1,000 for an individual or $2,000 for a family. Those who opt for the low plan still must pay the same 20 percent co-insurance on medical bills with an out-of-pocket max of $2,400 for an individual or $4,800 for a family.
The city has been trying to get its police and fire unions to switch over to the same health care plans to save money and preserve jobs, but negotiations have progressed slowly.
Rapundalo noted tonight that AFSCME was keen about maintaining its city-paid union president position, which he considers a vestige of the past. He said city officials plan to revisit the position, which is costing the city about $100,000 to $110,000 a year in salary and benefits, the next time the contract with AFSCME comes up for renegotiation.
Ryan J. Stanton covers government and politics for AnnArbor.com. Reach him at ryanstanton@annarbor.com or 734-623-2529. You also can follow him on Twitter or subscribe to AnnArbor.com's e-mail newsletters.