Posted on
Wed, Jan 19, 2011 : 1:18 p.m.
Ann Arbor officials debate details of having DDA take lead in city RFP process
By Ryan J. Stanton
A proposal to have the Ann Arbor Downtown Development Authority take the lead on redeveloping downtown city-owned properties faced strong criticism Tuesday night, with multiple City Council members saying they weren't in favor of the idea as presented.
The council ultimately voted to postpone considering the proposal until March 7, though some council members wanted to instead vote it down at Tuesday's meeting.
"I think there needs to be a statement from council that we don't agree with this," said Marcia HIggins, D-4th Ward.
The resolution before council members would have authorized the DDA to develop an implementation plan and take responsibility for facilitating a redevelopment process for an unspecified number of properties downtown. No properties were identified.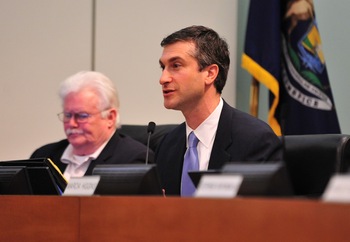 Under the new process, the DDA would write and distribute requests for proposals to developers and facilitate bringing proposed development projects to the City Council for approval. But some questioned the details of the proposal as outlined Tuesday night.
The resolution was sponsored by Council Members Christopher Taylor, Margie Teall and Carsten Hohnke, all of whom sit on the City Council's Mutually Beneficial Committee, which has been in discussions with DDA officials for the last several months.
Council Member Sabra Briere, D-1st Ward, said one of her concerns is there's no definition of which city properties the resolution would apply to — and she'd like to see a map.
"I don't like assumptions," she said. "I'd like to know what we're really talking about."
Taylor agreed the properties could be better defined. As it stands now, he said, it's generally understood the resolution would apply to surface parking lots and possibly other sites.
Some council members took exception with a provision in the resolution that would put the city on the hook for costs incurred by the DDA if it goes through an RFP process and the City Council decides not to approve a project for reasons other than zoning compliance.
"There's many things that concern me about this particular resolution," Higgins said, adding that's one of them. "If we don't approve something, we don't reimburse other developers."
Council Member Stephen Kunselman, D-3rd Ward, called the reimbursement clause — as well as another about duties of the city administrator — "poison pills" for the resolution. He said he was concerned the city would be writing a "blank check" to the DDA.
Kunselman also expressed general concerns that the resolution asks the DDA to finalize a "parcel-by-parcel plan" that would spell out desired land uses for specific city properties. He said the city shouldn't be deciding which industries to favor and should instead sell the properties with certain deed restrictions and let the free market take over.
"We do not control the marketplace," he said.
Kunselman added there's nothing to stop the DDA from hiring a consultant, as the resolution states, and developing a plan for downtown parcels on its own.
"Those parcels have been there all my life, so I'm not feeling rushed by any means," he said, giving his reasons for preferring not to move forward Tuesday night.
Council Member Mike Anglin, D-5th Ward, said he has several concerns with the proposal, one of them being that he doesn't see enough community input in the process.
Hohnke, D-5th Ward, said he thinks the resolution as it's drafted is "not that far off" and should be able to come back to council with some revisions in March.
Higgins said she'd like the City Council to consider the parcel-by-parcel plan at the same time it considers a new parking agreement with the DDA, and not have them come up separately.
Ryan J. Stanton covers government and politics for AnnArbor.com. Reach him at ryanstanton@annarbor.com or 734-623-2529.