Posted on
Thu, Dec 23, 2010 : 6:02 a.m.
Parcel-by-parcel plan for downtown city properties awaits Ann Arbor City Council and DDA approval
By Ryan J. Stanton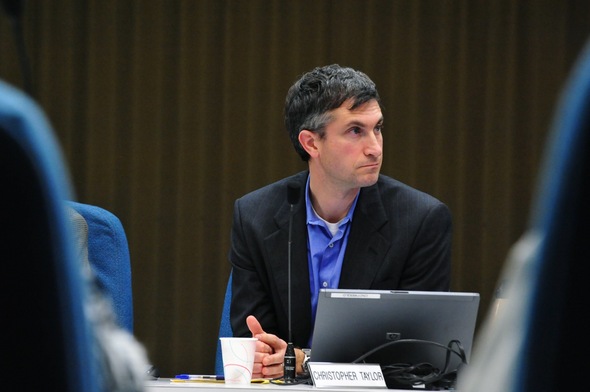 Ryan J. Stanton | AnnArbor.com
Members of the Downtown Development Authority and the Ann Arbor City Council have reached a tentative deal on how to handle future development of city properties downtown.
Council Member Christopher Taylor, who helped broker the deal, said a resolution is expected to be voted on by both bodies in January. If the DDA is receptive of the plan at its meeting on Jan. 5, the City Council will be asked to approve it on Jan. 18.
The resolution lays out a new process that includes a shift of responsibilities from the city to the DDA regarding how requests for proposals — or RFPs — are handled for properties owned by the city.
"Our goal is to have the public conversation — the council conversation — begin about this plan," said Taylor, who publicly released copies of the resolution earlier this week.
Under the proposal, the DDA would take the lead and work to create site-specific plans for city-owned parcels and put them together in a broader parcel-by-parcel strategy plan.
"The DDA is uniquely structured to develop an overarching strategy to develop city-owned downtown properties, to facilitate the process of writing/distributing effective RFPs and RFQs to solicit developer proposals, and to facilitate bringing to City Council proposed development projects on city-owned properties," the resolution states.
Multiple city RFP processes in recent years have stalled. Knowing that, the proposed resolution states that if the City Council decides not to approve a development site plan for any reason other than it not complying with the city's zoning regulations, the city must reimburse the DDA for costs of going through the RFP process.
The resolution is sponsored by Taylor and fellow Council Members Margie Teall and Carsten Hohnke, all of whom sit on the City Council's Mutually Beneficial Committee. The three of them have been in negotiations with the DDA's Mutually Beneficial Committee for several months to find a way to keep downtown parking system revenues flowing to the city.
The parcel-by-parcel plan, which the DDA is particularly interested in, is the first proposal to come out of those discussions. A second proposal also is expected that includes a series of amendments to the current parking agreement.
Taylor said it had long been the intention to bring the two proposals forward together as one plan, but officials decided to bring the parcel-by-parcel plan forward first. "It is, we believe, ready for consideration, so why hold off on a good thing?" he said.
Another reason for bringing it forward first, he said, is because it's what the DDA wants. And committing to the parcel-by-parcel plan is a good-faith gesture by the city as it asks the DDA to agree to certain financial terms in the tentative parking agreement.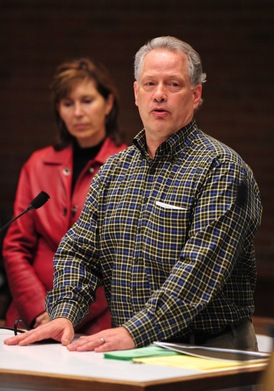 Ryan J. Stanton | AnnArbor.com
Both proposals are mutually beneficial, according to Taylor.
"The parcel-by-parcel plan process will, I believe, energize DDA members and provide tangible benefits to Ann Arbor by speeding the utilization of city-owned parcels downtown. This is in everyone's interest," he said.
"Amendments to the parking agreement will give the DDA greater authority over the fact-based decisions that go into managing a parking system for a vital downtown, while at the same time giving the city a more predictable revenue stream. This, too, is in everyone's interest."
The parking agreement is expected to be a new 10-year contract starting July 1. In the first two years, the city would be paid 16 percent of gross parking system revenues. In the last eight years, the city would be paid 17.5 percent.
Records obtained by AnnArbor.com show the total transfer is estimated to be about $2.6 million in 2011-12, $2.8 million in 2012-13, $3.2 million in 2013-14 and approaching $4 million by 2020.
The DDA's fund balance would dip below $2 million in the next two years based on those funding assumptions, records show.
That means that in 2012-13, the DDA's cash reserves would fall below 10 percent of the DDA's budget. The generally accepted rule of thumb is that an entity's unreserved fund balance should equal at least 10 percent of its annual budgeted expenditures.
Taylor acknowledged the DDA would be letting its fund balance drop to a level that arguably would make some people uncomfortable. But the dip below 10 percent is only expected to last for one year before the fund balance builds up again.
Taylor also noted the numbers are conservative and don't factor in revenue from additional parking meters or the taxes the DDA might collect from two new developments — Zaragon Place 2 and 601 Forest, both student high-rise apartments near the University of Michigan.
Taylor said the funding assumptions also do not include the possibility of an extension of nighttime parking meter enforcement hours, which could bring in $600,000 to $800,000 a year in extra revenue if two more hours of enforcement are added.
The DDA was created by the City Council in 1982 with the mission to undertake public improvements to strengthen the downtown area and attract new private investments. In 2003, the City Council extended the DDA's tax-increment financing authority until 2033.
The DDA now collects nearly $3.9 million a year in local taxes. Its current annual parking revenue is about $15.2 million, while total income is about $21.2 million.
Under the parcel-by-parcel agreement, the DDA would write and distribute RFPs based on City Council-approved plans, provide recommendations to council for developer selections and facilitate negotiations for purchase and development agreements.
The proposed resolution lays out a four-phase process by which the DDA would assess potential downtown development sites and build an overall downtown development strategy. The DDA would hire one or more real estate consultants to provide parcel-specific information, as well as data regarding broader market conditions. Public input also is a major component of the plan.
The agreement states the DDA would be able to use incentives, such as parking, affordable housing, pedestrian improvements and use of tax-increment financing on specific projects.
Wendy Rampson, the city's planning manager, said the intention behind the parcel-by-parcel plan is to increase activity and investment downtown. She said the city's Downtown Plan recommends development of Area Urban Design Plans for specific areas.
"So that's consistent with what the Master Plan intended," she said. "This process also includes some role for planning commissioners to participate in the development of the plans and also in the review of any proposals that would come in for individual properties."
DDA Chairwoman Joan Lowenstein told council members last month that the tentative parking agreement changes, in part, would shield council members from having to make decisions about downtown parking rates and enforcement.
Council Member Mike Anglin, D-5th Ward, said this week he hopes the public doesn't think that means council members won't be responsive to citizens concerned about parking issues.
"I would urge citizens not to have interpreted it that way, but rather that if you have concerns of any kind to bring them to your council members," he said. "I'm sure all of us are very eager to hear from the public regardless of what issue it is."
Ryan J. Stanton covers government and politics for AnnArbor.com. Reach him at ryanstanton@annarbor.com or 734-623-2529.