Posted on
Tue, Oct 11, 2011 : 5:59 a.m.
Monorail and streetcars in Ann Arbor? City considers future transit options
By Ryan J. Stanton
It could take up to two decades to establish an advanced transit system connecting the University of Michigan's North Campus, Fuller Road Station and downtown Ann Arbor, a Maryland-based consultant told the Ann Arbor City Council Monday night.
"It often takes five to 20 years to get a system like this in place," said Rick Nau of URS Corp., project manager for the Ann Arbor Connector Feasibility Study.
The study recommends bus rapid transit, light rail, streetcars and an elevated system such as a monorail to meet Ann Arbor's growing transportation needs in the future.
"One of the things I remind people is that you can't get to the end until you start, and so you take the first step," Nau told council members. "And you've taken the first step at this point."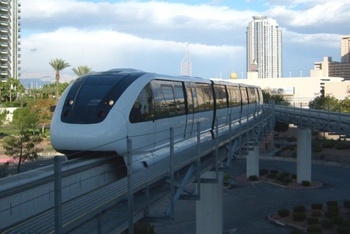 Image courtesy of URS Corp.
Nau offered a detailed report on the north-south connector study during a special council work session, marking the first time since the report came out in February that council members publicly discussed its findings in detail.
The study, which started in 2009, was jointly sponsored by the city, the Downtown Development Authority, the University of Michigan and the Ann Arbor Transportation Authority.
URS Corp. was charged with determining new transit options for a boomerang-shaped study area extending from northeast Ann Arbor, down through the area along Fuller Road where the city is planning a new train and bus station near the U-M medical complex, through Central Campus and downtown, and then south along State Street to Briarwood Mall and I-94.
"We are really building upon a lot of previous studies, some of them dating back to the 1970s," Nau said, noting sustainable transportation, increasing non-motorized travel and minimizing road expansion are common themes among those studies.
"Part of the reason that Ann Arbor is a vital community and is very active is because it does have very good transit service," he said. "And making the transit service even better, responding to the needs as they evolve over time, will help to maintain jobs, stabilize the tax base and provide for an alternative to building more parking in the downtown area."
The connector study references the city's 2009 transportation plan update, which identified congestion problems along Plymouth Road and State Street. Nau said there's significant employment growth expected within the study area, and traffic volumes are forecast to increase by at least 10 percent along the Plymouth, State and Fuller corridors.
"And the long-range transportation plan does not identify widening for any of those routes in the near future," he noted.
Nau's firm focused on four potential transportation alternatives, including bus rapid transit, light rail, elevated automated guideway transit and streetcars.
Using the Washtenaw Area Transportation Study's travel demand model, Nau said URS Corp. was able to determine demand for travel between U-M's North Campus and downtown Ann Arbor is particularly high. The firm is recommending the city consider three transit options to meet demand in that core area: bus rapid transit, light rail and an elevated system.
Elsewhere — such as from downtown along State Street to Briarwood Mall and from North Campus to the East Medical Campus — bus rapid transit, streetcars and regular bus services are recommended to provide end-to-end connections.
Streetcars running on standard gauge tracks and powered by overhead wires have made a renaissance in recent years in a number of cities across the country, Nau said. He pointed to examples in Portland, Little Rock, Seattle and Tacoma. Typically, he said, the streetcars operate in mixed flow on the streets with automobile traffic.
Light rail transit also has been developed in a number of cities recently, Nau said, citing examples in Minneapolis, Charlotte, Dallas and Denver.
Image courtesy of URS Corp.
"These vehicles are somewhat larger, wider — they have a higher capacity," he said. "But again, they operate on standard gauge railroad tracks and they're powered by an overhead electrical wire."
A number of communities, Nau said, have turned to bus rapid transit as a lower-cost alternative to a fixed-rail system. He cited examples in Cleveland, Kansas City and Eugene, Ore.
"The bus rapid transit provides for a very similar type of service to a rail transit service, but using a rubber-tired vehicle," he said. "Probably the best example of that is in Cleveland, Ohio. Along the Euclid corridor they've developed what they refer to as the HealthLine, and that connects downtown Cleveland out to the suburbs to the east."
Nau said other communities have relied on elevated automated guideway systems, such as the People Mover in Detroit or the Las Vegas Monorail.
"These types of systems have also been implemented in a number of airports around the country to carry fairly large numbers of people from terminals to other facilities," he said.
Each option would involve significant capital investment, Nau acknowledged, pointing out a new bridge might even be needed to cross the Huron River. His firm's projections show capital costs of $15 million to $20 million per mile for bus rapid transit, $50 million to $60 million per mile for light rail and more than $200 million per mile for an elevated system.
The added cost of operating and maintaining such systems, Nau said, could range from $500,000 to $1.5 million annually per mile. The good news, he said, is the federal government could pay for 50 percent of the project costs.
City officials stressed the feasibility study is the first of a number of steps required to implement an advanced transit system in Ann Arbor.
"It's interesting that we are talking about this and I think we're looking toward the future, but no one should consider it imminent," said Mayor John Hieftje. "It will take considerable planning, and I think this really gives us a spot to kind of stop and think about the next step."
Hieftje asked how congestion problems could be overcome with bus rapid transit. He wondered if there would be a new route alongside Fuller Road and other areas.
Nau said the concept is that bus rapid transit would operate on a "separate guideway." He said the same assumption applies to the other alternatives.
Council Member Carsten Hohnke, D-5th Ward, asked for more specifics about the feasibility of the options recommended by the consultant.
For most transit systems, Nau said, fare revenue doesn't cover the entire cost of operations. But for many high-capacity systems like those being proposed in the connector study, the percentage of operating costs covered by the fare revenue is higher, so they're more economical to operate on a per-passenger basis, he said.
In response to questions from Council Member Christopher Taylor, D-3rd Ward, Nau acknowledged his firm didn't make operating revenue forecasts.
Taylor wondered if the study took into account that many current users of the system are U-M students who ride the university's buses for free. Nau said it's beyond the scope of the initial study to do a detailed fare revenue analysis and that the study treated all riders the same.
AATA CEO Michael Ford attended the meeting and responded to a question from Council Member Sabra Briere, D-1st Ward, who asked how a connector system fits with the AATA's newly adopted 30-year transit master plan. Ford said it's one component of the plan.
Briere also asked for more information about how the connector proposal fits with plans for regional commuter rail services. Nau presented a map showing how the transit solutions identified could work in tandem with both the proposed north-south WALLY line from Howell to Ann Arbor and the east-west line between Ann Arbor and Detroit.
"The intent of the connector would be to provide that circulation," he said. "It's often referred to as making that last mile of the trip, if you will. This service would provide for a connection at the Fuller Road Station and it would provide a connection into the downtown area, for example, or up to the North Campus. It would make that connection to the ultimate destination."
Nau said it's anticipated the connector service would include stops every three quarters of a mile, providing "fairly comprehensive coverage."
Statistics cited by Nau during Monday's meeting suggest it's primarily students and university employees that use the buses that currently pass through the area.
Nau said U-M runs standing-room-only buses between its north and central campuses about every two to three minutes during peak periods between 8 a.m. and 4 p.m. Ridership between the two campuses is about 30,700 daily, he said.
Meanwhile, AATA has about 2,286 riders per weekday along Plymouth Road with 15-minute bus frequency and 2,771 riders along State Street with seven-minute frequency. Primary destinations include the U-M medical center, downtown and Central Campus, Nau said.
As congestion increases, Nau said, bus performance is negatively impacted. He said studies show about 25 to 30 percent of bus travel time is spent waiting at traffic signals.
Eli Cooper, the city's transportation program manager, spoke briefly at Monday's meeting. He said the city has gained a better understanding of its transportation system from the connector study, including new information about the Fuller Road corridor.
"We found out through the modeling exercise that we have as many passengers on transit — both AATA and U of M — along that corridor as we have people in vehicles," he said, adding that's hard to believe when 98 percent of trips statewide occur in an automobile.
"If you go out on Fuller Road, there are as many people moving in buses as there are driving in cars — about 30,000 in each. And that's part of what the basis is for why we wanted to look at: Is our community ready for making a step toward higher-capacity, more-modern transit."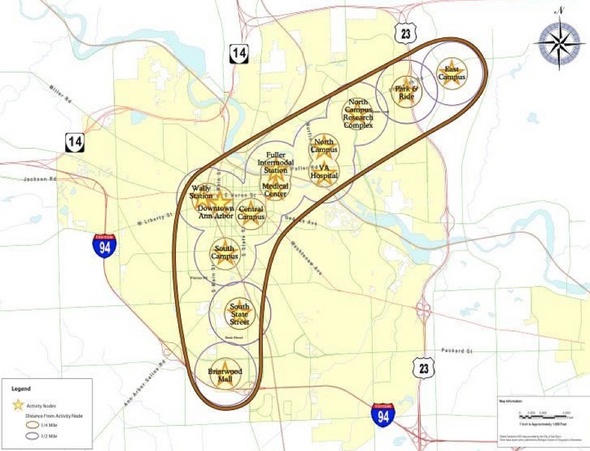 Image courtesy of URS Corp.
Ryan J. Stanton covers government and politics for AnnArbor.com. Reach him at ryanstanton@annarbor.com or 734-623-2529. You also can follow him on Twitter or subscribe to AnnArbor.com's e-mail newsletters.