Posted on
Sun, Jul 3, 2011 : 5:59 a.m.
Ann Arbor hopes Plymouth Road flood-damaged embankment will be restored by fall
By Ryan J. Stanton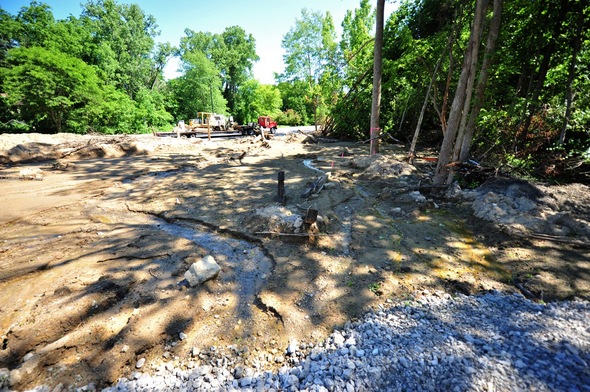 Ryan J. Stanton | AnnArbor.com
The scene alongside
Plymouth Road
northeast of Maiden Lane in
Ann Arbor
remains an eyesore more than a month after a
massive rainstorm
caused an embankment failure that buckled the railroad tracks parallel to the road and left the landscape a mess.
The tracks have been repaired, and the embankment rebuilt with new stone in place. But piles of woody debris and dirt linger in a gaping area that was noticeably greener before the May 25 storm took its toll, and it might be a while before it looks that way again.
"It doesn't look great," acknowledged Nichole Woodward, utilities engineer for the city, one of multiple city staff members assigned to work on restoring the area.
Ann Arbor officials say the city is planning to spend, at a minimum, tens of thousands of dollars to complete restoration work in the area, and that includes restoring state-regulated wetland habitat on the north side of Plymouth Road, at the foot of the embankment, and part of Traver Creek and a playground area on the south side of Plymouth Road.
The city is has hired Conservation Design Forum, a civil engineering and landscape architecture consultant with offices in Ann Arbor, for about $19,000 to draft designs for the work to be done. The city is partnering with the Ann Arbor Railroad company.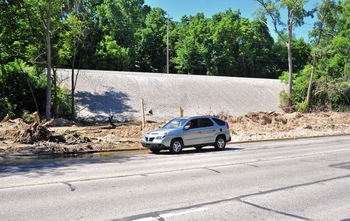 Ryan J. Stanton | AnnArbor.com
Jennifer Lawson
, the city's water quality manager, said some of the property belongs to the city and some belongs to the railroad. It hasn't been determined if costs will be split.
"At this stage, we are going to be working with a consultant and the railroad company to do a restoration for the wetland that was destroyed," Lawson said.
Woodward said CDF is on an expedited schedule to get the designs done. Once that's complete, city staff will review them and apply for permits from the state. Once permits are in place, the city will hire a contractor to follow through with the required restoration work.
"We're still in the early stages," Woodward said. "We're just now getting under way. We want to have substantial construction completed by fall. However, that is going to be contingent on state permitting, but that is what we are working with as a schedule."
Lawson said the city is being required by the Michigan Department of Environmental Quality to complete the restoration. She said the city didn't receive any violations as a result of the collapse.
The embankment originally was constructed in the 1930s, but poor design isn't to blame for the collapse, Lawson said.
Instead, an unusually wet spring, road runoff and high groundwater combined to take a toll on the earth, she said.
"There's been no finger pointing, there's been no blame put on this," she said. "It really was an act of nature. With the quantity of rain we got, the soils were just saturated."
A new drainage pipe running underneath the newly rebuilt embankment was installed in the last month. Lawson said that's one of the precautionary measures being taken to avoid another collapse. She said the city also is closely studying the hydrology of the area.
"Our design intention is that it won't happen again," she said. "We're certainly making sure we can take any precaution we can now to prevent it from happening again."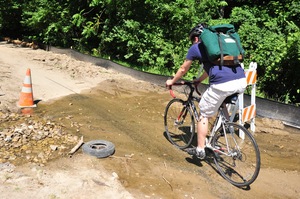 Ryan J. Stanton | AnnArbor.com
Woodward said when the restoration is completed, including replanting trees and shrubs and increasing the biodiversity of the area, it's going to be in better condition than it was before. The city's parks department is expected to contract out the cleanup of the playground area.
As far as what types of species will be planted to replace the vegetation that washed away in May, Lawson said that level of detail hasn't been decided. But whatever is planted likely will match what's already in the area, she said.
"We are going to take a look at aerial photos of what was there," she said, adding it could take a while to make it look the same way again. "Growing big tall trees doesn't happen overnight."
Lawson said the project is extensive from the standpoint that there's going to be a lot of sediment removal, but the actual planting of materials shouldn't disrupt traffic.
"Our hope and goal is that we can have the wetland restoration completed by this fall," she said. "But it might not be until spring before all of the plantings are done."
Ryan J. Stanton covers government and politics for AnnArbor.com. Reach him at ryanstanton@annarbor.com or 734-623-2529. You also can follow him on Twitter or subscribe to AnnArbor.com's e-mail newsletters.