Posted on
Wed, Jan 2, 2013 : 2:59 p.m.
Ann Arbor officials hope new railroad ownership could boost commuter rail, greenway plans
By Ryan J. Stanton
The Kansas-based company taking over the Ann Arbor Railroad says it's open to talking about future commuter rail service and the vision for a greenway trail system along the tracks.
After years of poor relations with the railroad's current owner, the Howell-based Ann Arbor Acquisition Corp., Ann Arbor officials are calling the promise of new ownership a positive move.
"That is great news and hopefully we can work with them to further our local rail initiatives," said Eli Cooper, the city's transportation programs manager.
Mayor John Hieftje is among the supporters of the WALLY commuter rail project and the vision for the Allen Creek Greenway. He said the Ann Arbor Railroad has been an obstacle up to this point.
"They've never been easy to work with," he said. "It's been hard at some points over the years for the city just to get a good conversation with them about this railroad that runs right through our city.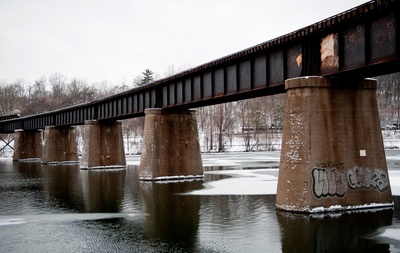 Daniel Brenner | AnnArbor.com
"We haven't made much headway, and I know MDOT hasn't made much headway, over the years with the Ann Arbor Railroad on any of these issues," Hieftje added.
The Ann Arbor Railroad — a so-called "shortline" that runs from Ann Arbor to Toledo — is being acquired by a Kansas transportation company that wants to expand into Ohio.
Watco Railroad Company Holdings Inc., a subsidiary of Watco Companies LLC, has reached an agreement to purchase the 50-mile railway, which serves southeastern Michigan and the Toledo markets, focusing mostly on the automobile and manufacturing industries.
Most of the Ann Arbor Railroad's operations are in Toledo, but the headquarters is in Howell. A spokesperson for the company couldn't be reached for comment.
News of the changing ownership this past week sparked questions about whether Watco will be more amenable to talking with local officials about the proposed WALLY commuter rail line from Howell to Ann Arbor and the city's vision for the Allen Creek Greenway, which hinges on acquisition of railway right-of-way to develop a system of walking and biking trails along the tracks.
Ed McKechnie, Watco's chief commercial officer, said he hasn't yet had talks with anyone from the Michigan Department of Transportation or the city about his company's acquisition of the railroad and what it could mean, but he's hopeful there will be a good conversation.
"We're going to be in the Ann Arbor community for the next 100 years … and we want to work with people," McKechnie said. "We're always open to talking to people about opportunities. We're always interested in talking about ways to create value."
McKechnie said when he came to Ann Arbor to look at the railroad and saw how close it comes to Michigan Stadium, he knew there'd be a desire to add some type of passenger rail.
"We're not saying yes, we're not saying no," he said, suggesting Watco doesn't want to be associated with any type of passenger rail unless it can meet people's expectations for performance.
"Passenger rail business is vastly different than freight rail," he said. "We're not going to get into something where we can't exceed people's expectations. It's gotta be a real deal.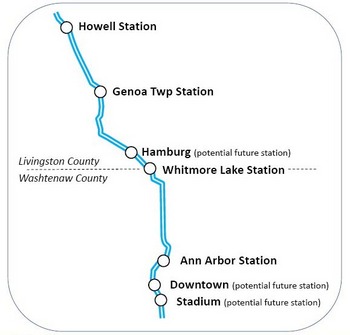 "The good news is MDOT is one of the premiere transit agencies in the country," he added. "We're hopeful there will be a good conversation."
McKechnie said he can't make any promises about the greenway, but he's open to hearing more about it. At first glance, he has concerns about pedestrians near the tracks, even if separated by a fence.
"We're always extraordinarily cautious when it comes to putting people right next to railroad track because trains just can't stop on a dime, and we're very concerned about people's safety," he said.
Hieftje said it makes a lot of sense to use the right-of-way along the Ann Arbor Railroad to expand options for nonmotorized transportation.
"It's just a great corridor that we could make use of to have people walking and biking," he said. "You just make use of that right-of-way. There's only a few trains a day."
City Council Member Sabra Briere, D-1st Ward, said the Ann Arbor Railroad has gained a reputation for being tough on ticketing people for walking along the tracks.
"It would be great to have somebody running that train system that was more amenable to at-grade crossings," she said. "We all want the relationships to be better."
Watco is a shortline holding company with several different lines throughout the country. It operates the line between Grand Rapids and Elkhart, Ind., under a lease agreement.
"We have a good working relationship with the Michigan Department of Transportation, so we know a lot of the folks in the transportation industry in Michigan," McKechnie said.
He said Watco is optimistic and excited about the Ann Arbor Railroad and believes there's potential to bring more business and add new jobs along the line.
"The auto industry is a significant part of the business," he said. "We did the analysis of the customer base and we believe it's there for the long-term. We're very much a long-term company."
McKechnie said there won't be any significant changes in the operations — it should continue to run just about the same as it does now. He said the Ann Arbor Railroad is "extremely well run" and the management team that's already there now will continue to help run the line.
As far as WALLY, significant work will be done in 2013 on station location studies, station design and environmental impacts.
Michael Benham, a strategic planner for the Ann Arbor Transportation Authority who is working on the project, said he has talked to folks at MDOT who have worked with Watco over the years and they give good reports about working with the company.
"Watco has expressed a prior willingness to cooperate with passenger operations (Amtrak) and they currently have trackage rights on the Michigan line in Kalamazoo, so they operate in the state on the same route with Amtrak already," Benham said, adding it seems Watco is passenger-friendly.
It's estimated about 1,300 riders each way per day would use a commuter rail service between Ann Arbor and Howell. That number has not been updated since 2007.
It's also estimated to require $19 million to $35 million in capital costs. The total estimated operating cost is about $7.1 million annually.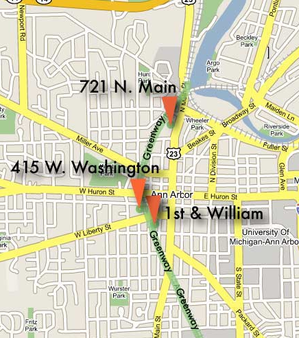 Courtesy of Friends of the Ann Arbor Greenway
Benham said much of that would be covered by passenger fares plus an assumed level of state operating funds, resulting in a local share of about $2.2 million. So-called "wild cards" that could affect operating costs are insurance and trackage rights, he said.
Supporters of a north-south rail line bringing commuters into Ann Arbor argue it would be significantly more costly to add extra highway lanes for automobile traffic on US-23. MDOT previously estimated that adding a third lane to US-23 would cost about $500 million.
Hieftje said the WALLY commuter rail project emerged around 2005 or 2006 as an alternative to adding more lanes on US-23.
"We recognize there's a big traffic jam every morning (on US-23) with people trying to come into Ann Arbor," he said, but he doesn't think adding lanes solves anything.
"WALLY is so much better than new lanes on US-23. What would more lanes do? They would just put more cars on those roads. It wouldn't help at all. They'd still be backed up."
Hieftje noted the University of Michigan has offered to subsidize the cost of WALLY tickets for its employees who want to commute to work by rail.
While he supports the WALLY concept, Hieftje is quick to point out the city doesn't have any money to spend on it. The funding would have to come from somewhere else.
Hieftje also said it's not his highest priority when looking at rail travel. He's more excited about Ann Arbor-to-Detroit commuter rail.
Making a case for rail, Hieftje said about 3,000 new parking spaces have been built in Ann Arbor in about the last decade, counting both the city's public parking and U-M parking spots.
"If we're going to continue to grow jobs here — the university is adding about 900 jobs a year, and then there's private job growth — we're going to have to figure out ways to get people here without their cars, or we're going to have more parking structures and more traffic congestion."
Ryan J. Stanton covers government and politics for AnnArbor.com. Reach him at ryanstanton@annarbor.com or 734-623-2529. You also can follow him on Twitter or subscribe to AnnArbor.com's email newsletters.