Posted on
Mon, Apr 26, 2010 : 4:15 p.m.
WALLY isn't dead but needs $10 million more for demonstration rail service, officials say
By Dave Gershman
A proposed commuter rail line connecting Howell and Ann Arbor "isn't dead," a lead organizer said Monday, but about $10 million still needs to be raised before a demonstration service can begin.
Capital costs to start up the Washtenaw and Livingston Line, or WALLY, have been trimmed to between $16 million and $20 million, down from the $32.4 million price tag estimated by a consulting firm in 2008.
About half of the money has been secured, with much of it coming from the Michigan Department of Transportation, which is paying to renovate 15 former Chicago METRA rail coaches, improve portions of the 27 miles worth of track, and conduct the environmental assessment. That work is under way or planned to start soon.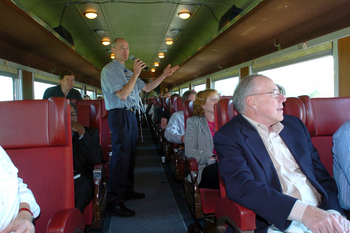 File photo
"It's been coming in bits and pieces," Michael Benham, special assistant for strategic planning at the Ann Arbor Transportation Authority, said at a meeting in Northfield Township Monday to discuss the line's progress.
But money still needs to be obtained to build stations, and install safety devices - such as stop signs, flashing signals, and/or gates - where the commuter line would cross local streets.
Cost-cutting was needed after the project missed out on a federal TIGER grant in February that was sought to cover the entire $32.4 million tab for capital improvements.
The cuts will affect the comfort of passengers. The five stations -- Howell, Ann Arbor and three in between -- would now have shelters and platforms that are more basic than originally planned. Disabled riders would use portable lifts to enter the coaches.
Fewer improvements also would be made to the track. While the speed of the trains wouldn't change, the ride would be louder and bumpier.
In addition to those one-time expenses, running the rail line would cost $7.1 million a year, and about $1.5 million a year still has to be secured. MDOT has agreed to pay for the costs of leasing the coaches and locomotives. Great Lakes Central Railroad will operate them.
The idea is to run a three-year demonstration service to build a case for federal funding and develop a long-term business model.
"This is really to demonstrate that we have demand for it," said Kris Wisniewski, intermodal policy specialist for MDOT.
Benham sounded optimistic about the project's progress. The coalition of government, business and other groups developing the service is still searching for funding sources, and will turn to the communities for greater support. The AATA is the lead authority in charge of the project.
"The funding and public support - that's the wild card," Benham said, adding, "We've gotten the word back on the streets that the project isn't dead."
WALLY would serve commuters living north of Ann Arbor who might otherwise drive along congested US-23. Four trains would leave Howell for Ann Arbor in the morning and four would make the return trip in the late afternoon and evening. No night or weekend service is planned. A one-way trip from Howell to Ann Arbor would take 50 minutes, with trains reaching a maximum speed of 59 mph.
The station in Ann Arbor is planned for an area near Plymouth Road, though the exact location has not been determined. No parking would be provided. Shuttle buses would meet riders at the station.
About 1,200 round-trip riders are projected to use the train each day. A monthly pass for a commuter getting on in Howell would cost $145.
The University of Michigan has agreed to subsidize the fares of its employees during the three-year demonstration service, and Benham said the university will be consulted in developing the timetable of the train schedule because many of its employees live along the rail line.
If all of the money was available today, construction and other technical issues could be finished in time for the first trains to run in spring 2011, Benham said.
A separate commuter line between Ann Arbor and Detroit was proposed to begin in October, but regular service has been delayed indefinitely. Special event trains are still planned, such as on days of U-M football games.
Dave Gershman is a freelance writer for AnnArbor.com. Reach the news desk at news@annarbor.com or 734-623-2530.