Posted on
Tue, Dec 7, 2010 : 11:48 a.m.
Ann Arbor officials look to cap medical marijuana dispensaries at 15 under new ordinance
By Ryan J. Stanton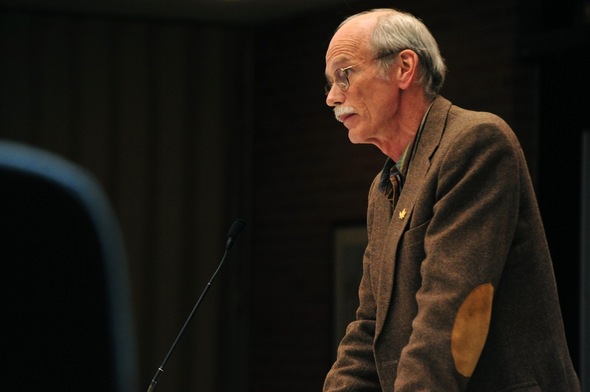 Ryan J. Stanton | AnnArbor.com
Ann Arbor officials are proposing to limit the number of medical marijuana dispensaries and cultivation facilities in the city to 15 under a new licensing ordinance.
Fifteen facilities — each serving 500 patients on average — should be enough to meet the demand for medical marijuana in Ann Arbor, said Wendy Rampson, the city's planning manager. She predicts up to 5,700 individuals locally might seek medicinal cannabis.
Across Michigan, there already are more than 43,000 patients.
Details of Ann Arbor's new medical marijuana licensing ordinance were shared with the Ann Arbor City Council Monday night.
New information suggests at least a dozen dispensaries are already operating in Ann Arbor, and some serve anywhere between 300 and 1,000 patients.
But for now, there's a moratorium on any new dispensaries opening until city officials can sort out how to properly regulate them.
The council decided Monday to postpone a first reading of the new licensing ordinance until Jan. 3 at the advice of City Attorney Stephen Postema, who said details still are being worked out. The ordinance is expected to come back for final approval on Jan. 18.
At that same meeting, the council will be asked to give final approval on a new zoning ordinance that regulates where dispensaries can locate in Ann Arbor.
The licensing ordinance doesn't include a limit on the number of medical marijuana home occupations. But it does say if residents want to grow more than 24 plants, they would be subject to a safety inspection by a city building official.
If a building official deems it necessary, those running home occupations also may need to show proof from a qualified professional that "equipment necessary to handle heating, ventilation and air balance requirements has been installed to prevent the growth of harmful mold or other conditions harmful to individuals inside the dwelling."
The ordinance, as it's now proposed, further states no one can be eligible for a license to operate a cultivation facility, dispensary or home occupation if they have been convicted of a misdemeanor involving any controlled substance or any felony.
Postema said the rules, including the inspections, aren't meant to infringe on anyone's rights or invade anyone's privacy. Rather, he sees them as reasonable to ensure safety.
But that's not the way local marijuana advocate Chuck Ream sees it.
Ream thanked council members Monday night for their work on the new medical marijuana regulations, saying they have done a "tremendous job so far." But he accused the city attorney's office of throwing "a giant monkey wrench into the works."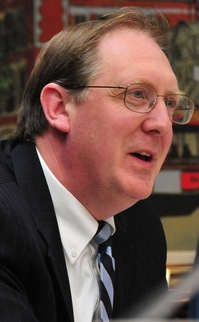 "This home occupation thing is clearly illegal and really stinks," he said. "Council never once asked for the power to identify and harass local caregivers who are licensed by state law."
Ream said he considers inspections an illegal "home invasion." He said it would "terrify" and "discourage" people who need medical marijuana from participating in the program.
"The law says you may not search, you may not inspect," Ream told city officials. "Here in Ann Arbor, we simply can't set a bad example. People all over the state are looking for us to set a good example that they can take to their city."
Postema disagreed with Ream's legal interpretation. He said local medical marijuana regulations throughout the state will be tested in court, but he thinks inspections are reasonable to the extent that they look out for safety.
"In a residential neighborhood for a caregiver, the statute provides up to 60 plants," he said. "And I think anybody who deals with these type of grow operations recognizes — even the proponents of marijuana — that 60 plants grown in a residential home is a serious issue."
Postema said the city would keep its list of license holders confidential and wouldn't disclose the names or addresses to anyone under any circumstances.
He said having the city keep a list benefits license holders so they're not subject to unnecessary raids by police who might otherwise suspect an illegal grow operation.
"There have been raids on dispensaries in the state of Michigan as recent as September, so it is not true that the federal government has taken a hands-off policy," he said.
Postema said Ann Arbor's regulations pale in comparison to the level of regulations in some other places, including in the state of Colorado.
In Michigan, he said, the state statute legalizing medical marijuana doesn't even mention dispensaries, which has made the issue more contentious.
"The argument is, in some sense, whether or not that absence in state law permits such an entity, or whether the absence indicates it is prohibited," Postema said. "That is an issue that will now be fought out in the courts because there are many communities that have not allowed medical marijuana dispensaries at all. In fact, many smaller local communities surrounding Ann Arbor have made that determination."
Postema said licensing and regulating dispensaries in Ann Arbor is prudent because of what has happened in other states that have allowed dispensaries.
"The experience both in California and then looking at Colorado that did this much earlier demonstrated that a wide-open acceptance of dispensaries without regulation was a clear error — in no uncertain terms — on all levels of public policy," he said.
Council Member Stephen Kunselman, D-3rd Ward, asked whether limiting the number of dispensaries would just end up creating larger ones. Postema said that could be the case.
Postema said the city attorney's office still is considering a licensing fee. He said it could be $200 with additional fees to cover the costs of any inspections.
Council Member Sabra Briere, D-1st Ward, said it seems more questions need to be addressed.
"We should have more answers than we do today," she said. "We should know where we're headed. I hear a lot of questions about where we're going."
Ryan J. Stanton covers government and politics for AnnArbor.com. Reach him at ryanstanton@annarbor.com or 734-623-2529.