Posted on
Wed, Sep 15, 2010 : 6:02 a.m.
Ann Arbor officials moving quickly on drafting regulations for medical marijuana dispensaries
By Ryan J. Stanton
The subtle smell of cannabis emanated from a sixth-floor conference room inside city hall Tuesday night, where Ann Arbor officials met to discuss a draft medical marijuana ordinance.
The faint odor came from a corner of the room where a handful of marijuana advocates sat and watched attentively as members of the Planning Commission and city planning staff pored over a four-page proposal outlining new regulations for medical marijuana dispensaries.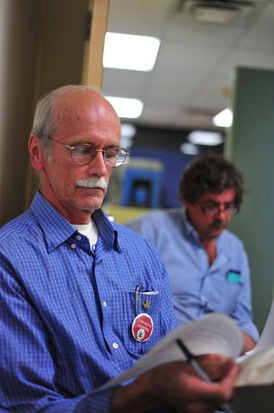 Ryan J. Stanton | AnnArbor.com
"I hope that the Planning Commission is going to put together regulations that reflect the will of the voters, which was made very clear with a 74.28 percent victory for medical marijuana in 2004," said Chuck Ream, a longtime medical marijuana advocate who last month opened a dispensary on Packard Road near Iroquois Place.
"We need regulations specific to Ann Arbor that really reflect the wishes of our people," added Ream, who wore a button that featured a pot leaf and read: "I am not a criminal."
What the pro-reefer crowd learned Tuesday night is that it soon could be a violation of city ordinance for even the smell of marijuana to leave the boundaries of their property.
One of the many bullet points in the draft ordinance handed out during Tuesday's Planning Commission working session states: "No equipment or process shall be used in any medical marijuana dispensary which creates noise, dust, vibration, glare, fumes, odors or electrical interference detectable to the normal senses beyond the property boundary."
The draft ordinance also states all activity in a medical marijuana dispensary, including growing and dispensing, must be done indoors. Also, no dispensaries would be allowed within 500 feet of one another, within 1,000 feet of a school, or within 200 feet of a residential district.
A public hearing on the new ordinance is set for 7 p.m. next Tuesday before the Planning Commission inside city hall. The commission is expected to take a vote on the issue either at that meeting or at the following meeting on Oct. 5.
The ordinance is expected to go before the Ann Arbor City Council for a first reading by its meeting on Oct. 18, with final approval expected to follow in November.
The City Council approved a four-month moratorium on new medical marijuana dispensaries last month in an effort to give city staff time to come up with zoning regulations. The moratorium expires Dec. 3, and city officials are moving quickly to get an ordinance in place.
"The Planning Commission is looking for appropriate locations for medical marijuana dispensaries that are not in conflict with other uses," said City Planner Jill Thacher. "What's being considered right now, which is in early draft form, is allowing medical marijuana dispensaries in seven or eight of the city's zoning districts, and also allowing it as a home occupation."
The four-page document handed out Tuesday spells out allowable locations for medical marijuana dispensaries, allowable uses for them, and regulations for "home occupation" situations where residents want to act as home-based caregivers.
The draft ordinance states all operators of medical marijuana dispensaries must be registered as caregivers with the state of Michigan. Likewise, all patients must be diagnosed by a physician as having a debilitating medical condition and have been issued a registry identification card by the Michigan Department of Community Health.
Medical marijuana dispensaries would be allowed only in zoning districts D1, D2, C2, C3, M1, M2, RE or ORL. (Click here to view the city's zoning maps).
The different districts come with different regulations. For instance, in C2 and C3, dispensaries must meet minimum parking requirements spelled out in the city's existing codes.
In D1 and D2 districts, dispensaries would be limited to selling or otherwise providing marijuana and related drug paraphernalia to patients. Growing would not be allowed in those districts.
Drive-in marijuana dispensaries would be prohibited at all locations. And in all cases, no actual smoking, inhalation or consumption of medical marijuana would be allowed on the premises.
An annual zoning permit also would be required for all dispensaries.
In the case of home occupations, the draft ordinance sets a limit of one registered caregiver per single-family home, and limits that person to providing medical marijuana to no more than five patients. It also states that patients may not pick up marijuana at home occupations. Rather, the caregiver must personally deliver the medicine to his or her patients.
Ryan J. Stanton | AnnArbor.com
Planning Commissioner Kirk Westphal acknowledged Tuesday night he has personal experience with a medical marijuana dispensary that moved in next to his downtown office this year.
"There is a dispensary in my building on Main Street, and I was surprised at the odor issue that's transpiring, and so were many of my fellow tenants," he said. "So, from that perspective, I'm hopeful that some awareness of best practices can be distributed, so that these new facilities don't cause a burden on landlords or the tenants who are already established."
Westphal said city code already regulates odor transfer in residential areas, and it looks as though the new ordinance would add that restriction for the downtown.
"But again, it leaves landlords and tenants to fend for themselves when it involves intra-parcel — or between units within the same parcel — transmission," he said.
As more and more dispensaries have cropped up throughout Ann Arbor in the last several months, city officials have been trying to get a handle on the situation.
They say there now are about eight or nine medical marijuana dispensaries in Ann Arbor — some downtown, some in residential neighborhoods and some in industrial zones.
"We have received complaints about some, not all, of the existing medical marijuana dispensaries that we know about," Thacher said. "And some of those things are a lot of traffic, and also odors emanating from the businesses, and the ordinance will seek to address questions like these."
T.J. Rice, owner of the Ann Arbor Patient-to-Patient Compassion Club, a medical marijuana dispensary at Fourth and Washington, attended Tuesday's meeting and said his dispensary opened in February.
A cancer survivor who lives on Social Security disability and uses medical marijuana himself, he said he works "on a private basis, more or less," and his clientele is small right now compared to others in Ann Arbor.
Rice and Ream agreed after Tuesday's meeting that the city may be overstepping its bounds with what it has proposed in terms of regulations for dispensaries.
Ream told planning officials he admired their work, but he said it's apparent they're "really new to this" and offered some constructive criticism regarding the regulation of home occupations. He said every facet of home occupation is already dealt with in state law.
"Anything that you add to this will just be (subject to litigation)," he said. "You can't add to the state law. You can't make things worse or harder than they are in the state law."
Ream also questioned the city's proposed limit of one caregiver per household.
"I'm going to be married soon to my true love and she is going to become a caregiver, I hope," he said. "I'm certainly going to be a caregiver. And isn't it clear that people who share common interests might love each other and be together, and might both want to be caregivers?"
Ream noted his dispensary, Med Mar Compassionate Healthcare of Ann Arbor, is within 200 feet of a residential district on Packard, which is prohibited in the draft ordinance. He said he hopes he can be grandfathered in since he opened a few days before the moratorium.
"The part about making everything happen indoors — that's another extension of the state law," he added. "You're saying something that the state law doesn't say."
Thacher noted that when Michigan voters legalized medical marijuana in 2008, 79 percent of the voters of Ann Arbor approved the proposal on the ballot.
"Statewide, different communities are doing vastly different things to address where to locate medical marijuana operations of different sorts because the state act gives virtually no guidance to municipalities," she said. "The different approaches range from banning medical marijuana use outright on federal grounds to permitting it in select zoning districts like any other use."
Officials said Tuesday night that City Attorney Stephen Postema is taking a lead role and working with the Michigan Association of Municipal Attorneys on a statewide approach.
City Council Member Sabra Briere, D-1st Ward, attended Tuesday's meeting as a casual observer. She offered her feedback to planning commissioners at the end, saying she was concerned about the issues related to zoning of caregivers.
"I'm not certain you're properly addressing this issue with this language, and it caused me to wonder a little bit about the goals here," she said.
Dennis Hayes, an Ann Arbor attorney long involved with the medical marijuana industry, encouraged planning officials to put patients first when drafting the ordinance.
"Check in with some of the existing places and see what they actually do," he said. "So you can see what happens in real life with people trying to accommodate the needs of the patients. The patient numbers vis-Ã -vis the accessibility of caregivers are growing out of whack. There's just a lot of patients who can't find good caregivers, and a lot of patients who can't find where to get medical marijuana that's suitable for them."
Ryan J. Stanton covers government and politics for AnnArbor.com. Reach him at ryanstanton@annarbor.com or 734-623-2529.