Posted on
Sat, Jan 7, 2012 : 5:59 a.m.
Ann Arbor officials planning to fix stormwater problems in West Park by summer
By Ryan J. Stanton
Ann Arbor officials are inviting residents to a public meeting on Monday night to hear an update on the West Park stormwater project, including what the city is doing to address the failure of the park's newly installed stormwater system.
Nearby residents have said for months they aren't happy about the situation and they suspect flooding in their neighborhood in the past year may be linked to the problems in the park.
But city officials deny there's any link.
Monday's meeting takes place from 7 p.m. to 8:30 p.m. at the Slauson Middle School Media Center, 1019 W. Washington St.
At the meeting, Ann Arbor and Washtenaw County officials are expected to give a review and explanation of the project that was done in 2010, summarize the results of an investigation into the system failures, discuss the next steps to complete the project, and address any questions or concerns, said Jennifer Lawson, the city's water quality manager.
Lawson said it will be the first of two public meetings. The second will be on Feb. 13 to discuss the details of the engineering design for the repair of the system in 2012.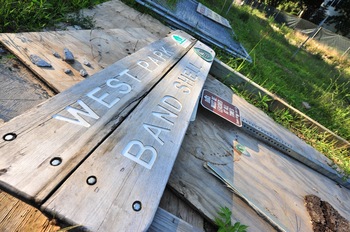 Ryan J. Stanton | AnnArbor.com
A time and location for that meeting hasn't been determined yet.
"At this time, we are working with our consultant (Orchard Hiltz & McCliment) to look at solutions for remedying the issues that are out there," Lawson said.
"We have a lot of different issues," she said. "We have the structure failure and we are working with the manufacturer and the company that produces those swirl units (AquaShield Inc. and L.F. Manufacturing), and they're looking at coming in May or June to repair those."
The city and the Washtenaw County Water Resources Commissioner's Office undertook the stormwater improvement project in 2010 in tandem with renovations in West Park.
But during construction, inadequacies were found with the design of the system and the structural components, and one of the swirl concentrator units collapsed.
The original plans were designed by Beckett & Raeder Inc. and included the installation of eight swirl concentrator units to remove suspended solids from stormwater prior to reintroducing it into the system on the north and south branches of Allen Creek near the park's west side.
In October 2010, after the stormwater work had been completed, one of the swirl concentrators on the north branch collapsed, creating a sinkhole near the northwest corner of the park. An investigation revealed other swirl concentrators were in various stages of failure.
The city now has completed an investigation into the problems and is developing a plan to correct them in 2012, Lawson said.
The city doesn't have construction plans, nor final details of what will be done at West Park, but it has hired a consultant to complete designs.
In response to the problems, weir walls that served to divert flow into the swirl concentrators were removed due to concerns about their potential effect on upstream flooding. Lawson said the city is looking to replace the weir walls this year and is working with OHM on the designs.
"We're hoping that project will be completed by mid-summer," she said.
Daniel Marano, who lives on Maple Ridge just west of the park, appeared before the Ann Arbor City Council in August and expressed concerns about what he described as "a severe flooding problem" he believed was linked to failure of the park's stormwater system.
He said in an interview last month that many residents in the neighborhood remain upset, but they've been told by city officials that the flooding they experienced last August was the result of roughly 2 inches of rainfall that came within an hour.
"There's going to be a big showdown here because all of us want clean water and a park that works, but it seems there's just poor planning," Marano said of the project. "You can't put in a system like this without expecting it to have consequences upstream."
Lawson said investigations have shown the upstream flooding that the Maple Ridge residents are concerned about is not connected in any way to the problems in West Park.
"There is no link," she said. "We've actually spoken with those residents. Those residents live in a floodway, which is essentially where the river used to flow, and we had some incredibly intense storms last August where we were getting almost a half-inch in 15 minutes."
Lawson said the city's stormwater system wasn't designed to handle that level of intensity, and even with the repairs coming to the West Park system, that doesn't change the fact that the houses on Maple Ridge are in an area that's naturally prone to flooding.
In response to the flooding issues residents experienced, Mayor John Hieftje said in August he couldn't help but question whether climate change was at work.
"What used to be a 50-year storm is occurring every five years now it seems," he said. "We just have more intense rain events than we had historically. It all comes down at once."
Ryan J. Stanton covers government and politics for AnnArbor.com. Reach him at ryanstanton@annarbor.com or 734-623-2529. You also can follow him on Twitter or subscribe to AnnArbor.com's email newsletters.