Posted on
Thu, Jun 10, 2010 : 6:04 a.m.
Ann Arbor officials planning to take second look at conference center proposals for Library Lot
By Ryan J. Stanton
It's been several months without word out of Ann Arbor city hall on the status of the Library Lot development process, but talks may be picking up soon.
City Council Member Stephen Rapundalo, D-2nd Ward, said this week the city still is hoping to hire a consultant to examine the financial aspects of two development proposals that survived a committee selection process back in January.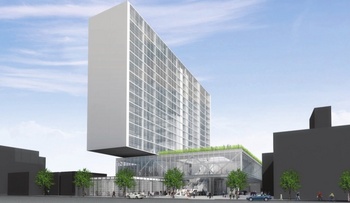 Ryan J. Stanton | AnnArbor.com
New York-based Valiant Partners LLC and Acquest Realty Advisors of Bloomfield Hills remain in the competition to develop a hotel and conference center on the city-owned lot at 319 S. Fifth Ave. in downtown Ann Arbor.
"We have not moved any further on any consideration of the Library Lot proposals," Rapundalo said, "because we have not identified and engaged an outside consultant who could advise the city on the specific details of each of the remaining two proposals — as well as sort of the overarching economics of developing that site for those stated purposes."
Both proposals ask the city to front millions of dollars to develop a publicly owned conference center that would drive the success of a new hotel on the site next to the downtown library. But there still doesn't appear to be political will among council members to take on the financial risk at this time.
"I think the RFP was pretty plain that it has to be a financial benefit to the city and I don't see how either one of them met that criteria," said Council Member Sandi Smith, D-1st Ward.
The Downtown Development Authority has been busy building a four-story underground parking deck on the Library Lot site. But talks of what's going to happen on top have all but stalled, and the RFP Advisory Committee that Rapundalo chairs hasn't been meeting.
"I haven't given it much thought lately," Mayor John Hieftje admitted. "I'm not sure the interest is there from the people who responded to the RFP. I haven't heard anything from them in a while. And I just know they haven't met for a while, and that's fine. It was put out there to see if somebody wanted to build something on top of it, but there's plenty of time to talk about that."
The DDA's governing board voted in January to provide $50,000 to the city to hire a real estate consultant to help evaluate proposals for the Library Lot. The consultant was expected to help determine if the projects submitted to the city are financially feasible and make economic sense in the Ann Arbor marketplace.
Rapundalo said DDA Executive Susan Pollay and City Administrator Roger Fraser ran into problems when trying to find an appropriate consultant to hire.
"We had, in fact, identified a consultant and then an unanticipated complication arose right in the middle of our budget deliberations this spring and basically it got back-burnered," he said. "We have just recently begun reconsideration to see how best to approach the identification of a suitable consultant and that's the only reason that we haven't moved any more on it."
Rapundalo declined to offer details, but said the city experienced an unforeseen situation with the consulting firm it originally chose.
"There were some unanticipated changes to some of the principal personnel within that identified consultant organization and it was cause for some reevaluation," he said.
A representative from Valiant Partners could not be reached for comment to confirm the firm's interest in the Library Lot project at this point.
David Ong, president of Acquest Realty Advisors, said his firm still is interested in pursuing its proposed project, but the city hasn't communicated well.
"We're sitting and waiting — the communication has been virtually nonexistent," he said on Wednesday. "We put enough time and effort and work in as the other team did, and we're interested in at least taking this to a logical conclusion."
Ong said he understands the City Council is dealing with both economic and political forces, but the hesitancy of the mayor and council is a concern.
"It does give pause for concern because, in the other cities in which we've worked, success has always been related to some level of passion to get it done, and we haven't seen that passion yet," Ong said.
Ong said the city already has taken the biggest risk it could by partnering with the DDA to build a $50 million underground parking structure. He said the money being asked to complete a public conference center that would help fill up the 677 spaces would cost much less.
Valiant is asking the city to issue $8 million worth of tax-exempt bonds to be paid back over 20 years from hotel proceeds to build the conference center it envisions along with its hotel on the Library Lot. Acquest is asking the city — in partnership with Washtenaw County — to build a 40,000-square-foot conference center on the former YMCA site across the street from the Library Lot at a price to be determined by the city and county.
Either way, some council members say, it's hard to swallow.
"I'm not going to put the city at risk to fund anything there," said Hieftje, who acknowledges he's open to an alternate idea proposed by some residents to turn the ground-level portion of the Library Lot into a green urban park setting.
"I'm open to talking about anything there," he said. "I think that the city needs to be open to talking about a number of options for it. There was always going to be a park there. That was in the RFP and it's just a determination of how big it was."
Ryan J. Stanton covers government for AnnArbor.com. Reach him at ryanstanton@annarbor.com or 734-623-2529.