Posted on
Tue, Sep 21, 2010 : 6:20 a.m.
Ann Arbor officials reconvene task force to look at problem of aggressive panhandling downtown
By Ryan J. Stanton
Police Chief Barnett Jones confirmed Monday night what some already suspect: Panhandling is a growing problem in downtown Ann Arbor.
"This was a summer where the No. 1 crime that occurred in our community was aggressive panhandling," Jones said, addressing the Ann Arbor City Council.
"We have been experiencing that because of the culture and the nature of our fine community," he said. "We have had daily numbers of people from around our area that have made it into our downtown area because we have the wherewithal to share some of the resources that we have.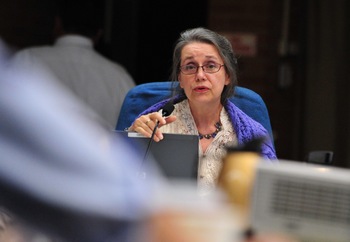 Ryan J. Stanton | AnnArbor.com
"They've come as far away as Jackson, they've come from Detroit, they've come from other communities — because that is the nature of our community. We like to take care of the people we can try to take care of. We've even had people pretending to be down-and-out in our downtown area, taking advantage of the goodness of the people in our community."
Jones' report came as the City Council voted unanimously Monday night to reconvene a task force to look at aggressive panhandling and other issues facing the downtown.
Council Member Sabra Briere, D-1st Ward and a sponsor of the resolution, noted it was exactly nine years ago to the day that the city first established the Downtown Street Outreach Task Force to address the larger issue of unmet outreach and service needs downtown.
In May 2003, the task force recommended neighborhood patrols in the downtown business districts, encouraged increased outreach by social service agencies and proposed a panhandling ordinance that the City Council subsequently adopted. The ordinance doesn't outlaw panhandling, but includes specific regulations to prohibit aggressive panhandling.
Despite that ordinance, Briere said aggressive panhandling appears to have increased in the downtown area since 2003, and the task force needs to be reinvigorated.
The Downtown Street Outreach Task Force is expected to meet regularly for no longer than six months to identify issues surrounding panhandling and "suggest potential solutions that may involve the community, the service sectors and safety services."
The resolution also directs the Ann Arbor Police Department to continue efforts to enforce the existing panhandling ordinance as written.
Briere acknowledged some residents have expressed a desire to restore downtown beat cop positions that were cut last summer, but the city's budget is tight these days.
Until last summer, a handful of police officers were assigned to walk or bicycle downtown, but as part of a restructuring of the Ann Arbor Police Department, those patrols were eliminated. Some say panhandlers have become more aggressive since the city pulled beat cops off the street.
Jones acknowledged the police department has struggled with a minimum number of officers on foot and bike patrols to curb aggressive panhandling. He said the department has been sporadically moving officers between Liberty Plaza and other parts of the downtown.
"When we were no longer there, they were there," Jones lamented.
Jones mentioned the annual Punk Week festivities this summer, which resulted in the arrest of multiple people who converged on Ann Arbor for a week of illegal behavior in August.
"They took advantage of the goodness of our community and the downtown area," Jones said. "At night, they were there with signs saying, 'You don't like us, we don't like you. Give us money and we'll go away.' That is how brass and how bold they were this particular time."
Jones said there is a crop of "new intruders" from outside of Ann Arbor who "sometimes don't know our laws" and "they are used to the other way they panhandle in other areas."
He suggested Ann Arbor has a reputation of being fertile ground for panhandlers. He acknowledged that years ago, when he worked as a police officer in another community far outside Ann Arbor, it actually was standard practice to shuttle people in need to Ann Arbor and drop them off here.
"We did the shuttle service because we knew in our community we had no homeless shelter, we knew that in our community we had no goodness of people," he said. "So we would shuttle them to Ann Arbor so that they'd know that they might get taken care of. That may not take place today, but the people still come here because of the goodness of the people in this community."
Mayor John Hieftje cautioned Monday night the city needs to make sure it is reacting to actual problems and not perceptions about what's happening downtown. He said he's been told that it's primarily a couple of individuals causing problems on Main Street.
"Panhandling is not illegal, and in fact it's a protected right," Hieftje said, though he added it can be regulated and it's worth taking another look at the issue.
Ryan J. Stanton covers government and politics for AnnArbor.com. Reach him at ryanstanton@annarbor.com or 734-623-2529.